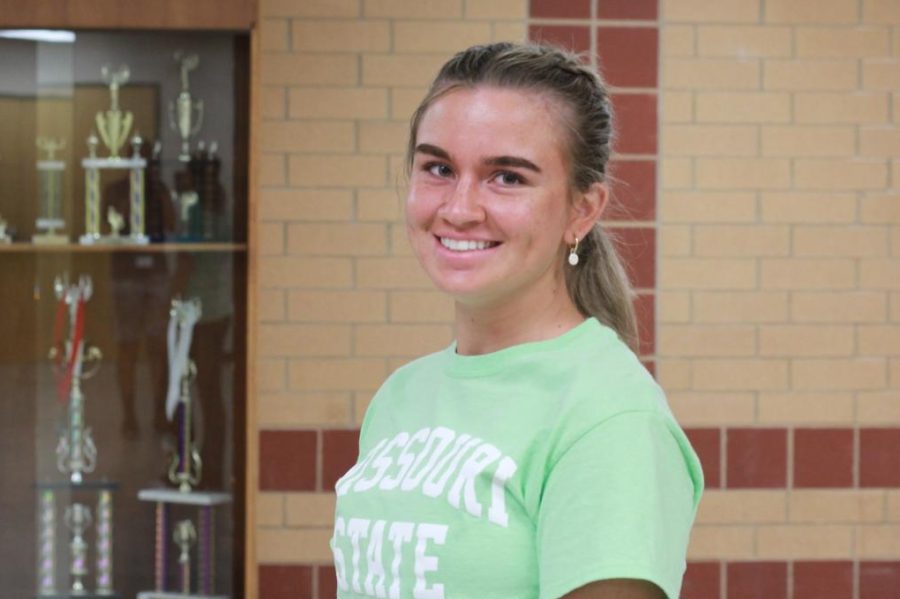 More than choreography: Aliyah Studt
Senior Aliyah Studt was a competitive dancer until 2021.
"I started it [dance] when I was three years old and my mom worked at my church and she taught dance classes and she was a dance major in college and so she always liked it, so she put me in it [dance classes]," Studt said. 
She said that she realized that dance was something she wanted to do after finding the art value of it.  
"It's a really good workout and a team sport but it's also an art, so you can tell a story. You get to perform on stage and work with other dancers and create a narrative on stage [that] basically you don't get with [sports like] soccer and volleyball," Studt said. 
Studt said she was always participating in dance and never tried any other sports. She started participating in competitive dance when she was in 5th and 6th grade. Studt did try out for Escadrille during her sophomore year but did not make the team. However, she said she was glad that she didn't make Escadrille
"I like more contemporary dance, like ballet. Escadrille is more poms and jazzy. I think being at dance studio as opposed to being on a dance team at school [has] helped me to just hone [in] on contemporary dance and other styles I wanted to do," Studt said. 
While Studt did stop dancing due to her being on the cross country and track teams, she does envision a possible return to dancing at college. 
"I think I'll probably take a dance elective or something like that in college because I'm going to Webster [University] and they have a really good dance program. I have worked with some of the teachers there and I really liked them," she said. 
Studt also gave some insight on how the world of competitive dancing worked. 
"I really liked [competitive dancing]. We would have choreographers come in from around the country and they would give us these dances at the beginning of the season and then [between] August and November and January and June, we would go to different competitions and compete and we would go to conventions," Studt said.  
She danced with Renee Johnson's Dance Studio and said that she wished she was able to attend Nationals with the dance studio. In March 2020, due to COVID-19, Studt was forced to attend dance practices virtually. 
"It was crazy. We started doing Zoom classes and that was pretty difficult. All of us were in our houses and it was hard to hear what the teachers were saying. It was [also] hard to pick up choreography and to find empty spaces in our houses where [we] would have been able to dance, [while] in the studio, we would have had a huge [space]," Studt said. 
The one main benefit that Studt said she took away from competitive dance was the benefit of teamwork. 
"Whenever you're doing a dance, you all have to be together on the music for it to look good. Everyone has to be doing their part and I just love the team aspect of it," Studt said, "There's a lot of lifts you do in dance. It's almost like stunting in cheerleading, everybody has to be doing their part to make sure the person in the air is safe and to make it look good. If one person isn't doing the right thing, it could be really unsafe or not look good. It really does help with teamwork." 
Studt recommended that people interested in dance should try it, regardless of whether they're interested in competitive dancing or non-competitive dancing, viewing dance as something where everyone can gain benefits from. 
For Studt, dance wasn't something superficial. For her, it was something more personal. 
"[Dance] means a lot to me. I feel like it's always been a huge part of my life and even though I'm not competing anymore, it's always something that's been a big part of my identity. Physically, it's great. It's also mentally great and has always been an outlet for me," Studt said. 
She said that dance was an outlet for her because it allowed her to express herself and allowed her to mentally relax by placing any frustrations or feelings of anxiousness to the side. 
Studt has one piece of advice that has stuck with her, in and outside of dance. 
"I guess it's kind of general, but be confident in yourself. Whenever you're confident in yourself, other people see that. It helps you in life to be more confident and makes you confident whenever you act like that. Even if it's not real, it can become real. [With dance], you can act super confident on stage and it makes the audience want to watch you. Then, you can apply that to life by being confident. People want to talk to you more, people will trust you more and then it becomes real," Studt said.
Donate to The Lancer Feed