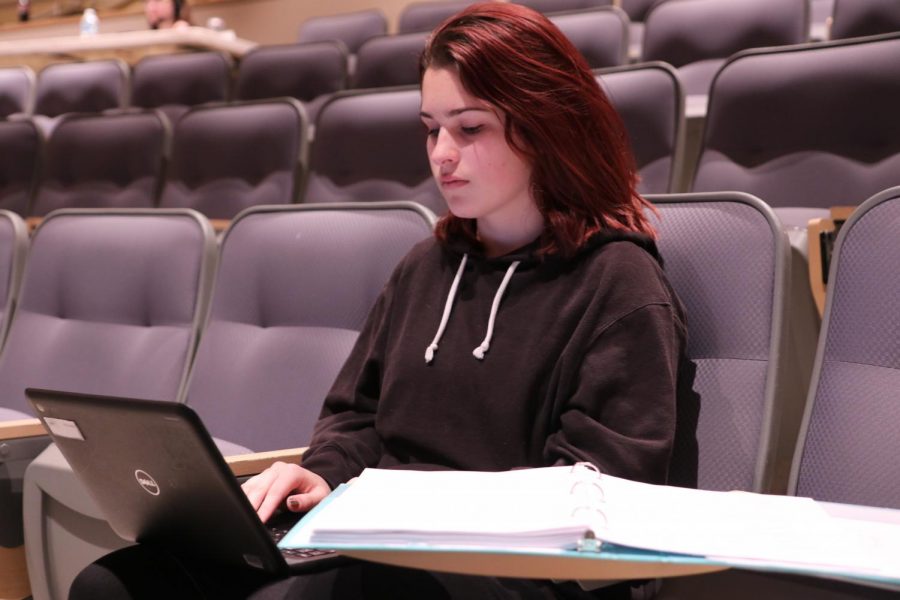 The show must go on: Elizabeth Elliott
Senior Elizabeth Elliott has been involved in the Lafayette Theater Company (LTC) for all four years of high school. She appreciates the ability of the art of theater to persevere over thousands of years and the ability of LTC to persevere through the pandemic.
"People don't realize how much theater and the show affect everything and how we actually use it. I think it's a really interesting thing because it's been around since Ancient Greece and it's still continuing, even after COVID shut everything down. It's very resilient," Elliott said.
During the pandemic, LTC performed virtually, and Elliott was especially involved in making sure the show went on.
"When we went virtual, I got to draw all our backdrops for our virtual show. That was a lot of fun. I did everything for that show. I ran all the sets. I did all the set changes. I did all the costumes. I did all the make-up. I helped write things. It was a hot mess, but I loved it. I love the chaos," Elliott said.
When LTC began doing in-person shows again, Elliott found a new appreciation for the environment of live theater.
"This year and the end of last year, I got to design real shows and run real shows. That was so much fun. I loved seeing it all come together. The energy on opening night is tangible," Elliott said. "When the curtain opens, everyone's excited and that's my favorite feeling. When the first curtain opens. I love watching everything come together, watching everything build up on each other."
Elliott's journey started before high school, but she found her passion after joining LTC.
"I started theater in middle school. I did the seventh and eighth-grade plays at Wildwood. When I joined LTC, I was excited because it was gonna be something from middle school," Elliott said. "I started with costumes, and I very quickly became the head of costumes. I liked it, but it wasn't quite me. So then I got into scenic design, and that was my favorite. I loved that."
Although her senior year was stage manager, one of her favorite memories goes back to when she was in charge of costumes.
"One of my favorite memories is from freshman year with Makayla [Archambeault]. Every night, she got ketchup squirted all over her. It was [my job] to clean her up before her next costume change. It was amazing. It was so much fun. She came off stage every night smelling like ketchup. That shirt is permanently stained pink. We had to dye it light pink to even out the color."
During her senior year, LTC performed SpongeBob: The Musical, which Elliott considers to be her favorite show.
"I wasn't expecting to like it. I wasn't expecting to have as much fun as I did, but it was a lot of creative liberties and it was a lot of color and it was very energetic. It was a lot of fun to design because there was what everybody knows. But then we got to play with that and change it to make it unique to our show," Elliott said.
Although her responsibilities in LTC have caused Elliott stress, she appreciates the group and has developed close friendships with her fellow company members.
"It's stressful, it's a lot of work. But I love the energy and the people and it's always a lot of fun. It's a little family," Elliott said.
Now, Elliott is looking forward to pursuing a college education and career in the field of theater, having been inspired by her time in LTC.
"In junior year, I realized that [theater] is what I wanted to do with my career, and I got into the program I wanted: OU School of Drama. Only 17 people get in out of 2400 who auditioned for the whole program. I'm really excited about it," Elliott said.
Donate to The Lancer Feed