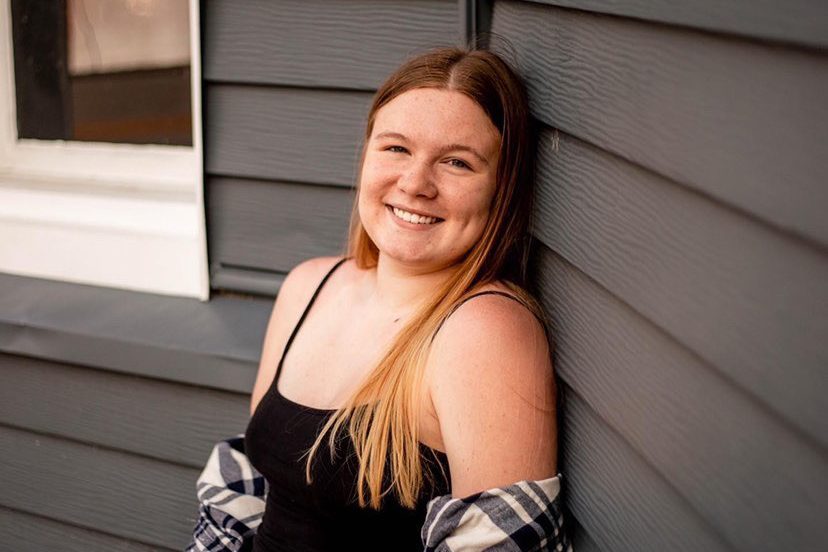 photo courtesy of Abby Miltenberger
Learning to educate: Abby Miltenberger
A mother of two, an ex-con, a retired person, a high schooler. All of these people and more found themselves in a classroom at St. Louis Community College in Wildwood, Missouri.
For senior Abby Miltenberger who has spent the last two years attending college, the diversity in the classroom is still a welcome surprise.
"It's definitely interesting meeting people. It's a very mixed crowd, but I've learned a lot and met a lot of people," Miltenberger said. "Especially in my online classes, you see more parents and people who are already working. My education classes have teachers that are in it who are trying to further their education. It's been very interesting."
She initially decided to enroll in the Early College Partnership program (ECP) after listening to a class presentation about ECP and South Technical school. 
"My sophomore year, we all had an assembly. Everyone went to it, but I think that some people just didn't listen or mentally checked out, but I wanted to try this," she said. "We had to write an essay, we had to get teacher recommendations, fill out an application, it was a whole thing. Eventually, we got letters back. I got a letter in the mail and [found out that] I got in."
A prominent thought surrounding Miltenberger's decision was whether or not she'd miss the classic "high school experience". Despite the worry, Miltenberger hasn't looked back after leaving LHS.
"I definitely debated with myself about doing it because what about the school experiences? But at the end of the day, I knew it wasn't going to matter in a couple of years. I've definitely grown up a lot and even though I do miss things and wish I could have some of those experiences, I wouldn't trade it," Miltenberger said.
Miltenberger will graduate in spring of 2022 with a high school diploma and an associate's in arts in general studies. She'll attend Morehead State University in the fall to pursue a degree in secondary education with a concentration in mathematics. 
After taking a couple of education classes, Miltenberger knew that teaching was the path for her.
"I have learned so much about how one teacher can change every single student's life. I've learned how much that [teaching] affects people. I want to take on that responsibility to just be there for students. I want to do something good, and for me that's teaching," Miltenberger said."
With her classes, especially those in the educational field, Miltenberger said they have given her an opportunity to gain more knowledge than she thought possible at Lafayette.
"It's a lot of discussion instead of lecture content, especially being in education classes I've learned a lot. There were times where you were lecturing or watching videos, but I really liked being able to have discussions with people about important topics, things you can't really discuss in Lafayette. We've openly talked about critical race theory and mature subjects like sexuality and gender identity. There's a more mature crowd, and people are there to learn," she said.
In addition to learning more, Milternberger said that the environment advanced her maturity.
"It matured me a lot. I definitely have people who think I'm much older than I am, and I don't really talk to people my own age anymore. As much as it sucks not really having that, to me that maturity is more important. In a new environment like I was in, it was forced out of me," she said. "I feel like I had that maturity somewhere, but I never could express it because I had no reason to. We can do a lot, even at our age if we put our minds to it and are aware of it. With maturity, there comes a realization of that."
She thinks that almost anyone can benefit from the program, and she's thankful for all that the ECP provided for her.
"There's a lot of people who I think can benefit from this. I think it would benefit anybody but some need it more than others," Miltenberger said. "As well as intellectually, I've grown spiritually and mentally. It's more than just taking classes somewhere else. Being surrounded in a different environment is a big thing."
Donate to The Lancer Feed