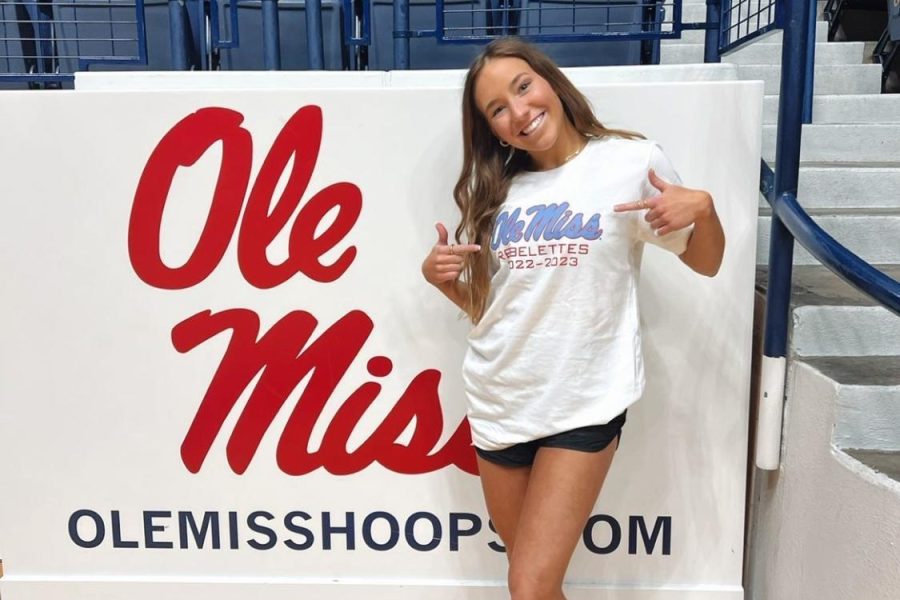 photo courtesy of Mirenda Gilmore
Dancing through life: Mirenda Gilmore
From beginning dance lessons at two years old to growing up in college-town Columbia, Missouri, dancing at a game in front of thousands slowly became a dream for senior Mirenda Gilmore.
Now that she's officially on the Ole Miss Rebelettes team, that dream is about to become a reality.
Gilmore moved to St. Louis her freshman year and immediately joined the JV Escadrille team when she came to Lafayette. Though she was a part of other activities like Key Club, Women in STEM and studio dancing at Renee Johnson's, Escadrille had the most profound impact on Gilmore in her high school career.
"I definitely think I would have been in a much different place if I didn't choose to join Escadrille," Gilmore said. "I wouldn't have known all the other types of dance out there as opposed to just studio. I really have grown to love cheering for crowds and things like that and cheering for our team and I don't think I would've learned what that was like if it wasn't for Escadrille."
Escadrille allowed Gilmore to grow a bigger passion for dance and for Lafayette in general. Although it took a lot of time and effort, she wouldn't trade the experience for anything.
"It's a crazy feeling, being on stage. It takes a lot of time, months of practice to be able to feel good on stage. With this performing aspect, it's really crazy because I'm actually a shy person, but whenever I get on stage, it's fun and it feels good to be able to perform for people and entertain them. It's something I really enjoy," she said. "It's entertaining because not a lot of people do this or see what we get to do behind the scenes. It's really enjoyable to see our hard work represent the school and other things like that."
In her junior year, Gilmore had to take a step back from dancing. The injury was hip dysplasia, which causes labrum tears in the hip that makes it more difficult to walk, let alone dance. With that in addition to the isolation that COVID brought along, it was a difficult time for Gilmore.
"I thought I was going to have to get surgery and get screws in my hips, which would have made me pretty immobile," Gilmore said. "I was able to push through that. It took a lot. I had a few months off of dancing which was very strange for me, it was rough. A lot of physical therapy and I had to reteach myself how to move my body in a way and how to not hurt myself."
While the injury sidelined Gilmore, it actually added to her love of dance and taught her a valuable life lesson.
"I really learned that preparation is key and not to take my abilities for granted. When I got injured last year, I didn't know what the next chapter of my life was going to be. Being able to push through and never take that for granted, pushed me to continue to fight for the ability to dance in college."
After she recovered, Gilmore attended many combines to both demonstrate her talent, as well as scope out schools she was interested in. She felt an attraction to the SEC schools due to her growing up in Mizzou territory, and she was looking for a school that embodied that energy.
"Growing up at Mizzou, I got to be a part of a college life in a college town and that was really enjoyable for me. High school football games are definitely very different from college football games, especially at a southern school in the SEC," Gilmore said. "I knew I wanted to dance in college for a pretty long time. Ole Miss really stood out to me as a school I wanted to go to. Outstanding team, really sweet girls, and I really appreciate how much they love game days and performing at those, which is something I love to do on Escadrille. That was definitely important to me."
With the excitement of being a Rebelette and the pharmacy program, Gilmore is happy to call Ole Miss her future home. 
"Their pharmacy program, the town, the campus, I just really wanted to be a part of it," she said. "I'm really excited about a new chapter in my life. I feel ready for it, I feel prepared. I'm just excited for game days and getting to further my education."
Donate to The Lancer Feed