Hopson experienced major change when moving from Colombia to United States
October 1, 2021
 Sophomore Nicole Hopson, a Colombian immigrant, moved to the United States when she was 11 years old after being adopted. Hopson has since changed large parts of her identity, including her name. 
Hopson was born in Cartago, Colombia, and grew up with her grandma until 2nd grade. Hopson has never met her birth father and has very vague memories of her birth mother, who was not able to appropriately care for her. By the 2nd grade, Hopson's grandmother became ill and was also unable to care for Hopson. 
"My grandmother took care of me, so for me she was like my mom. I had to take care of her because we didn't have anyone else," Hopson said. 
In 4th grade, Hopson remembers her grandmother getting so sick, she was sent to live with another family for a night. 
"We went to the hospital, and the police said a kid like me couldn't stay in the hospital, so they took me to this family for one night," Hopson said. While she thought it was only supposed to be for a night, she ended up being placed into the foster care system the next day because of her living conditions and her grandma's illness. 
Hopson lived with a foster family in Tulua for around three years, and her grandma was able to visit her. After her grandmother passed away, she ended up living with two other families in Tulua before she was adopted and moved to the United States.
"They called me and said that the family wanted to keep me and make me theirs and that was really emotional. Now it's going to be four years [living in the United States] at the end of September," she said.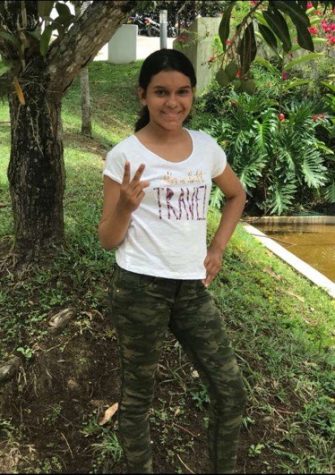 As Hopson had never learned how to speak English before to moving to the United States, her first day of 6th grade was difficult. 
"I remember my first day of school. It was really, really interesting because everyone was speaking in English. My first class was Language Arts and this girl named Ashley literally helped me with Google Translate," Hopson said. "After that we had to go to our lockers, and I didn't know how to open a locker because I didn't have that in Colombia. I had to get a teacher to use the key to open the locker, and I was late for every single class." 
Eventually, Hopson was able to learn English by listening and by watching movies and TV shows.
Another challenge she encountered after moving to the United States was adapting to American culture. 
"I remember I didn't like any food. It was really weird. I felt like the only things I was eating were hamburgers. I got used to it, but it's not the same thing. I like Colombian food," Hopson said.  
She also remembers feeling judged for the way she eats fish.
"My parents took me to this place where they eat Colombian food. I remember I got a big fish. Normally in Colombia, we eat the eyes of the fish, so I was eating it like a Colombian girl. They were looking at me like, 'why would you eat the eyes? Who eats the eyes?' It's normal [for me]," Hopson said.
With those challenges she had to face, however, came a lot of opportunities as well. 
"In Colombia the education is good, but not so good [compared to the United States]. Here, the schools are really big. We also do sports, and we don't have that in Colombia so much, " she said.  
She plans on visiting Colombia again when she turns 18, but she thinks she will always live in the United States. 
"I feel more safe in the United States. Even if I miss my country, I know there's a lot of dangerous stuff. And right now, how the country is, it's really dangerous," Hopson said. 
The biggest challenge she has faced, however, could be changing who she was to adapt to a new culture. Hopson was originally named Jeiri Miriller Gonzales until she decided to name herself Nicole and take on her adoptive father's last name, Hopson. 
"I have a new family, but I had to change my whole world. I got used to this new country with new people. I changed my name, my language. I feel like that was my whole thing. I had to change pretty much everything of who I was to become a new person and start a new school with new people, " she said.