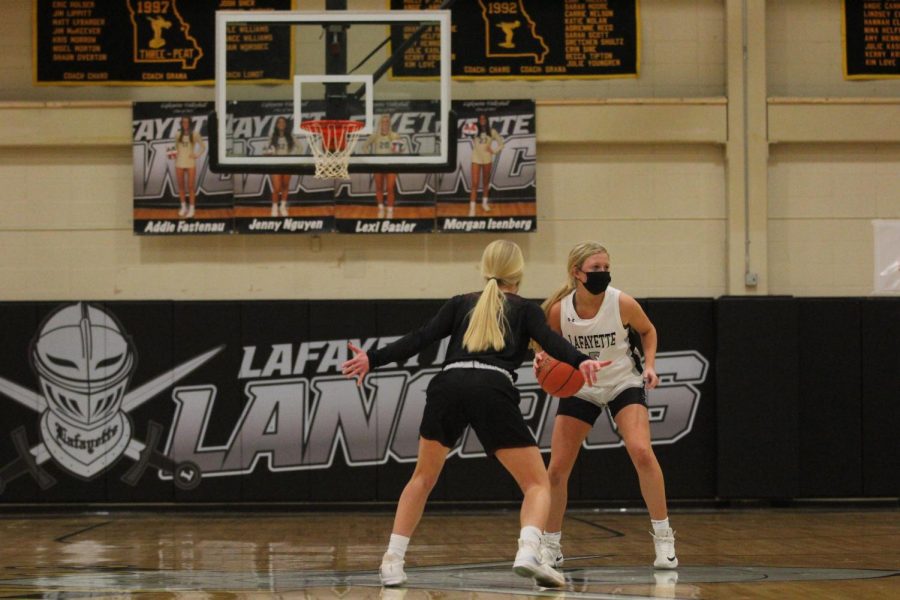 Natalie Tomljenovic
On Nov. 23 girls varsity basketball tipped off against Rockwood Summit at home, ahead of all the other winter sports. After finishing last year with a record of 10-16, the Lady Lancers were excited to start off the 2020 season with a win.
After losing key players from last season, the Lady Lancers look for a strong start from three of the returning seniors, Brynn Jeffries, Katie Reed and Brynn Roach.
In the 2019-2020 season, Jeffries led the team in points with 326 on record for the 26 game season. Roach and Reed also helped to lead the team, with 149 and 107 points scored respectively. Each of the three players had over 32% in field goals and over 55% in free throws.
Head Coach Denise Meyer is excited to have them step up in leadership positions, both on and off the court.
"To have that experience on the court and in the locker room with the girls and being great leaders is really an asset to have and I'm looking forward to watching all three of them contribute," Meyer said.
Although the varsity and junior varsity teams haven't technically started their seasons, in the preseason they've already seen what effect COVID-19 can have should one of them either contract the virus or be quarantined because of it. Over the two week pre-season, 10 players on junior varsity and one player on varsity have self-quarantined in order to keep their teammates safe.
Varsity is scheduled to play 21 games this season.
Against Rockwood Summit, the Lady Lancers beat their District rivals, 55-31. Jefferies led the team with 14 points scored on the night, and Roach followed close behind with 12 points. The two also made over 66% of their free throws for the night.