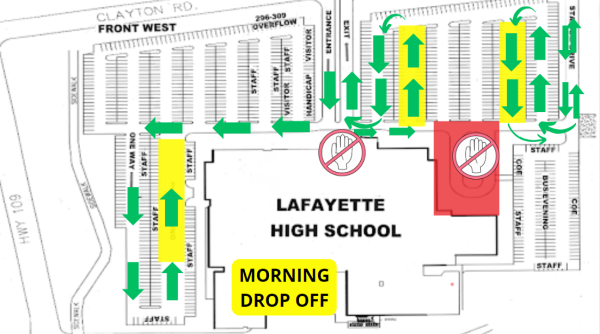 Due to safety concerns, the Pool Door entrance is being replaced. The construction is currently happening and is predicted to finish at the end of August.
"The metal around the doors, because of its location next to the pool, became really rotted out and rusted and wasn't safe," Associate Principal Mike Franklin said. "The glass was coming loose so they needed to replace that and they decided since everything is rusty, it makes more sense to replace everything."
Franklin has been in meetings and working on graphics to figure out how to navigate around the construction. While student pickup won't change, where students who ride the bus enter the building and the drop-off location for parents is changing temporarily.
"The parents, as always, are going to drop off on the west side and then they drop off at this zone," Franklin said.
Students will enter the building through the main entrance at the Welcome Center.
While the pool door construction was happening in mid-August, carpet was also installed at the Pool Door entrance, due to safety concerns for students during the winter.
"When the snow comes, we have kids just falling all over the place down here and slipping and sliding," Franklin said.
The carpet goes from the pool doors to the glass cases in that hallway.
While construction will be continuing into the school year, Franklin doesn't think the noise will be distracting.