If It Weren't For: sophomores research project inspires passion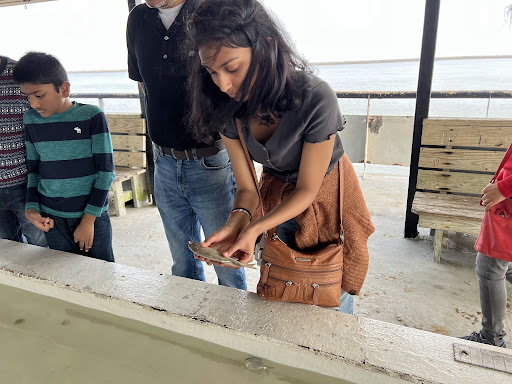 Sophomore Gauri Kathula's fascination of ocean life began in her 5th Grade Center for Creative Learning class (CCL), where she was to make a project on genetically modifying a species to save it.
"I ended up choosing coral reefs because I was interested in animals and was running out of topic options. I came up with this idea where I could modify corals so that they aren't as sensitive to temperature, but it was something scientists were already doing. I was so interested in the coral and didn't want to drop the topic so I tried to find loopholes, but I was a bit limited. From that point, I was interested in the ocean," she said.
For Kathula, this project was a rabbit hole into the world of marine life. Though it originally began as an intrigue, once she found out more about marine life and specifically sharks, Kathula was brought to an entirely new perspective.
An 8th Grade research project then allowed Kathula to learn what she knows now about sharks and industry fishing.
"[My] introduction to high seas was actually an 8th Grade essay I wrote. And it was actually my language arts teacher who gave me that idea. Because originally, my idea was talking about partially protected marine areas versus fully protected or something like that. But she was like, 'Oh, why don't you talk about fishing on the high seas, because that's another issue I heard about once,'" Kathula said.
Through projects and research, Kathula recognized the significance of the issue that a lot of people don't recognize as they move along in their everyday lives.
"I watched videos learning about what a commodity shark fins are in general and just how inhumane the [shark fin] trade was. And just looking at those clips, I saw industrial fishing, which is something that [people] don't really know about. I saw videos where the entire deck of a boat was just covered with fish and this stuff really caught my eye," Kathula said.
As Kathula realized the relevance of this environmental issue, she sought out ways to spread the message.
"I was like, 'maybe this can make a really persuasive kind of story about how sharks are kind of an engineering marvel,' so I kind of went on an abstract take so I could convince people how important the animal is by relating the total history of it," she said.
Kathula created an account on a platform called Medium so that she could publish articles driven from her research.
"It's a series that I'm calling 'Humanity in the Sea' and my first article is going to be about the social implications of forced labor on the high seas, exploitation of big fish like sharks and tuna and then the economic downfalls and disadvantages of it. Then, I want to do something on exploitive tourism. I want to bring awareness about whether the tourist standards are ethical for the people there and what the conflict is within their government," Kathula said.
By building a profile on Medium, Kathula's goal is to educate as many people as she can about the importance and relevance of an issue she believes isn't given much attention. In addition, she wants to aim to children as well by publishing a children's book.
"I kind of want to do a children's book on sharks and talk about various aspects of the ocean and our reliance on them to tell children they still deserve your respect. You can be afraid of sharks but you can't be hateful," she said.
By working on projects from elementary to high school and conducting research about the mistreatment of marine animals, Kathula hopes to make a difference.
"If it weren't for my discovery of the shark finning industry in the 5th Grade, I wouldn't have the intersectional and intrinsic, darker understanding of the oceans that I have now," Kathula said.