Four teachers plan retirement after over 20 years of teaching
There will be four teachers retiring this year from Lafayette. Language arts teacher Cheryl Hermach and special education teachers Debbie Ballard, Sandy Schilling-Gal and Terri Warnars will all make their exit with the Class of 2022.
Schilling-Gal has been at Lafayette the longest. She started 28 years ago, in 1994.
"I was teaching general education classes at a small private school and I realized that if any students were struggling, or they didn't fit in or they had behavioral problems or they couldn't read due to dyslexia, instead of educating those kids, they just had to go someplace else. And a lot of times they were sent to public schools. It was at that point I decided that I would work on my master's degree in special education," Schilling-Gal said. 
Though it was a relatively different experience than regular education, Schilling-Gal thought the transition was easy because she was already used to helping students. 
"I was always educating those kids that struggled, and even kids that didn't have a learning disability but just had a hard time learning for whatever reason," she said. 
After working at Lafayette for 24 years, Hermach is ready for retirement.
Over the last 29 years, her career has brought her to different schools. Before coming to Lafayette, she taught at William Jennings Bryan Middle School in Omaha, Nebraska. For her, coming to teach at Lafayette was like coming home. She went to high school at Parkway West and graduated from Truman University.
"I went to Truman and I went specifically because I was supposed to be the first class through the MAE program, the Masters of Arts and Education. They put us into the elementary version of the Masters of Arts and Education program. It's kind of nice to have had the English background behind me," Hermach said.
She has taught 9th Grade Language Arts, 9 Accelerated Language Arts, and ALARP 1 and 2. She also does ACT tutoring help. Hermach has really enjoyed teaching at Lafayette.
"
"I just like the camaraderie here, and I like the people that are here.  I love wearing Lafayette things and  I do think it's a great day to be a Lancer. I enjoy that. It's been 24 years and I am proud of our school.""
— Cheryl Hermach
One of her students, freshman Evan Sommer, really liked Hermach's style of teaching.
"She wasn't afraid [to get mad at] people when they were not behaving. She's just a super nice teacher. She was nice to me. I missed a lot of school and she helped me catch up first semester," Sommer said.
Business education teacher Holly Green is Hermach's good friend. To take a break, Green and Hermach would go on daily walks together during their plan periods.
"We both just wanted to get out of the building because it was a sunny day, and I noticed that she had some tennis shoes and I was like, 'Hey, you want to go for a quick walk,' and that kind of started the daily walk routine that we've been doing this year," Green said.
Green admired how Hermach could help frustrated students get through issues.
"She's great at being able to see situations from all angles. Especially if you're frustrated with something and you kind of bounce ideas off of her. She's really great at kind of playing devil's advocate so you can kind of see all sides, not just your own viewpoint of what you're frustrated about," Green said.
Hermach has become really good friends with Green and most of the teachers in the West Hall, who are all sad to see her retire, but are happy for her as well.
"She's definitely going to be missed, but I'm very excited for her to kind of move into retirement and really kind of enjoy life however she wants to," Green said.
Ballard has also been teaching for a long time and was hired at Lafayette in 2002. Before that, she had five years of teaching experience in the Meramec Valley School District along with other various teaching jobs. But world events turned her to Rockwood. 
"The attacks in 2001 happened, and because of that I knew I wanted to be closer to home," Ballard said. 
Ballard said she knew she wanted to be a teacher since the 2nd Grade.

"I would pretend I was teaching my brother who was like 3 years younger than me," Ballard said.
Warnars, who's known Ballard for 20 years, speaks of her highly. 
"She's really kind. She loves her job and she loves the kids. She's one of the most patient people I think I know," Warnars said.
Warnars started at Lafayette in 2000. She's seen firsthand the way students have changed over the years.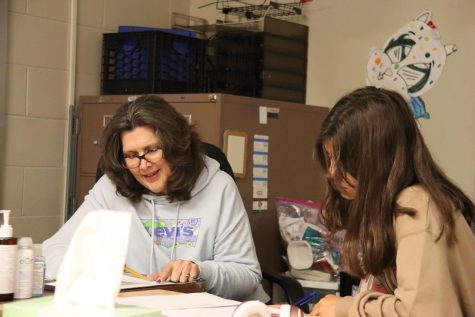 "Social media has kind of brought them down, made them a little more depressed and withdrawn in ways they don't even realize," Warnars said. "They tend to be more isolated. They tend not to make eye-to-eye contact. Everything's over text or Snapchat instead of sitting in a room and talking and laughing and just really getting into each other. I don't wanna say it's almost like a fake relationship but it really is."
All three teachers are proud of the impact they've made on students. 
"All the kids that I've worked with that are now doctors and nurses, teachers or in the business world. I really get excited because there isn't one place that I can go in St. Louis where I don't see a former student," Schilling-Gal said. "And they have kids and they're successful. I take a little bit of pride that maybe I had just a little something to do with their success."
Warnars also said she was proud of the connections she's made with her students, even after graduation. 
"I connected with quite a few students on Facebook and still connect with them so it's kind of cool," Warnars said. 
Warnars has less defined plans for retirement.
"I'm gonna do me. I really am. I just want to be," she said.
Ballard is especially proud of how she's inspired her students in language arts. 
"[I'm proud of] the lives that I've touched. Teaching my students, trying to get them to have a love of reading."
The three have worked closely over the years and become good friends.
"[Schilling-Gal and Warnars] are my friends. They're both fabulous fantastic caring devoted committed teachers. They both are. And they're both very good friends of mine," Ballard said. "It's gonna be hard to fill their shoes."
Warnars said she can tell Schilling-Gal loves her students.
"She's a trooper. She is a history guru and just has a fabulous personality," Warnars said.
Schilling-Gal also has fond memories of the time the three spent "growing up" at Lafayette.
"You know, thinking back to where we were, we were all so young when we started working here. I mean, we didn't have a single wrinkle or anything. We were still young and we have seen Lafayette go through so many changes and they are just wonderful people, dedicated human beings, dedicated teachers and I wish for them the most happiness and success in the next chapter in their lives. But it's been a privilege working with them and getting to know them and their families over the years," Schilling-Gal said. 
But, she is looking forward to her retirement. She has a house at the Lake of the Ozarks that has been passed down in her family for three generations and plans to spend some time just relaxing.
"I'll probably be fishing, boating, swimming, working in the garden, and working with my fish. I'll be here at the lake. I'm going to take some time out," Schilling-Gal said. 
She may not be too far away from Lafayette, though. 
"I tell the kids I'm going to take a gap year and do nothing for a year. Then after that gap year, I'll probably come back. You might see me around Lafayette maybe doing some subbing and maybe some tutoring," she said. 
Ballard is also considering serving as a substitute teacher or finding some other kind of work to do. 
"I'm going to try to get some kind of part-time job somewhere. Maybe like in January getting a subbing job," Ballard said. 
And, she admits, she has mixed feelings about her retirement.
"It's bittersweet. I'm looking forward to retirement, but at the same time, it's sad. The closer it gets the happier and the sadder it gets.  Which I didn't know I'd be almost crying. I mean Friday they gave the three of us a retirement party and I almost started crying because I'm gonna miss my students, but also the other teachers I work with and the parents and the administrators. It's gonna be really hard," Schilling-Gal said.