After one year with no live performances, LTC bounces back with Spring Musical
Bross Miller and Chiara Bouckaert
This year's Spring Musical, The 25th Annual Putnam County Spelling Bee, will be performed by Lafayette Theatre Company (LTC) on April 8-10 beginning at 7 p.m.
Tickets may be purchased for $10 by reservation and have been spaced out in the space of the theatre with a capacity of 150, according to COVID regulations and Rockwood guidelines. To reserve tickets, email Director Natasha Fischer at [email protected]
"We are so excited to be the first Rockwood high school to put on a full-blown musical live [since the initial lockdown]," Fischer said.
The 25th Annual Putnam County Spelling Bee is about a group of sixth-graders competing against each other in a spelling bee, with each character finding their motivation to win for different personal reasons.
Playbill.com describes the show as, "The tale of several socially awkward youngsters finding joy, heartache and a purpose in competing at the regional spelling bee".
LTC's last performance, the Fall Play, consisted of a montage of recorded scenes from the past 10 years of shows that were edited together and uploaded to YouTube. This time, the performances will be on the theatre stage with a live audience. 
Sophomore Katherine Wheeles, who is playing the role of Olive Ostrovsky, said, "In the beginning, we didn't even know if there was going to be an audience at all. Then, we were informed that we could only invite two family members per person, but now the show is open to the public. Everyone is really excited that we're able to share this show with more people."
Both audience members and performers will wear masks at all times. This regulation has posed a challenge for the actors.
Senior Ashleigh Kennelly, who is playing Rona Lisa Peretti, said, "Wearing a mask while trying to sing and act is definitely difficult. Acting is all about expression and creating a character, but when half of your face is hidden that becomes a bit of a challenge."
To help with this obstacle, clear face masks are being usedfor the performances.
"Understanding one another can be tricky at times if we aren't loud enough or if we aren't saying our lines clearly enough. With masks, the sound gets trapped inside, so the person wearing it may think they're being really loud, but they're actually much quieter.  I've found that singing during dance numbers can be difficult because it is harder to breathe, and breathing too hard or fast will cause our masks to suck in and cut off the air completely. I've overcome this issue by really making sure to time when I take breaths, and I sometimes pull my mask out a little in order to make sure I can get a full breath when I sing," Wheeles said.
Despite the challenges COVID-19 has presented for live theatre performances, LTC has persisted and is looking forward to bringing the performances to a live audience.
"Everyone in this show is crazy talented, and I feel so lucky to be a part of this cast. I sometimes have to look away or bite my cheek so that I won't burst out laughing at a joke I've already heard ten times over, and I'm a little worried that I might start laughing during a performance. Also, I'm so looking forward to doing a live performance in person after almost a year of virtual theatre. We've really come a long way and I'm just ready to finally bring live theatre back," Wheeles said.
About the Contributors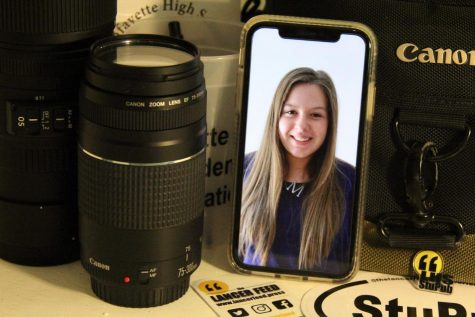 Makayla Archambeault, Editor-in-Chief
Makayla is a junior, and this is her third year on the news production staff. When she's not writing, Archambeault can usually be found playing lacrosse, helping with a Lafayette Theatre Company production, reading or watching movies. She can be contacted at [email protected]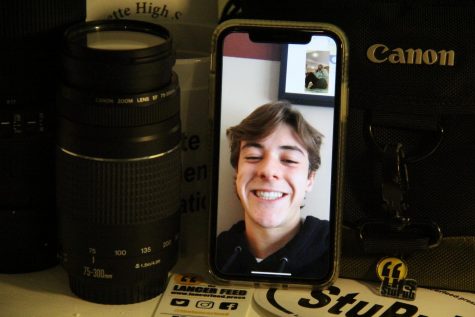 Bross Miller, Staff Reporter
Bross is a junior and this is his first year on digital media staff. He likes to run, skateboard and cook food. He can be contacted at [email protected]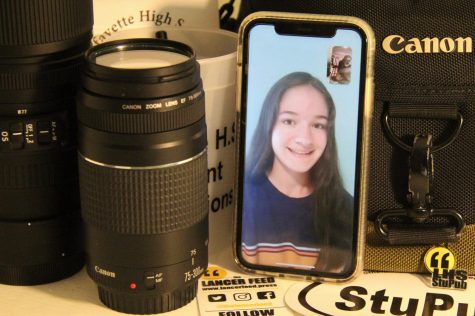 Chiara Bouckaert, Staff Reporter
Chiara is a sophomore and this is her first year on digital media staff. Outside of Student Publications, she can be found playing softball, running track, reading and writing stories. She is also an environmentalist. Bouckaert can be contacted at [email protected]