Speech and Debate team places in Qualifying tournament
Participants adjust to virtual, recorded competition rather than previous in-person events
Lafayette's Speech and Debate Team participated in the State Qualifying Tournament, on March 6 and 7. Katherine Wheeles placed fifth with her Dramatic Interpretation, Shreya Ramalingam placed fifth with Storytelling and Aashish Suresh placed fourth with his International Extemporaneous Speaking.The sponsor of this club, Paul Jaycox, is in his 15th year of leading the Speech and Debate Program. 
The team is actively researching and writing their cases to build a reserve of information that could be used during competitions for rebuttals. According to Jaycox, in debate competitions, either a group or a single student will be assigned a topic and their side – either in favor versus opposed or pro versus con. The students then engage in a timed and organized "back and forth" debate in which judges critique the validity of their researched points and rebuttals.
The speech competition was asynchronous, meaning students did not compete live. Instead, they recorded performances that were in to judges and scored at a later time. During a typical speech competition, students would perform a memorized scene in a room with a judge who would rank each performance one through six. Winners of this preliminary round would move on to the next. However, this process is slightly different due to virtual competitions. 
Although this 2020-2021 season looks different than in years past, the team is still succeeding.
Senior Kate Barnard has always been interested in arguing and current events. She has been participating for the past three years. Barnard said she has seen an improvement in her public speaking, confidence and quick thinking skills. 
"I would recommend anyone to join this team because it totally transforms your ability to communicate with others. If you are interested in becoming less shy, then it is definitely a wise choice to participate in this because it is a mostly consequence-less way to improve yourself in that area," said Barnard. 
Senior Solana Cariello joined the debate team during her sophomore year. Barnard convinced her to join because she was in need of a partner. Cariello was on the varsity debate team since her partner, Barnard, had already participated the year before. 
"I honestly went into it thinking I was going to be awful, and that I was going to hate it, but I had a really great time, and I loved it," said Cariello.
Joining the team also boosted Cariello's public speaking skills. 
"You'll never win any debates if you're not confident and assured, so debating essentially forces you to get comfortable with public speaking, or else you'll never do well. There's nothing that makes you feel better about yourself than a really good 'gotcha' moment where you can show what you know and make your opponent look bad," Cariello said. 
"I am pretty proud of what we've done so far, even though most of the tournaments are virtual. The community has rallied really well and developed a very efficient substitute for live tournaments," said Jaycox.
About the Writer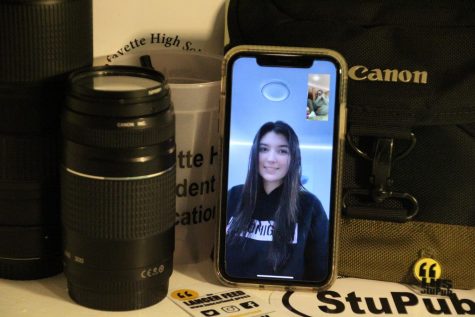 Olivia Moran, Staff Reporter
Olivia is a senior, and this is her first year on the news production staff. When she's not writing, Olivia can be found hanging out with friends, looking at cars or blending frappuccinos at Starbucks. She can be contacted at [email protected]