Girls racquetball celebrates first State title
Team disappointed that national tournament falls victim to COVID this season
The Lafayette community has newly crowned State Champions. After the Lancer racquetball team took second overall in last year's State Championship, the varsity girls team brought home the gold this year.
Led by junior team captains Janka Gerber, Maggie Leath and Head Coach Manny Rodriguez, the girls varsity racquetball team came in first place on Feb. 27 at the 2020-2021 Missouri High School Racquetball Association (MOHSRA) State Tournament. With a total of 585 points, they dominated the competition, beating out second place Kirkwood by 160 points and third place Lindbergh by 410 points. 
All the other Lafayette racquetball teams placed in the state tournament as well. The girls varsity "B" team came in seventh place finishing with a total of 115 points. On the boys end, varsity finished in sixth place with 175 points and the boys junior varsity ended its season in fourth place with 140 points.
Leath said out of all the things the team accomplished this season, the State title was the cherry on top.
"The best highlights for the varsity A girls team is that we got a first place trophy for the season and State. Also, all eight girls were in the finals with us all getting either gold or silver medals as a team," she said.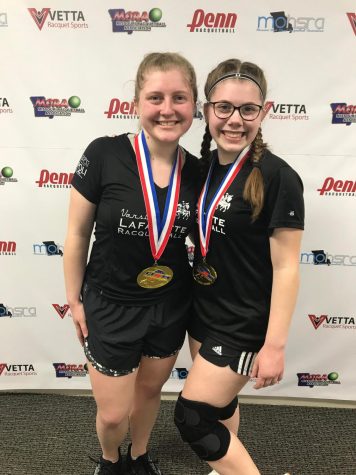 Despite winning their first ever State Championship, the Lady Lancers won't get a chance to compete at the national level. Unfortunately, COVID-19 caused the national tournament to be canceled and it was scheduled to be held in St. Louis.
"This season's nationals was taken away from us which really sucked. Nationals is what drives us the entire season and it is our main goal. Not being able to have one really changed our season this year," junior Ashleigh Howard said. 
The team hopes to get another chance at nationals next year. For the 2021-2022 season, the games were originally supposed to be played in Portland, Oregon but will stay in St. Louis due to this year's tournament being canceled. 
Overall the season was affected in almost every way. Not having fans and playing with masks, this season truly saw the impact of the pandemic. 
"COVID was definitely our biggest obstacle as a team. It made it harder to grow and bond. It cut out tournaments and nationals which are huge experiences for us. COVID has also changed how we practiced. We had to wear masks at all times and tried to stay six feet apart," Howard said. 
Although the season has ended, the future is bright for the team with many of the new State Champions coming back next year. Leath looks to keep on winning with the current group. 
"I have grown so tremendously close with my other girls on the team. They are some of my best friends and I am so blessed to have met them through this sport. I want the future of the LHS racquetball to just continue in numbers," Leath said.
With their successful season, the racquetball teams also look forward to bringing more attention to the sport and make their mark as a dominant powerhouse for Lafayette sports. Having more people know about the team and continue this championship success. 
"I would really like to spread awareness that racquetball does exist and that it is an amazing sport. I've played for the past six years and this team has really become my family. Racquetball is a sport for anyone. Whether you're naturally athletic or not, you're going to have the time of your life playing racquetball. Our coach often says 'You get out what you put in,' meaning that you can choose your level of commitment based on how well you want to do. It is a very flexible sport. Our team is also very welcoming. We try our very best to make everyone feel like they belong and I definitely feel like we succeed," Howard said. 
About the Writer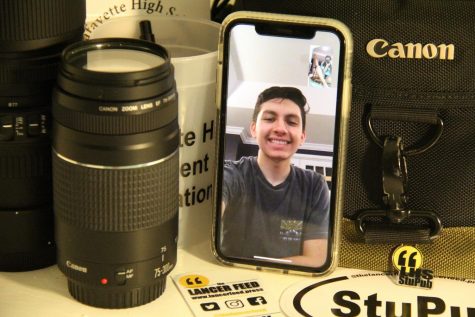 Kevin Vera, Sports Editor
Kevin is a senior, and this is his second year on the digital media staff and his first year on the news production staff. When he is not reporting, Vera enjoys watching sports, working out and listening to music. After high school, Vera plans to major in journalism and pursue a career in sports broadcasting....