COVID-19 goes head-to-head with playoff season
Winter athletes happy to compete, but remain cautious about their health as seasons head into final stretch
The winter playoff season is typically packed full of indoor tournaments, fans, matches and games that come down to the final minute. It's a culmination of a season's worth of hard work, where each team claws its way up to the final meet or game to earn the coveted title of State Champions surrounded by thousands of fans and dozens of teams.
This year, things are turning out a little bit differently.
Determination and grit for each and every team are still there, and the trophy is still the end goal. But with COVID-19, the fans, the rivalries and many other aspects that made playoffs so exciting are missing this year.
But, the winter teams are at least still relieved that they had a season.
Head Boys Wrestling Coach Joseph Wier initially was unsure if the season was going to happen at all. With the combination of the sport being indoors and the number of people who were allowed to work on the mats together, things was questionable.
"I was looking for signs that maybe things would open up a little bit," Wier said. "I was very skeptical, and it was a bit disheartening because I knew our team was going to be very solid this year. But when football started playing I knew we would have a season, I just didn't know to what extent."
At the beginning of the winter season, St. Louis County announced that all high school athletes had to wear a mask during practices and in games and matches with the exception of girls swimming and diving. The Lancers struggled with the change, but have since adapted to it and even seen some benefits come from it, like being better conditioned.
"Wrestling with the mask on is a leap of faith. Our kids are in really good shape. I remember in our first meet outside of the county, all of the other kids were begging for air at the end of the third period because our kids are so well conditioned [because of the masks]. I think that at some point, some of the restrictions have been to our advantage," Wier said.
Junior wrestler Faith Cole experienced some of the same feelings, but as long as the Lady Lancers got to wrestle in another season, she and her teammates were ready to follow any and all restrictions so they could play.
"We were definitely really cautious. Some of us thought that we weren't going to have a season, others did. I thought we were going to have one because our Activities Director was very confident and he was continuously working for us to have a season," Cole said. "It's been working out. Things were really up in the air because some states were canceling their seasons and we were basically just waiting around for ours to get canceled too. But we're glad it didn't, obviously."
While basketball doesn't allow for as close of contact as wrestling, junior Jack Clark was still apprehensive about his season and the impact COVID-19 might have.
"I expected COVID to limit our team severely considering basketball is indoors, and the cases were on the rise," Clark said. "The protocols are not terrible, but they are not lenient either. Playing in masks is a challenge, but all of us are just happy to be playing."
Even with the restrictions, the boys basketball team will play over 20 games this season. The season being cut short was a serious reality, but Clark is grateful to be able to play in as many games as he can.
The same gratitude is certainly not lost on Lancer Hockey Head Coach  Jim Carrico. Carrico has been coaching for five years, and this season began surrounded with doubt.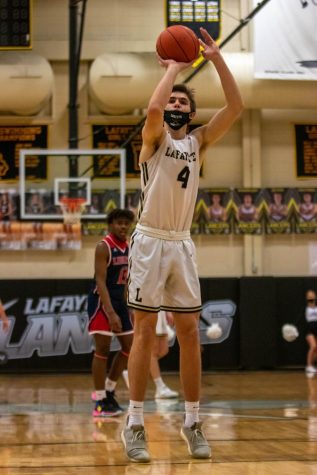 "Like everything else in 2020, it was a big question mark. In August when practice started we as coaches continued to prepare as if we would have a season, but we had no idea. We as a team believe we are doing the right things: wearing masks, staying six feet apart, communicating as a team if a player or family member is sick or might have COVID," Carrico said.
Despite losing many upperclassmen leaders from the previous season, Carrico said the team is ready to go far in the 2021 Challenge Cup playoffs.
"Like the past few years, we have yet another great group of seniors. When your seniors and top players buy into the program, good things are bound to happen. Their work ethic trickles down to the underclassmen and shows them what it takes to get where we are," Carrico said. "In recent years, we kind of snuck up on teams. This year, teams know who we are and what we bring and will be ready. Like our regular season, every game will be a test for us. The boys know it and I am sure will be ready for another Challenge Cup run."
A team being equivalent to being another family for Lafayette athletes was never really a difficult concept to accept in the first place, but with COVID-19, the teams have realized just how lucky they are to be playing this season. The playoff season has only amplified those feelings, along with the benefits that come from overcoming the challenges presented this year.
"[This season] had a positive impact in certain aspects because it definitely brought the team together a lot more. I can feel the boys and the girls are working together a lot more and you can definitely see the support there. It's a little different schedule than we're used to. We're not playing the same schools or going to the same tournaments, but we worked around it pretty well and it's been a good thing. It impacted us positively instead of negatively like most people would've thought. I kind of enjoy it," Cole said.
Junior Seraphina Blackmon and senior Na'Zir Dent, along with Cole, have been keen on the Lancer Wrestling slogan of the year: "Find a Way".
"We have to find a way to win that match, find a way to be the best you can because with everything going on this year, you always kind of have to find a different way or find a different angle to attack things. The slogan fed in really well with this year and everything that's been going on," Dent said.
For Blackmon, the masks and other protocols haven't stopped her from finding her way to the podium during the season. Rather, she welcomes the challenge and calls for other athletes to do the same.
"It is a struggle since we have to move around a lot, but I'm so glad we had our season," Blackmon said. "We still have the same mentality we had years before, COVID didn't change anything about that. We just have to be supportive of each other and that's about it. We work hard in the room and don't make excuses. You can work just as hard with a mask on."
With wrestling entering its post-season events, the team is preparing for the competition and adjusting to new changes to the schedule. The girls wrestling team already competed in Districts on Feb. 3, placing second, and advancing six wrestlers to Sectionals.
A Sectionals event has been added this year to limit the number of teams who move on from Districts to the State meet.
"Our season grew by a month. Districts are now 14 days from Sectionals and Sectionals 14 days from State. That way if a kid gets quarantined at Districts, they can still wrestle at Sectionals and so on," Wier said.
Wier stressed the importance of the wrestlers staying cautious and doing what they think is best to limit their chances of exposure.
"This is the time of year where you stay away from everyone who's not immediate family and quarantine yourself a little bit. In school, you have to be six feet away from everyone and protect yourself. You're protecting yourself as well as your training partners. We're all in this together," he said.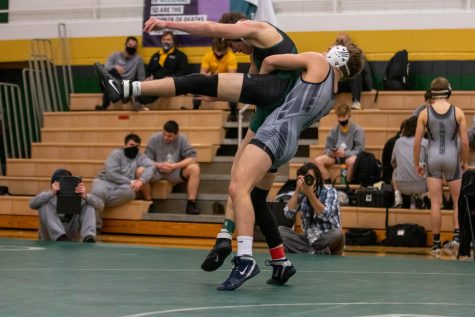 In the spirit of this mindset, some wrestlers have opted for virtual learning, including Blackmon and Cole.
Blackmon said, "I know some students are still in school who are on the team, but when [coach mentioned the idea of being virtual] I knew I wanted to stay online."
Cole stressed her concern for her teammates as her main reason for choosing online learning.
She said, "A lot of the kids went online two weeks before Districts just in case. It was a team decision, a lot did, not all, but most of the ones who knew they were going to play in the State series did. As a team, we do it together more than individually. It's good because we wrestle in groups, so if one person needs to go and get tested, it takes out four or five other people no doubt. We're really not hanging out with anyone outside of the wrestling team because if you hang out with one person outside your regular group, it can take out a lot more people than just yourself. It's been my reason for staying online. I tried to go back in November, decided I didn't like it as much and I was more comfortable with online school anyway. I didn't want to be quarantined. I've been online and I'll probably stay online until the end of the year."
Those on the team staying in-person are also taking precautions to limit their contact in school.
"I am in-person right now, but I know it's a way bigger risk with people getting quarantined. I've seen the stats and it's kinda scary. In all my classes, I've been trying to sit six feet apart from everybody, that way there's less of a chance of me getting quarantined and at lunch, I only sit with wrestlers," Dent said.
Dent is optimistic about the wrestling team's chances, as well as the hope that his team will do whatever it takes to remain safe and healthy.
"I think we can get to that point where we have to worry about 'are we getting this State title or not' as a team and as individuals. Some kids may not be ranked on the team, but I think rankings don't really mean anything," Dent said. "I think that, as long as you want it more, and as long as you're willing to do whatever it takes to get to that point, we can most definitely get it."