Lancers begin second semester with another new schedule, larger in-person numbers
Change and adapting seem to be the key words for this school year. With the start of second semester on Jan. 19, another new schedule goes into effect and students and staff will have to adapt to something new again.

The primary difference will be in the class schedule as the high schools move back to a semester format and a big jump in in-person attendance as a little over 63% of students have decided to come attend classes in the building. 
Besides moving from three classes to seven, the class schedule will be set up on a B/C block. On B days, students will attend their 1st, 3rd and 5th Hour for a longer blocked class and then their 7th Hour for a standard class time. On C days, students will attend their 2nd, 4th and 6th Hour for a blocked class and their 7th Hour standard. (See the schedule graphic)
The change to a regular blocked schedule was made as part of the efforts to mitigate potential spread of the coronavirus at school.
 Associate Principal Michael Franklin said, "It is the best way to keep kids from interacting with each other in terms of social distancing and contact tracing."
And the decision to have 7th Hour every day was also made with student safety in mind, according the Franklin. "The other option was to add an 8th period. If you remember last year we had Flex Time, so we would have to do something like that where we would have to put kids somewhere for the 8th period. So instead of doing that we decided to just do the three blocks and then have 7th Hour every day rather than adding an extra block to the day."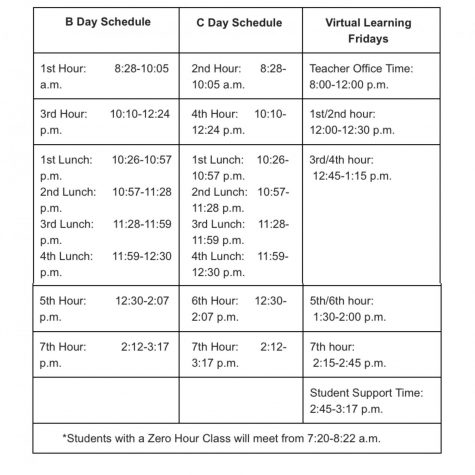 To ensure proper social distancing of students during lunch when they have to remove their masks to eat, there will be four lunch shifts so students can be spread out more in the Upper and Lower Commons. Lunch will be built into 3rd/4th Hour, and each will last for about 30 minutes.
First first shift will include all music, physical education and science classes. Second lunch includes all math and world language classes. Third lunch includes all business, language arts, ROTC and SSD classes. Fourth lunch will consist of students in all art, FACS, industrial tech and social studies classes.
Each teacher has been given assigned lunch tables for their students and will assign seats according to where the students also sit in that 3rd or 4th Hour class to keep contacts minimized.
In addition, lunches will continue to be free and will be set out on tables for students to grab as they walk into the Commons.
End-of-day dismissal will be staggered, starting at 3:07 p.m. and continuing in five-minute intervals. Seniors and juniors will be dismissed first followed by students on the second floor and then the first floor.
Another big change for second semester will be many Fridays (during five-day weeks), which will be Virtual Days. All students will be learning at home in these days, and the schedule for Virtual Days will vary depending on the B/C pattern of that week. For these days, 1st/2nd Hour will meet from noon- 12:30 p.m., 3rd/4th Hour will be held from 12:45 – 1:15 p.m., 5th/6th Hour will meet from 1:30-2 p.m. and 7th Hour will be from 2:15 – 2:45 p.m. Teachers will share Zoom information with students and also make the determination of what classes will do during those virtual days. The format of those days is being left up to teacher discretion. 
The dates of those Virtual Learning Days are: Jan. 29, Feb. 5, Feb. 26, March 5 and March 12.
In regard to the numbers of students attending in-person for second semester, as of Jan. 14,  340 students had made the choice to switch from online to in person for the second semester.
Sophomore Mallory Gabris is one of these students. " It was really stressful for me [being online] and I was having trouble focusing, I also kept getting light and stress induced headaches," she said.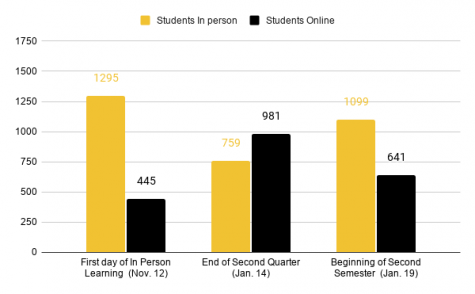 Even with the precautions Lafayette had in place to ensure students as little risk of coronavirus transmission as possible, around 536 students changed from being in-person learners on Nov. 12 to being online by the end of the first semester. 
When asked why this might be happening, science teacher Elizabeth Steiner said, " I think kids came to school because they were excited to socialize and see their friends, but in reality because of COVID and all of the safety precautions that we have to take, it's not like normal school. I think a lot of kids figured that since it's not what [they] expected, they would just take school online like the first quarter." 
After Spring Break, when 4th Quarter begins, those who have chose to remain virtual will be allowed to switch if they would like, but they will not be able to change before that time..
Franklin said he understands many students are facing to constantly adjust to the new schedules along with having to deal with the pandemic for so long.
 "I think it's going to be a little bit rough in that we don't have the stamina that we had last year, we are used to the shorter days, so this is going to bump it back up a couple of hours where we are here for a longer period of time so I think kids are going to have to prepare for that," he said.