Tuesday Night Rock Band finds alternative ways to perform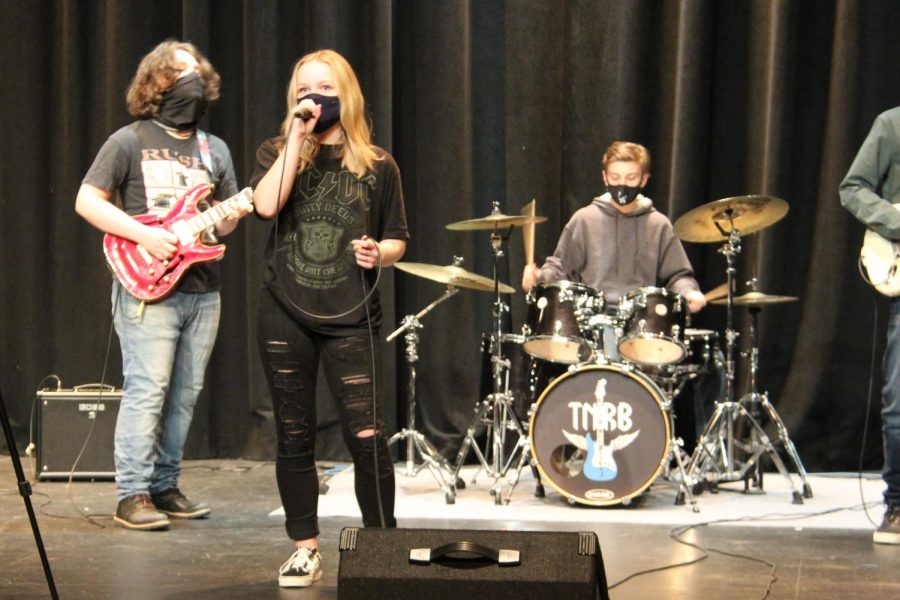 The ongoing pandemic has caused all kinds of events to be canceled or have some sort of delay. Since March of last year and all of this school year, teams, clubs and school events have all seen some type of effect from the COVID-19. 
Tuesday Night Rock Band is no exception. 
In a normal year, we would see Tuesday Night Rock Band performing throughout the whole school year. Pep assemblies and having concerts every Tuesday night were moments that the club would look forward to, but due to the circumstances of this year, they have been unable to do.
Lafayette is not planning on holding any pep rallies anytime soon as it would not be safe to have everyone in the building to sit in the school gym for in-person, live performances. It also grows increasingly difficult for the band to approach that idea as one of the vocalists from the band has remained on Zoom calls throughout all the sessions. 
"I would say it has been more difficult because we don't have all of our people there since one of our vocalists is on the Zoom call. It hasn't kept us from practicing, but this is a minor inconvenience for the band," junior Rachel Vishion said. "Not performing in pep rallies this year has been a real downer because that was something I was really looking forward to. Nonetheless, being able to play, even at practices, is great."
The practices were affected as the band didn't meet in person until Nov. 17. Before then, they had only seen and heard each other through their computer screens.  
Because they haven't been able to see each other to listen to their music and hear how they sound has been the hardest part of the Tuesday Night Rock Band's year. 
Guitar teacher Traci Bolton recognizes how the complications of practices have affected her group. 
"Being together in the same room is vital to a band being able to play together. Zoom doesn't allow for multiple people to make sound at the same time. That means during our virtual 'rehearsals' we could only talk about who was playing what part and work as individuals.  It wasn't until our first meeting on Nov. 17 that the members actually heard each other play."
Senior Andrew Arciszewski also believes in the importance of being together as a band and listening to each other play.
"The biggest obstacle we have faced so far is just being able to get everyone together and finally start playing. This year is a completely new lineup from top to bottom so getting a chemistry established is a big thing that would really boost the quality of listening to the music for us and the audience," Arciszewski said. 
Despite the circumstances, Bolton and the band are hoping to look and improvise and make the best out of this year. 
One solution that the group has come up with is making and producing their own music video. Alongside that, they hope to be able to live stream their performances in the future. 
"We are going to create a couple of options for performances. Our first goal is to create a music video of one of our selections that can be released for all to watch. The second would be either a livestream performance or a pre-recorded performance that will be debuted for all to watch," Bolton said. 
Tuesday Night Rock Band has kept their heads high and maintained a positive attitude towards the rest of the school year, hoping that they can eventually get back to playing and be able to perform for the school as well as parents. 
"My hopes for the rest of the year is that hopefully there will be some shows scheduled and with some wishful thinking there may be a guitar festival in April that we could play at, but nothing is certain right now. I just look forward to being able to play with everyone until we can eventually play in front of others," Arciszewski said.
About the Writer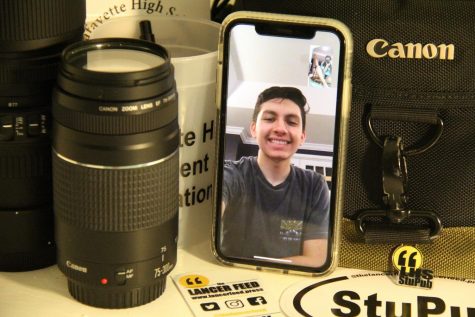 Kevin Vera, Managing Editor
Kevin is a senior, and this is his second year on the digital media staff and his first year on the news production staff. When he is not reporting, Vera enjoys watching sports, working out and listening to music. After high school, Vera plans to major in journalism and pursue a career in sports broadcasting....