Annual canned food drive continues with new format
Together We Can adapts to new donation mediums including online opportunities, drop houses, direct delivery
This year, instead of students filling up their 1st Hour classrooms with boxes of canned goods for the Together We Can Canned food drive, students are either filling up boxes on Rockwood families' porches or through an online donation in order to minimize contact while still providing service for those in need.
Lancer Parent Organization Junior Class Director Julie Dobson said, "[We have the] same goal, to collect as many cans we can, school-wide, during the month of November for needy families in the community, the difference being that rather than the cans coming into the school building, there are a variety of other ways that we are collecting."
There are many options when it comes to donating cans this year, including "drop houses" where students can take their cans and place them in boxes on Rockwood family's porches, where they will be taken to Fairway Elementary School. Students can also take them straight to Fairway.
If students wish to drop off cans at a designated drop house, they can check their Rockwood email for the addresses of multiple drop spots around the Lafayette area.
For those looking for a more contactless way to give back, they can make an online donation, email a digital gift card, which will be used to purchase canned goods, to [email protected] or purchase food items through an Amazon wishlist.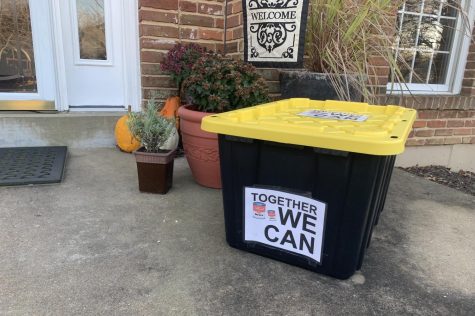 Additionally, whenever families make a donation, they have been asked to fill out a Google form in order to help keep track of the number of cans donated by each grade level.
"It looks completely different from what it has ever looked. We are having to do everything online. We have multiple ways in which parents can donate and we also have had an amazing response from our parents who have volunteered their porches for people to drop cans off. We've never done that before," Assistant Principal Kirti Mehrotra said.
"Because of COVID and the fear of infection, we did not want to bring the cans into our building so people are directly sending them, whether they are ordering them from Amazon, or doing the gift cards, [it is going] directly to Rockwood's Got Your Back Pack program, because that's where our biggest need is and then we decided that if we have excess then we will give it to Circle of Concern like we would normally have done," she added.
In a typical school year, Lafayette would donate the items to Circle of Concern, a food pantry that serves citizens in west St. Louis County. This year, however, Lafayette will support Rockwood's Got Your Back Pack program to help families on a more local level.
"In our Rockwood School District, we needed the food more than in previous years because of COVID, the demand is more. So we decided to help Rockwood first and then if we had excess, then we would give it to Circle of Concern because Rockwood would also be giving it to the same families. Circle of Concern also takes care of the families in our community," Mehrotra said.
However, due to the less-than-normal circumstances, student participation so far has been much lower than in previous years.
"For the people that have done it the other way all these years and know how it's been done [in years past], I think they were confused about not having the cans come to school. I think adapting to the variety of new collection methods, it just seems more complicated than it has been in the past where you would just bring a can to school," Dobson said.
Despite the circumstances, Mehrotra encourages students and their families to participate as the variety of ways to donate helps people of all comfort levels contribute.
"When I do the graduation speech I go back to each year that the class has done some community service and I talk about it. For my Class of 2020, I talked about the books that they donated and the number of cans that they donated and all the other things that they did. So, that number is a good number for us to go back and kind of recognize our kids," Mehrotra said.
In past years, students have collected up to 30,000 cans for the drive, and while the circumstances are very different this year, Dobson believes the goal this year can still be reached by spreading the word through the Lafayette community.
"The hope is that it will be as successful as usual, but since we aren't collecting at school, even though there's a variety of ways to donate, I don't know if we'll reach that. Last year's collection was 17,000 cans, I hope that we can reach that goal, but it might be off to a slower start. Now that some people are back to school in-person maybe the word will spread a little bit more," Dobson said. "I think instead of [focusing on] a competition this year, students could make their goal just to spread the word."
Mehrotra has been leading this project for 15 years and is happy with how it has progressed. She hopes the change to mostly online donations will be just as effective as previous years.
"I have a passion for community service and I always am looking for people who are in need and how I can help them. When I became an administrator, we used to collect about 4,000 cans, Student Council used to do that. When I started getting involved, I helped promote it school-wide, and that's when we reached as high a number as 30,000 cans. I think the Lafayette community is an amazing community and has always really stepped up and done an amazing job with taking care of each other," Mehrotra said.
With the switch to donating to the Got Your Back Pack program and the very real and immediate needs in the community brought on by the COVID-19 pandemic, Mehrotra hopes it motivates students and their families to give back to the less fortunate.
She said, "Helping your community is a responsibility and my hope is to instill in [students] the desire to want to help not only people who are around them but the entire community in some form, in whatever form they can and if this is one avenue that it is wonderful."
About the Contributor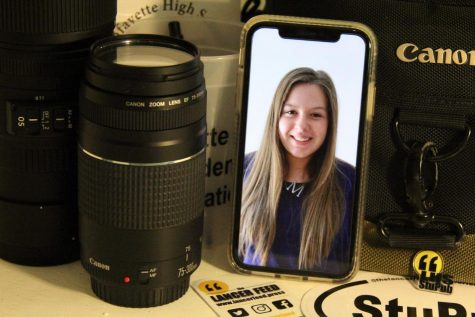 Makayla Archambeault, Editor-in-Chief
Makayla is a junior, and this is her third year on the news production staff. When she's not writing, Archambeault can usually be found playing lacrosse, helping with a Lafayette Theatre Company production, reading or watching movies. She can be contacted at [email protected]