Lancer esports team makes its season debut
New team plays Rocket League, looks forward to expansion
The world of competitive gaming is on the rise, especially during the recent stay-at-home orders. With many famous gamers holding streams for millions to see on apps like Twitch, many teenagers and young adults have taken up their controllers in order to join in the worldwide phenomenon.
Esports is gaining traction in the Rockwood School District as well, with each high school either continuing or starting up a team. Lafayette is among those just starting a team and they began practicing in late September and competing in October. Officially, the season began on Oct. 19 and will extend until Dec. 12. After that, the team will compete in its first-ever playoff season, and start back up again in January for the spring season.
The team practices most Wednesdays and either scrimmages or plays against other esports teams on Thursday afternoons through a high school and college esports platform, PlayVS. Rocket League is the team's game of choice to gain an understanding of how matches and tournaments may look; the game is a soccer match where the players drive cars around an arena and look to score against the opposing team.
Led by Head Coach Jennifer O'Brien, the Lancers have played multiple matches and scrimmaged against teams from all across the country, facing teams from Arkansas, Kansas, North Dakota and Wyoming. The team has yet to play any opponents within the District due to the other schools using the High School Esports League rather than PlayVS, but they look forward to possibly scrimmaging the other teams in the area.
While the opponents they play are diverse, O'Brien seeks to diversify the team's gaming profile.
"I am completely not tech-savvy. Some of the games we're playing or could play are actually banned at my household," O'Brien said. "However, we're hoping to branch out soon into other games but we need to get a hold of what we're doing now and take baby steps. While it's new to LHS, it's not new to other schools."
Giving students an opportunity to take part in such a unique activity brings a lot of joy to O'Brien. She's a facilitator for Lafayette and Wildwood Middle School in the Partners in Education program, and while she is also a boys volleyball coach at Marquette High School, she's grateful for the chance to work with even more students.
Every practice and game, she looks at the team and notices the ways in which they have grown. They've begun communicating more, and she said their passion for the games is evident.
"I have such an incredible group of students that just appeared. They're people I wouldn't have necessarily met otherwise, but already I adore the students that are there," O'Brien said. "They understand the expectations I have for them and they do an amazing job at being a cohesive team. The support they give to one another is incredible."
Sophomore Logan Jaycox received an email about the team which began to spark his interest in esports, so he joined the Lafayette team.
"I want to be a respected team in the world of video games. I want to compete in tournaments and have fun doing it. I look forward to playing more with my amazing teammates, and I think they have the same vision of greatness for the team," Jaycox said.
Alongside his continued growth as a player, he has begun to see a strong relationship between his teammates and O'Brien.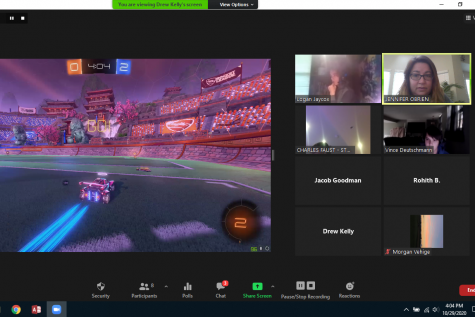 "When we first met, we barely even knew each other. And since we are on Zoom, it was just another name for another box," Jaycox said. "But after we played for the first time, as well as put effort into becoming friends with each other, we became proper teammates."
The team is still looking to grow and expand its number of players. One of their newer players, freshman Andrew Kelly, took an interest in the team and decided to sign up.
Kelly has had previous experience in the realm of esports but has more experience in first-person shooter games like Call of Duty, Counterstrike and Rainbow Six Siege. Despite this, Kelly is looking forward to getting to know the team better and improving his gaming skills in Rocket League.
"This is my first esports team and I just wanted to get a start in a competitive team in some way," Kelly said. "I really do think I have the skill for that, but not in Rocket League I don't know how to grow and get there but hopefully, I find someway."
With the support from O'Brien and the rest of his teammates, Kelly is looking forward to the future of esports at Lafayette.
"[Coach O'Brien] has made an environment where the team can talk and learn together. With my teammates, I can learn more from them and about the competitive standpoint on things. We are still learning and growing but with support and a little help this team can grow way bigger," Kelly said.
With this new team, O'Brien, Jaycox, Kelly and the rest of the players look to start a new tradition and pave the way for the upcoming years. They've grown as teammates and hope to build the groundwork to diversify their future in the world of esports.
"We would put only positive stuff into each other's minds, and that encouraged us. Positivity began to give birth to friendship, and friendship gave birth to relying on and trusting each other," Jaycox said. "I look forward to playing more with my amazing teammates, and I think they have the same vision of greatness for the team."