Girls cross country wins its third State title with four individuals earning All-State honors
The girls cross country team previously won State in 2015, with graduates Anna West and Sarah Nicholson placing first and second place respectively. It took the Lady Lancers four years to get back to State as a team again, where they placed sixth among the 16 teams that qualified.
But, after a COVID-19 challenged season full of sweat, hustle and determination, the Lady Lancers were crowned State champions again on Nov. 7, 2020 at the Gans Creek Cross Country Course in Columbia, Missouri.
This win wasn't based on luck or coincidence. Over the 2020 regular season, the Lady Lancers ran in five meets and won all five of them. They went on to advance to the Class 5, District 2 event, where they fell just short behind Parkway West and placed second. Despite that, they bounced back the following week and won the State title.
Sophomore Grace Tyson led the Lady Lancers and after taking the District title the previous week, she placed second at State, running 18:10.60. Senior Hope Ware placed sixth, running 18:31.60, sophomore Elissa Barnard placed ninth, running 18:43.60 and senior Katie Reed placed 24th, running 19:29.50.
Head Coach Steven Stallis worked with the team throughout the season in order to get to the State competition. There have been the traditional obstacles that come with a new season, such as new runners and a new team dynamic, but this season also introduced COVID-19 and the issues that came with it.
"With COVID it was hard, but the team was doing what they could to be supportive on and off the field," Stallis said. "They are all teammates and teammates are like family. They may not always get along but in the end, they love each other. They will suffer and go through almost anything to help each other succeed. That's how we won a State Championship." 
Stallis saw the team not only grow as runners, but as leaders and as people during these tough times. As the season continued, the girls kept looking forward and pushing for their ultimate goal. 
"They trained for so long without racing. It's scary to work so hard for so long with no test on if it is actually working. We missed some meets, but once we started racing the real fun began. You could tell each meet, the team got more and more confident that we could win State at the end of the year. They also grew closer as friends," Stallis said.
For Reed and Ware, this season was one last chance to give it their all. However, with COVID-19, it became a lot harder than was initially predicted. 
After a collarbone injury her freshman year, Ware began running competitively and joined the cross country team sophomore year. Since then, she's worked to beat her personal times race after race. At the beginning of her cross country career, Ware ran a 23:56 minute 5K. In the end, she finished with a new personal record of 18:31.
Most of Ware's effort and determination came from her own motivation.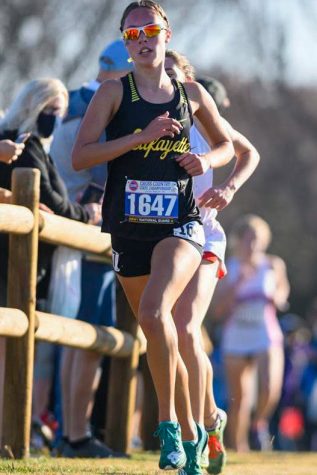 "My biggest challenge this season was finding the motivation to continue training even while not knowing if I was going to get the opportunity to race," Ware said. "It was a struggle to get myself out of the house each day to go run, especially during quarantine, when I had to run alone. Running is a mentally tough sport as is, but doing it alone adds another layer of adversity."
For Reed, it was a mutual feeling. She first began running because of her older brother, but as she recognized the potential her team had, she worked to overcome challenges that occurred before and during this season. 
"I had two stress fractures in my first two seasons so that was a major setback, but motivated me to come back my junior and senior year and finish a full season of cross country because I knew how good we could be," Reed said. "It was hard to put in a bunch of work knowing it could all potentially go to waste if we could not have a season. We started training in May, so there were many instances where we questioned why we were doing this when everyone told us we would not get the chance to race."
Barnard joined the team last year and has since found a strong passion for both the sport and the team. 
"Our coach has encouraged us by reminding us of our goal, which was winning the State Championship, throughout the whole season. He believed we could win it way before we even knew, which helped us also believe we could pull it off," Barnard said. "I'm most proud of the work we put in the summer before we even knew if there would be a season. We trained for the chance that we would get the opportunity to race at the State meet, or even race at all. Our season was always up in the air with COVID and different rules, but it was all worth it."
The State course was in great condition for the event and the team was also handed ideal running weather. The Lady Lancers were ready to give it their all, and each of them was able to keep a focused mentality.
"My mentality going into State this year was very different than the year before. Last year the team was just proud we made it and extremely excited to go to for the first time as a whole team in multiple years. This season was different though; obviously, we were still super excited but we were also a lot more serious. We had a goal to win and we knew we were going to do everything we could to accomplish that goal," Ware said.
The team had even studied the course multiple times in order to prepare, which added to their confidence throughout the race.
"The State course was pretty fun. We studied the course a lot before we ran it so it was cool to know where we were at every part of the race. My mentality could not have been better. Coach trained us all year to build up a strong mental game so I was not very nervous and mostly confident the whole time," Reed said. "I was very excited because I knew how prepared my team and I were. We were very confident and knew that we were better and stronger because of the many hours and miles we had put in over the season. It was my last race ever, so that motivated me, even more, to empty the tank and give everything I had."
For Reed and Ware, the championship was the icing on the cake to a great season. However, they'll miss the bond of the team and the memories made along the way.
"As a senior, I will miss my teammates the most. To say we are close is an understatement, they are my sisters. I will miss driving all the underclassmen around to and from practice and I will especially miss holding Grace Tyson's hand on the start line before every race. But I am most proud of the amount of work the team put in as a whole. A state championship can't be accomplished without training as consistently as we did," Ware said.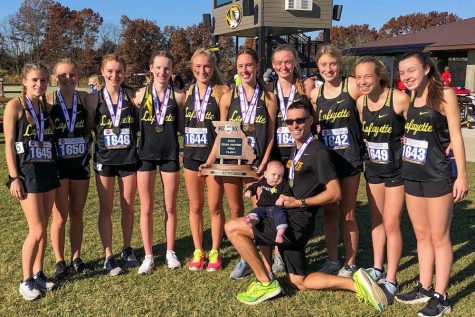 Reed has a similar mindset and is grateful for the effort and dedication from the rest of her team over the years.
"I am proud of my team for putting cross country above everything else this season. It is hard to get five girls fully committed, so I am proud that each of us did everything that it took to ultimately be State champions," Reed said. "I am definitely going to miss my teammates the most. They've given me a second home over the years and we have been through a lot together. I love them all and do not know what I am going to do without them next year."
The new State champions are far from finished though. They'll begin training for the 2021 season within the next few weeks.
"State championships are special and should be celebrated accordingly but they can be repeated. We have Grace Tyson and Elissa Barnard returning as two of the best runners in the state. We need three more teammates to step up in the offseason and we can be back on the podium in 2021," Stallis said. "We will train during the winter, we will have a track season, we will train during the summer. No secrets, just consistent running. The best way to get in shape is to stay in shape."
For Barnard, the new season brings new challenges. She said she will look forward with hope and inspiration from this season.
"I'm looking forward to continuing the legacy for the seniors because they are such a huge part of our team. We have lots of young talent on our team, so I hope that this can motivate some of them to help get us back on the podium next year," she said.