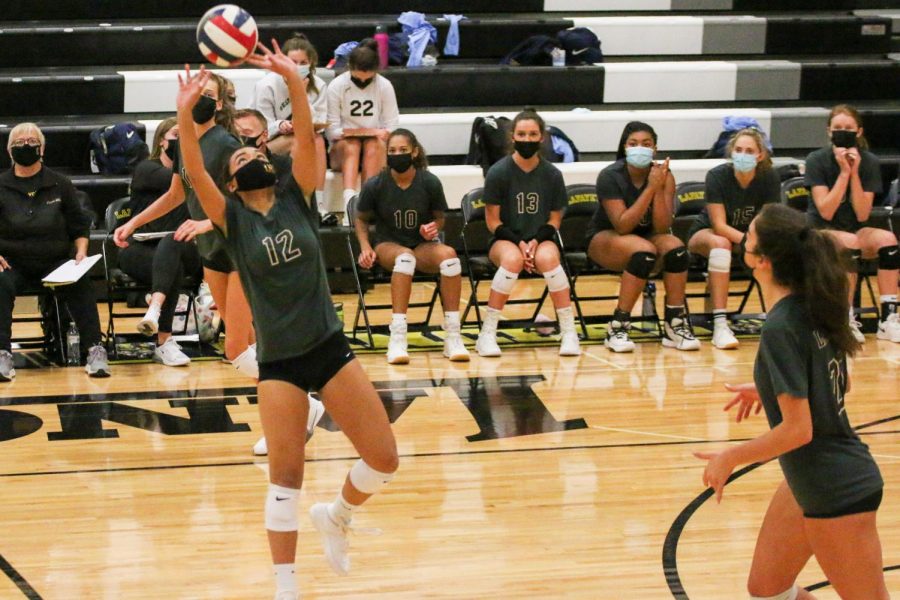 Sophia Scheller
Boys Soccer: Adding another win to their streak, the Lancers played the top 10 ranked Kirkwood Pioneers on Oct. 20. The final score of that game was 2-1, with senior Luc Fladda scoring both of the goals. Later, on Oct. 23, they beat Pattonville by the same score. The goals were scored by senior Randle Smith and freshman Matheus Gasparino. Despite those wins, the Lancers fell to Francis Howell 5-0 on Oct. 24. The Lancer's new record is 8-5, and they're set to play their last regular season game at home Oct. 27 against Fort Zumwalt West.
Field Hockey: After ending the regular season with a 9-2 record, the Lady Lancers played against Westminster in the Round of 16 State playoff game on Oct. 24. They won, 6-2, with senior Mia Simpson scoring two goals, senior Elayna Malak scoring one, junior Ansley Hails scoring one and sophomore Lene Russouw scoring the other two. They take on Cor Jesu in the next round on Oct. 27.
Football: In their last regular season game, the Lancers faced off against Rockwood Summit under the lights on Oct. 23. They won, 33-23, bringing their record to 3-1. Senior Blake Micek threw for 374 yards and five touchdowns and also had 36 rushing yards. Senior Pernell Garner had 143 receiving yards on the night, senior TJ Bright had 113 and junior Jude Tenny followed with 103 yards.
Girls Golf: To end their season, the girls golf team braved rainy and difficult course conditions in the Missouri State High School Activities Association (MSHSAA) State tournament. As a team, they placed fifth overall with a score of 359. They were led by previous State medalist, senior Brooke Biermann who placed second overall, marking her fourth year in a row as an All-State medalist. She shot 70, three under par.
Girls Volleyball: Despite their first loss in the previous week, the Lady Lancers came back on Oct. 20 to defeat O'Fallon Christian 3-1 after playing extra sets. The set scores were 25-11, 25-21, 25-23 and 25-19. In their last game of the regular season, the team faced Northwest on Oct. 21, winning 2-0. The set scores were 25-16 and 25-22. Now, their overall season record is 13-1, with their only loss of the year against Borgia. They travel to Borgia to start the post-season against Eureka on Oct. 27 in a game that looks to be a close one as they went five sets last tame they faced off.