RSD announces plans for return to in-person learning
Families must indicate by Oct. 28 whether they will send their students back to school or remain online for the remainder of Quarter 2
"We all know that things have changed and how we do school will be different, but some of the changes are exciting and may even be for-the-better. For instance, I see our teachers and students much more comfortable using new technologies that have improved the way we operate," Associate Principal Michael Franklin said.
After Quarter 1 of all virtual learning in the Rockwood School District (RSD), high schools will be following elementary and middle schools to return to in-person learning, as approved at the Oct. 22 Board of Education meeting. Currently, freshmen are slated to return to campus with a morning of freshman orientation on Nov. 11. Then, all students who choose to return as in-person learners will attend classes at Lafayette beginning at 8:28 a.m. on Nov. 12.
Principal Karen Calcaterra was a part of the team that facilitated the development of plans and procedures for the return to in-person learning.
"This was a district-wide effort that was facilitated by Rockwood Learning Council (RLC). The RLC is made up of teachers, content facilitators, school and district administrators, 6-12. Through the RLC, there were rapid response teams that were used to study various items and make recommendations, i.e. schedule action team, communications, health factors and social-emotional health," Calcaterra said.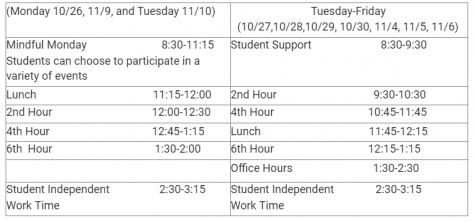 Rockwood families were sent a survey last week and they should indicate by Wednesday, Oct. 28 whether they plan on returning to school or continuing with online learning.
Junior Grace Raymond is one student who is choosing to return to in-person learning due to the negative effects online learning has had on her and her grades.
"I tend to learn better by being engaged with others around me and by being around other human beings. I also found that staring at a screen for multiple hours a day gives me migraines and caused me to miss a few days of class this quarter," Raymond said, "It also, sadly, increased my levels of anxiety and depression and made me procrastinate more from having no motivation to do my work. I plan to take this next quarter with a grain of salt. I know there will be some hiccups when we move back into the classrooms but I am confident that these will be worked out as efficiently as possible."
However, not all students have had a negative experience with online learning and are choosing to stay online as a result of their positive experiences. Other students are remaining online due to health risks for them and their families that could arise if those students were to go back to school.
"I chose to remain online because it is safer for my family, and I have been significantly less stressed during this first quarter," senior Kate Sommer said, "The administrative team is doing a great job, and I am so thankful they are making sure online school is beneficial and as close to real school as it can be."
A concern of many families within RSD is the quality of education the students that chose to remain online will receive in comparison to those who are learning in-person.
"I think both our teachers and our students have become experts and online learning, and I trust that will continue for those students who choose to remain at home. However, I don't think it's realistic to suggest that all online education can compare in every way to being here in person," Franklin said.
Despite some setbacks that students who are remaining online will face, many teachers are willing to accommodate the situation in order to provide the best quality of education for each student.
World language teacher Brian Fish said, "I plan to do my absolute best to reach all of my students and will work through the challenges as they come. It will definitely present a new set of challenges but we will do our best to work through them. Your teachers are there to help you in every way we can – please reach out to communicate to us, as we want you to succeed."
Students that choose the online option will have a more independent learning experience than the structured learning that took place during Quarter 1 when all students attended class with the teacher together. Different classes may require different amounts of time the students must Zoom-in with the classes and might require more independent work time in an asynchronous format with check-ins with the teacher during the afternoon office hours.
For more information about Rockwood's specific plans for in-person versus online classes, click here.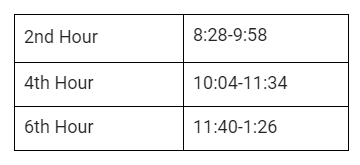 Regardless of whether students choose the in-person learning option or choose to remain online, on Nov. 12, all Quarter 2 classes will switch to a new schedule that accommodates in-person education.
The new schedule will allow students to go to attend 2nd, 4th and 6th Hours and then leave campus at 1:26 p.m. with no lunch period scheduled in the school day. After school activities will still begin at 3:17 p.m. to permit time for teachers to provide office hours and help students who might need further guidance.
Although many students will return and be attending classes in the building, the hallways and classrooms at Lafayette will look very different than they did when the school doors closed last March due to the outbreak of COVID-19.
Students will be required to go straight to their classrooms at the start of the day and will not be admitted into the building any earlier. The hallways will be marked with indicators for all students to remain six feet apart at all times, excluding passing periods, which are not considered a time of prolonged exposure according to the Centers for Disease Control (CDC) as students are not within six feet of each other for 15 minutes during the time it takes to get to each class.
Also, students will not be permitted to stop in the hallway to interact with their peers and masks must be worn properly over the nose and mouth at all times.
Dr. Jason Newland, Division of Pediatric Infectious Diseases at Washington University, said in a webinar regarding RSD's return to school that he feels confident about students returning to in-person learning as long as the community works together to ensure that proper mitigation practices are taking place both in the schools and in the community.
"We're all in this together. Be 100% accountable for your symptoms for adults and kids. We don't have to [do a] temperature check at schools, but we can do it at home. And, 3-6 feet of distancing is effective. We know that [masks] have kept us safer. Double layer cloth face masks. We always need to be doing better with hand hygiene, we need to do it effectively. Leaders have made sure that contract tracing will be there," Newland said.
Moving into the environment of in-person learning, a main focus has been RSD's ability to contact trace if a student or staff member were to test positive for COVID-19. The district has been educating and practicing contact tracing within each building in order to most effectively combat the spread of COVID-19. 
Superintendent Mark Miles said, "We have over 100 contact tracers in the district–we may be up to over 150 at this point. There was a free course provided by John Hopkins so we have significant human resources dedicated to working with the St. Louis County Department of Public Health, as well as our own internal staff members who are doing an exceptional job at contact tracing."
Contact tracing has also been practiced on very local levels within each Rockwood school.
"In our four high schools we have had our administrators, counselors, definitely our nurses, take the John Hopkins contact tracing course. We've also practiced mock contact tracing as a group. We have looked at different cases, some that are actual cases that we've had, and some that we practiced how we would handle, or who should quarantine as a result. I feel like we've really gotten some practice already in some of our cases that we've dealt with," Calcaterra said.
Additionally, students will not be permitted to eat in the classrooms.
When some board members at the Oct. 22 meeting were presented with the schedule option, there were questions about the length of time students might have to go without eating. Marquette Principal Steve Hankins said that while there would not be a scheduled break for a snack, there would be a chance for students who want a quick snack during passing periods. 
This revised schedule to allow for the earlier dismissal time for Quarter 2 required board approval due to some changes that had to be made in the district's master calendar for high school. The revised calendar was approved unanimously by the board on Oct. 22 after a presentation by Assistant Superintendent Lisa Counts and Director of Finance Dan Steinbruegge.

According to an email sent out to RSD families after the meeting on Oct. 22, "Under the new high school schedule, teachers and students will need to be engaged in a distance-learning format on inclement weather days. All high school students and teachers will utilize our at-home instruction and curriculum during inclement weather days. Students will check in with their classes in the afternoon on these days and follow the current Monday virtual schedule."
The change was made because the state requires a minimum of 1,044 hours of instructional time. In order for this requirement to be met within RSD, late start days will no longer be in place for the remainder of the semester and inclement weather days, in high school, will still require students to log into classes at home.
"The last approved board calendar we had back in May was a planned calendar hours of 1,099 at the high school level, with this change for the second quarter, that does reduce it down to 1,058," Steinbruegge said.
Although the state minimum is 1,044, three missed school days due to inclement weather could drop the high schools much closer to the state minimum, and require make-up days to be added to the end of the year. Therefore, the new calendar eliminates the rest of the late start days this school year along with the snow days for the high schools to abolish that possibility.
This change will not affect the late start or inclement weather days for elementary and middle schools.
Board President Loralee Mondl said, "I hope what people have seen because of COVID, [is] what teaching is really all about. I think people knew it before, but it's not just your kids showing up and learning the curriculum. The curriculum is important obviously, don't get me wrong, but it's about taking care of the kids because as we all know some days kids come to school and that is their lifeline.  I think people hopefully now understand that it's a lot more than just educating our kids. I think people knew that before but hopefully, now they understand this little bit more."
Loading ...
Some information and quotes within this article were contributed by Juli Mejia and Morgan Vehige.