Girls tennis wins team Districts, Lancers XC wins Parkway West Giddy Giddy Invitational
Weekly Sports Update: Oct. 5-10
Boys Cross Country: The Lancers added another win at the Parkway West Giddy Giddy Invitational on Oct. 10. In the race, junior Nikolas Malek placed first with a time of 16:35, sophomore Lukas Groenewald ran 17:02 and placed fourth, junior Bross Miller ran 17:11 and placed fifth and senior Vikas Devulpalli ran 17:18 and placed sixth.
Boys Soccer: Picking up their second win of the season, the Lancers beat Parkway West 2-1 on Oct. 5, with goals by juniors Hayden Cook and Kaden Karr. However, they fell 3-0 to Eureka on Oct. 7.
Boys Swimming and Diving: In a close meet on Oct. 5, the Lancers lost to Parkway South, 96-90. On Oct. 7, the team lost to Parkway Central, 101.5-84.5.
Field Hockey: Continuing their undefeated season, the team beat Ladue, 5-2 on Oct. 6 and went on to beat St. Joseph's Academy, 2-0 on Oct. 10. Senior Mia Simpson ranks second of all players in the St. Louis area, with 10 goals and six assists, and sophomore Lene Russouw follows with 10 goals and three assists.
Football: After falling hard against Marquette in their season opener last week, Lafayette came back strong in their first home game Oct. 10 against Ladue. The Lancers beat Ladue, 44-38. Senior Blake Micek took QB duties most of the for the game and threw for three TDs, putting up 266 passing yards. Senior TJ Bright threw for one TD and had 54 passing yards and also ran in a TD on a pass from Micek. Senior Pernell Garner ran back an interception for 32 yards and had 59 receiving yards total and three touchdowns in the game. Senior Mitchel Hoffman and junior Jude Tenny also each had a touchdown and senior kicker Josh Reynolds added to the final score as well with a field goal and three extra point successes.
Girls Cross Country: Out of the four races the Lady Lancers have run in, the team has taken first each time. In the Parkway West Giddy Giddy Invitational on Oct. 10, sophomore Grace Tyson ran 19:00 and placed second, sophomore Elissa Barnard ran 19:31.79 and placed third and senior Hope Ware ran 19:31.85 and placed fourth.
Girls Golf: In the annual Rockwood Quad tournament at Crescent Farms on Oct. 5, the girls golf team was victorious against Eureka, Marquette and Rockwood Summit. They then went on with a win on Oct. 6, defeating Ladue, 175-194. The team also participated at the St. Joseph's Tournament on Oct. 7, placing third overall. Senior Brooke Biermann shot two under par and placed second at the event.
Girls Tennis: The team played in the District semifinals against Francis Howell on Oct. 6, and won 5-3. The Lady Lancers faced Marquette at the District championship on Oct. 7 and took the team title, defeating the Mustangs 5-4.
Girls Volleyball: On Oct. 5, the Lady Lancers beat Parkway South in two straight sets, and went on to beat Rockwood Summit in three straight sets on Oct. 6. On Oct. 7, the team took down District rivals Marquette in five sets.
Softball: In their first loss of the season, the Lady Lancers fell to Oakville 6-4 on Oct. 6. The following night, however, they beat District rivals Eureka, 3-2. That was the team's first win against Eureka since 2015. Unfortunately, they had a big loss against Parkway North, 13-1, before bouncing back the following night, beating Kirkwood 2-1. The team locked in the number two seed for Districts. Their first game will be against Lindbergh on Oct. 14.
About the Contributor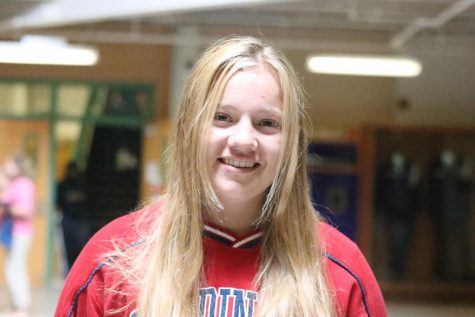 Morgan Vehige, News Editor
Morgan Vehige is a senior, and this is her fourth year on the news production staff. When she can't be found in the newsroom, Vehige can be found spending time with family and friends, playing softball, volunteering or reading a great book. She can be contacted at [email protected]