COVID-19 uncertainty affects mental health of fall sport season athletes
Since the first outbreak of COVID-19, there has been overwhelming confusion for athletes and coaches alike. Both had to cope with a lot of setbacks and frustration concerning the delay in their seasons and they definitely had to learn to adapt and roll with the punches.
Sports have always been a huge part of the entire Lafayette culture and community and with weekly changes coming from St. Louis County, no one seemed to know what the future held.

But now, all teams are back in action and have either started competing or are set to start this week.
Still, weeks of dealing with that unknown took a toll on many of the players' mental health. Their coaches worked to remain optimistic and supportive to help their athletes who are feeling the impact of COVID-19 this fall, just like spring athletes did last season. 
With the ever-changing rules and regulations, it can be hard to keep up, and this can have a huge impact on players. Kelsey Johnson, a senior cross country runner said she initially had difficulty adapting to the new COVID-19 way of sports and was worried about possibly missing the whole season.
"I think the hardest thing is that it's just another thing we're losing.  If you would have told me a year ago I wouldn't have had my last year running with some of my closest friends I wouldn't have believed you," Johnson said.
For senior athletes who devoted the entirety of their high school careers to their sport, it can be devastating to lose the opportunity for their contributions to the sport to be recognized. Johnson also expressed her concern for not being recognized for her hard work. 
"The fact that our last chance to accomplish our goals could have be ruined is a heartbreaking realization," Johnson said.
Despite these challenges, Johnson remained optimistic and decided she would not let the delay in the season take away from all of her other accomplishments as a runner. 
While upperclassmen at least have had the experience of some previous normal seasons, freshmen are being thrown into a completely new environment that is constantly changing and can be very confusing and distorting. 
Freshman tennis player Evelyn Matusiak admits there are a lot of challenges for new players to the sport and to the team with all the changing rules and regulations due to COVID-19.
"The most difficult part of playing during COVID-19 is the rules. Matches will probably be different and I may not have many or any people get to come and watch me play," Matusiak said.
Matusiak said not having the opportunity to have friends and family witness her success on the court or to be there to cheer her on could have easily had a negative impact on Matusiak's game, but she is determined to keep a positive attitude. "No matter what, I'm excited to start playing," she said. 
Student-athletes are obviously very worried about what the future holds, but coaches are very excited about the upcoming season and are confident that when things get rolling, the athletes will also get back into a more regular routine. With the constantly changing state of sports this season, an athlete's mental health being negatively impacted could become a huge issue.
Stephen Polster is a teacher at Crestview Middle School and also coaches the junior varsity football team. He said, "I do believe playing sports helps kids mental health as well as physical health.  It gives the players a way to release.  If kids are not playing,  I believe it is hurting our children in many aspects including mental health." 
Polster is confident that playing this season is important to keep athletes in the right mindset and to avoid injuring any of the player's mental health and their physical health. 
"I want kids to be able to do what they love in a safe manner.  I want them to be able to compete, build friendships, get scholarships and have fun," Polster said. "I want the kids to enjoy and appreciate what we get to do. Live in the moment and do not worry about what is missing." 
After an announcement on Sept. 23, St. Louis County Executive Sam Page lifted some restrictions on fall sports. Now, sports that fall in the moderate-contact category are permitted to play games inside of St. Louis County.
One of the moderate contact sports is boys soccer. Junior Alex Wildt has been on the Lafayette soccer team for three years and is looking forward to being able to play games with his team.
"I always had hope that we would play," Wildt said. "Even if we didn't, we all would still practice because every player in the program wanted to improve their skills for next year."
Despite the waiting and the ever-changing rules and regulations, Wildt is happy to be playing with his team, no matter the case.
"This team has some of the greatest players I have seen. It's really amazing to see everyone working together like one unit," Wildt said. "I'm excited we are able to play. A lot of patience and grinding and making sure everyone was doing the right thing had to happen [for us to reach this point]. When we heard that we were able to play, we were relieved to find out that we weren't just doing this for nothing."
Editor's Note: This story was updated on Sept. 27. With new information being released on the county guidelines daily, stay tuned to the Lancer Feed and Rockwood website for more updates.
About the Contributor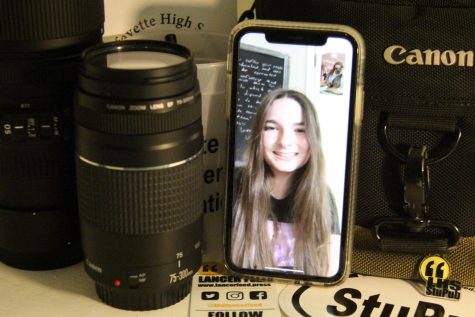 Keira Coverdell, Staff Reporter
Keira is a sophomore, and this is her first year on the news production staff. Outside of Student Publications, she plays tennis and enjoys reading. She can be contacted at [email protected]