Fall seasons get underway for no contact sports with first place finish by girls XC, dominating victory by boys swim
Weekly sports update: Sept. 14-Sept. 20
After weeks of practice, low-contact sports were allowed to start participating in games and meets starting Sept. 14. Those sports that were allowed to start competitions include cross country, girls golf, girls tennis and boys swimming and diving.
Boys cross country: On Sept. 19, the boys cross country team ran in its first meet of the season, the Festus Invitational. Overall, the team placed fourth with junior Nikolas Malek placing second and senior Vikas Devulapalli placing 15th.
Boys swimming and diving: To start their season, the Lancers faced Wentzville Liberty High School on Sept. 17. With an incredible start to the season, the Lancers dominated 138-45.
Girls cross country: The Lady Lancers also took place in the Festus Invitational. Out of the 10 teams participating, the Lady Lancers placed first. Sophomore Grace Tyson placed first overall, senior Hope Ware placed third, sophomore Elissa Barnard placed fourth and senior Katie Reed placed seventh.
Girls golf: The Lady Lancers defeated Parkway Central and Eureka in their first match on Sept. 15. Led by State Champion, Brooke Biermann, the team 's total score was 166, Parkway Central's score was 177 and Eureka had 212. With a par 35 on the course, senior Biermann shot a 31, junior Caroline Boyette had a score of 41 and junior Caitlyn Przybylski shot a 46.
Girls tennis: On Sept. 14, the Lady Lancer tennis team played its first match of the season against the Mary Institute and St. Louis Country Day School (MICDS). The team lost 5-4 in a close match. Later, they played Parkway Central, losing 6-3.
On Sept. 19, the Rockwood School District (RSD) released an announcement stating that moderate and high contact sports will be allowed to participate in games if they play outside of the St. Louis County area.
Those sports considered moderate contact include boys soccer, field hockey, softball and girls volleyball. The only high contact fall sport is football.
Schedules are still being worked out for each of these teams, as well as the procedures for transporting players to the fields and how many spectators will allowed to be at each field.
Editor's Note: This story was updated on Sept. 21. With new information being released on the county guidelines daily, stay tuned to the Lancer Feed and Rockwood website for more updates.
About the Contributor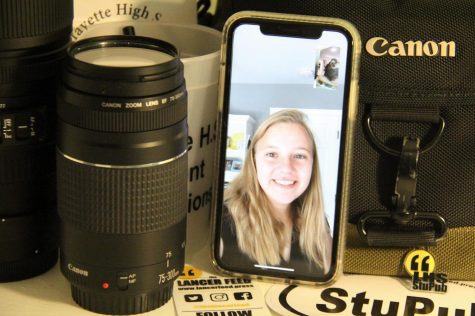 Morgan Vehige, Asst. Editor
Morgan is a junior, and this is her third year on the news production staff. When she's not in the newsroom, Vehige can be found playing softball, reading or attending a local youth group. She can be contacted at [email protected]