Students return materials from last year, get yearbook photos taken on Lancer Return Days this week
During a typical school year, students would flock into the building to get their yearbook picture taken, receive their yearbook from the previous year, walk their schedules and meet their new teachers.
It's usually a time to be able to reunite with classmates and kick off the new school year with excitement, however, this year is anything but typical, and that includes orientation days.
Orientation has been changed to Lancer Return Days and they will look very different from what orientation has looked like in the past.
For starters, students will have to fill out a COVID-19 Symptom Self-Report form prior to entering the building. Masks and social distancing will also be required in the building.
When students or parents arrive at the school, they will be expected to drive to the west side of the building (the side facing Highway 109) and pull up to the curb and open the trunk of their car, which should have any materials like textbooks that need to be returned to the school labeled with their name, their teacher's name and the class that it was used for.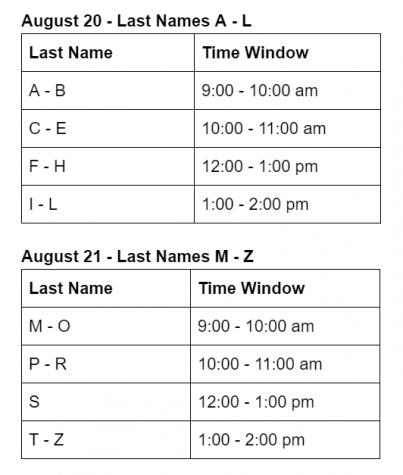 After dropping off all materials, students who are driving themselves will be asked to park in the west lot, and parents who are dropping off kids will be asked to park in the east lot.
During their time in the building, students will have their yearbook picture taken, resolve any fines/fees from the last school year and drop off any medication that will be administered or housed in the Nurse's Office.
All the procedures are in place to minimize risk to students and staff. But, not being able to return to more normal activities for back to school is still disappointing for students.
Senior Solana Cariello said, "Honestly given the circumstances I think it's a pretty good idea, it gets everything done without a super high risk. It sucks that we don't get the orientation experience but this is a good alternative. I hope everybody is safe when they go back and everybody follows all the procedures because I feel like that's the most important thing."
Other students recognize the changes are necessary due to the global pandemic.
Junior Colin Bakker said, "I don't have strong feelings about the switch to Lancer Return Day because orientation wasn't a particularly memorable or cherished experience for me, but I suppose it's a good move considering the coronavirus. I hope that I will come out of Lancer Return Day with a school photo and without coronavirus."
Student's areas such as lockers will not be assigned as students will not be in the building. Additionally, if students were unable to pick up their yearbook on Aug. 18, they may also pick it up during their time slot on the Lancer Return Days. Extra yearbooks fare available for purchase outside Room 137A for $80.
Additionally, freshman orientation will be hosted virtually rather than in the building. Incoming freshmen should check their Rockwood emails for messages from their Link Crew members regarding the Zoom calls where the orientation will be hosted.
While the incoming school year will be a new journey for students and staff , teachers are adapting to make the school year still achieve what it needs to from an educational and engaging standpoint.
World languages teacher Debbie Wright-Kempen said, "As far as adapting to the new schedule, with everything new there is an adjustment period. But, I think it will be fine and I know that from a teacher's perspective, my biggest goal is to make it a comfortable and effortless experience for my students. Virtual learning as with any learning poses different challenges. I would speculate that both teachers and students will learn to adapt as we progress. I see it as an opportunity for growth."