Legend staff adjusts to new guidelines for yearbook distribution
Even a global pandemic couldn't stop the 2020 Legend staff from finishing last years' yearbook and tomorrow students will finally be able to see the results. Every year, Lafayette's yearbook staff, the Legend, distributes the majority of yearbooks covering the previous year during orientation. This year, however, yearbook distribution will look a little different. On Aug. 18 from 9 a.m. to 4 p.m., students will be able to receive their yearbook via curbside pickup at LHS.
Instead of standing in line in a crowded hallway, students are expected to drive to the west side (near the Theatre entrance) of the school with a mask on and their name written on a piece of paper attached to their windshield. A Legend staff member will then deliver their book to their car. By delivering the yearbooks with this method, the Legend is taking precautions to ensure everyone's safety.
Legend Asst. Editor Rachel Brown said, "Masks will be worn, minimal contact is the goal and students will be able to safely collect their books from their cars."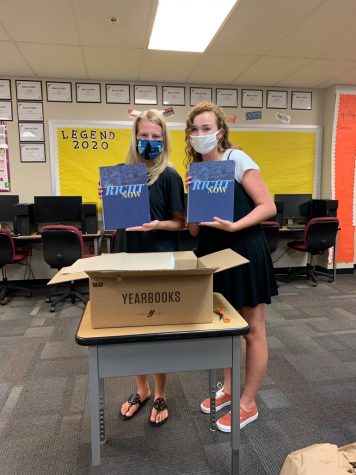 For students who are not comfortable with picking up their yearbook, they may elect to have a friend or family member come instead so long as they have an email or message confirmation available to show the staff. Yearbooks are also available for pickup on the Lancer Return Days on Aug. 20 and 21.
Legend Adviser Nancy Smith said, "We actually sold more books than ever before and we have very few extras available for sale. Anyone who did not order one in advance needs to get to school early to make sure they get one."
An additional 25 yearbooks will be available for purchase for $80 and must be paid in cash. These yearbooks are reserved every year for those who either forgot to order one at the beginning of last year or changed their minds and have decided since the deadline that they would like a yearbook.
The yearbook produced this year will look a lot different from years passed in the sense that the staff was forced to adapt to coverage through the pandemic. Although this proved a challenge, the staff was able to pull through and produce their book on time.
"It was a challenging year for the staff, but they did an amazing job this spring documenting everything the Lafayette community did as they faced the unique situation created when the coronavirus hit," Smith said.
Distribution day of the yearbook is one that the staff looks forward to all year as they work on producing the final product, one page at a time.
Legend Editor-in-Chief Shannon Worley said, "Distribution day is one of my favorite days because I finally get to see the hard work of my staff pay off. It is the most rewarding feeling to see my peers flipping through the book with huge smiles on their faces."