District families protest against back-to-school plan
On July 23, the Rockwood Board of Education (BOE) held a meeting at the Rockwood Annex Building, addressed at the meeting was the newly released plan for the return to school. The plan includes half of the students returning on Tuesday and Thursday and the other half on Wednesday and Friday with all students being online on Monday.  Outside of the building, Rockwood families gathered to protest the lack of a five-day week option for students.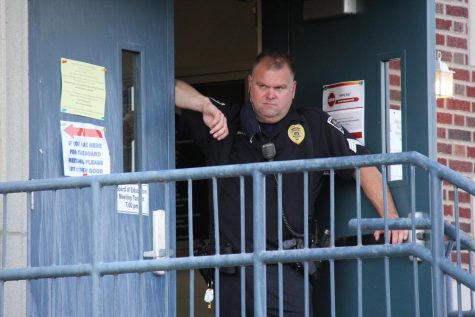 Those who wished to speak at the meeting in front of the BOE were required to get to the Annex building at 6:30 p.m, 30 minutes before the start of the meeting, to get a card that would allow them into the meeting to speak during their allotted time. Due to social distancing, only 11 people were allowed into the building at one time, so a line was formed outside the entrance as police officers escorted those who had cards into and out of the building during their time to speak.
Although a few people expressed their support for Rockwood's current back-to-school plan, the majority of those who attended were there to advocate for a five-day week option.
Dawn Willenbrink was a parent who decided to speak at the meeting.
"I have a 9 year old who's autistic and she can't learn in a virtual environment. She needs her support in school," Willenbrink said. "I want it to be five days, as an option, because she can only learn in person, that's just the reality of it. I don't know if they're willing to make exceptions for special needs children but I think parents of neurotypical kids feel like their kids need it too. I really feel like most parents want it and realize the risks and are willing to take those risks for their kid's education."
Many families that chose not to speak during the meeting stood outside the Annex with signs that read phrases like "Support all families. Make 5 days a choice", "No one is learning online" and "Teachers are essential".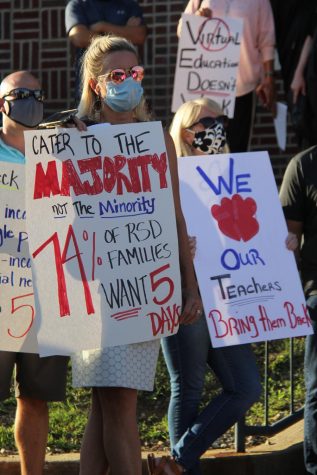 If families weren't speaking during the meeting or holding signs, they were standing in solidarity with those who were. Junior Sam Aven's mother, Cheri Aven, chose to attend the protest as one of these supporters.
"Sam is a junior this year and I feel, and he feels, in our personal situation, it's extremely important that he has a five-day-a-week education. I feel that it can be done safely. I have congenital heart disease and congestive heart failure but I'm not worried about him bringing it home," Aven said. "He needs to have an education and I don't feel that that can be done in the two-day-a-week option. I feel that if people are worried, there is the stay-at-home option but there isn't the option for full learning. I'm not here protesting, I'm here supporting the option that we would like to have put in place for the five-days-a-week."
Aven believes, based on her research, that returning to a new normalcy is the most important thing to do during these trying times.
"I don't want to get into medical things but I've talked to a lot of doctors, I study a lot about diseases, and I feel that the virus isn't going anywhere so if we just wait it out, we're waiting for what? It's not going to suddenly be eradicated and we can go 'okay now we can all come out'," Aven said. "I feel it's hugely important for the kids' mental well-being to be in sports, to be able to go out and hang out with their friends and run, and do it in a safe way. I'm not saying be reckless and stupid, but I feel that there is a way to have sports, if that's what we want to do, that there's a way to do it safely. We have to start living, otherwise, it's just going to go on and on."
Several news stations were stationed outside the Annex, where interviews were conducted with some of the citizens that attended. One of the citizens interviewed was Michael Derhake, who has four kids, all in the Rockwood School District, the oldest will be going into 2nd grade and the youngest is in preschool.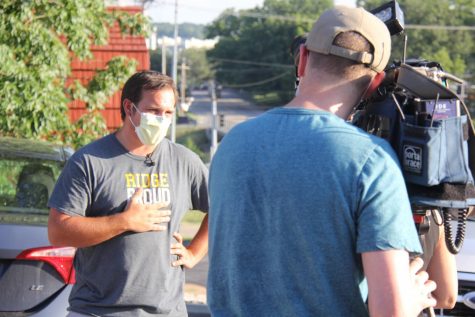 "For a lot of us, especially with really young kids, online education is not adequate enough for small kids to be able to be educated. They don't pay attention to the Zoom classes. For the working parents, how are they gonna keep their kids focused on Zoom when you can't even get a kid to focus on their favorite Disney movie?" Derhake said.
Many working parents' concerns for the upcoming school year is how it will affect their families as the parents work while the kids are completing online school.
"My wife and I, we're working full time, what am I gonna do with my children when we're both working? Are they going to be online and doing their learning? Who's going to be doing that with them? Should my wife quit her job in the medical field right now? Would that be the best thing so that she can stay home, or do I need to quit my job? Who needs to do that in order to be able to educate our children on an online system? It's not do-able and there are tons of working families, I'm not the only one. That's why a lot of these people are here," Derhake said.
Additionally, citizens' concerns extend to what St. Louis as a whole is considering essential work and education during this time.
"Our grocery store workers still go to work, our nurses go to work, liquor stores are open, putt-putts are open. I mean do we really have our essentials focused when we're closing down our schools but we're leaving liquor stores open? I don't know," Derhake said.
Rockwood has made no additional announcements following the Board meeting pertaining to the start of the school year in the fall at the time this article was published.
About the Contributor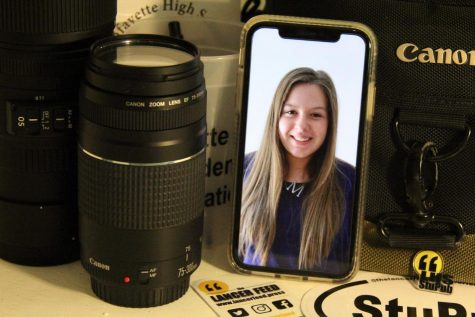 Makayla Archambeault, Editor-in-Chief
Makayla is a junior, and this is her third year on the news production staff. When she's not writing, Archambeault can usually be found playing lacrosse, helping with a Lafayette Theatre Company production, reading or watching movies. She can be contacted at [email protected]