LHS ranks among best in district, state
Rockwood School District (RSD) released an announcement on April 21, 2020, stating that all four of the Rockwood high schools have placed within the top 11 schools in the state. Lafayette was ranked the best out of all of them, marked at 7th in the state.
The ranks are according to U.S. News & World Report's "2020 Best High Schools" list and include criteria to be met. Lafayette scored a 97 out of 100, which is dependent on college readiness, proficiency in math and reading and the graduation rate.
Principal Karen Calcaterra was happy to hear how well the news reflected the school and hopes to continue to work even harder next year so Lafayette can rank at the top of the list once more.
"It is always exciting to learn of such great news, especially when I know how hard our students and staff work," Calcaterra said. "I am looking forward to being together again. We are always evaluating what we do and why, thus we are always looking at improvements."
Senior class president Jake Dederer believes that it's not very surprising that Lafayette was ranked so highly because of the staff's dedication to their students and their strive for academic success.
"I'm super excited that Lafayette's hard work has paid off and resulted in recognition from both the district and state. I know the admins and teachers at Lafayette strive for such recognition not only for the school, but to recognize the hard work and character of every LHS student," Dederer said. "The administration team also does a phenomenal job promoting the student body through leadership opportunities, community involvement, and the ideology that we are one connected student body."
For Dederer, he feels at his proudest to be a Lancer when hearing the news, especially when he thinks of his fellow classmates and how the Class of 2020 has worked hard for Lafayette.
"I feel like the Class of 2020 left a legacy of both involvement and strength. The Class of 2020 played a major part in the majority of LHS organizations and athletics as leaders and team players. Outside of organizational involvement, the Class of 2020 portrayed strength with everything that happened during COVID-19. Even with a worldwide pandemic, the class found ways to stay connected and celebrate one another," Dederer said.
Despite the abrupt end to the school year, Dederer still continues to have fond memories of his time at Lafayette and misses it frequently.
"The recent events have made me realize just how special senior year is. Over the years, every student builds relationships outside of close friendships, and school acts as the only place for these relationships to continue. The recent events have led me to appreciate and miss the community and people present at Lafayette every day," Dederer said.
On August 24, the Lancers will hopefully return to school after the COVID-19 pandemic reaches a downward slope. Until then, Calcaterra is proud of all that Lafayette has done, students and teachers alike, and looks forward to the next school year.
"The students and staff make me most proud about being a Lancer. We are so lucky to have such an amazing school and community, and I am grateful I get to be a part of Lafayette," Calcaterra said.
About the Writer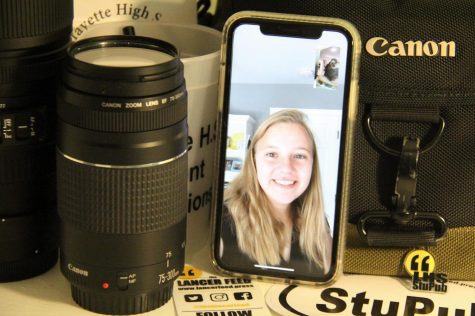 Morgan Vehige, Asst. Editor
Morgan is a junior, and this is her third year on the news production staff. When she's not in the newsroom, Vehige can be found playing softball, reading or attending a local youth group. She can be contacted at [email protected]