MSHSAA cancels remainder of 2020 spring sports season
Following Governor Mike Parson's announcement of in-person school shut down on April 9, the Missouri State High School Activities Association (MSHSAA) released a statement saying that all remaining spring sports events are canceled.
The statement contains quotes from MSHSAA's Executive Director Dr. Kerwin Urhahn, where he thanks all athletes, coaches and administration for the support that they had put into the season.
Urhahn states how difficult the decision is, and specifically mentions MSHSAA's support for the senior athletes. He mentions that the lessons they've learned and the friendships they've made through high school activities will last a lifetime.
The announcement follows two other statements released by MSHSAA. On March 16, they announced the cancelation of the Show-Me Showdown and said that teams will not be able to practice if their school is out of session. On March 24, all it said was that spring sports championships "will have a very different look and feel than those in the past."
Before either of those petitions were released, two petitions were created to address the status of the spring sports season. With over 41,200 signatures and counting, the petitions either asked MSHSAA plainly not to cancel spring sports or asked them to extend the season deeper into summer so all teams can play at least a few games.
Sophomore Abby Reitz saw the petition over multiple social media platforms and felt compelled to sign.
"I wanted to sign it because one all the other student-athletes got a season in fall and winter. Also, seniors only have one more chance to [play their last season]," Reitz said.
Despite her signature, Reitz wasn't hopeful that the petition would affect the final decision. When she heard the news that the rest of the spring sports season had been canceled, including her lacrosse season, she wasn't surprised. But was still, however, heartbroken.
"I was really upset I love lacrosse it's like a second family to me. Our coaches have talked about how sad they are and how much they will miss us," Reitz said. "I am going to miss my team, we all get along and like each other so this will be hard."
Reitz also realized the impact on next season, not only for her but for the rest of her team in the long-run.
"You're missing playing time. For a player that is trying to improve their skills playing, time is everything. It will affect future seasons because now coaches can't look at [your skills from last year] when deciding your placement on the teams," Reitz said. "It's also going to affect our numbers last year because I feel like next year we might not get as many players because of corona and people fearing the season might end again."
Activities Director Jonathan Sumner had been following the MSHSAA news closely and hoped to hear good news. However, he recognizes that MSHSAA made the right decision.
"Our kids and staff were handling the situation well and staying connected," Sumner said. "I am personally sad for all of our kids and sponsors, especially our seniors. I was hopeful that we could return and they can finish out the spring season. But it is not what is best for our kids, staff, and community, then we have to respect what is best for all according to what experts think on the situation."
Leave a Comment
Donate to The Lancer Feed
Your donation will support the student journalists of Lafayette High School. Your contribution will allow us to purchase equipment and cover our annual website hosting costs.
About the Writer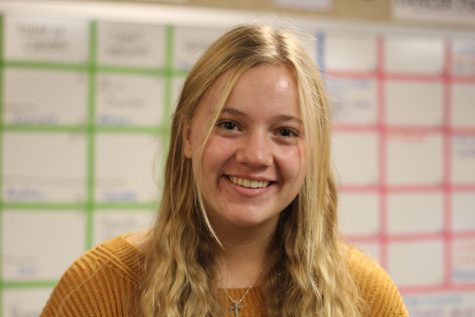 Morgan Vehige, Features Editor
Morgan Vehige is a senior, and this is her fourth year on the news production staff. When she can't be found in the newsroom, Vehige can be found spending time with family and friends, playing softball, volunteering or reading a great book. She can be contacted at [email protected]