Missouri Governor closes all schools through end of academic year
Following an order by Missouri Governor Mike Parson, Rockwood School District (RSD) Superintendent Mark Miles announced the district will extend the virtual Alternative Learning Plan (ALP) through the end of the 2019-2020 school year, May 21.
"School district superintendents throughout the St. Louis region have been collaborating for weeks regarding our response to COVID-19," Miles said. "The decision to close schools in the St. Louis region was made earlier today following a discussion with officials from the St. Louis County Department of Public Health."
Miles said he hopes perennial events like Prom and graduation will still be held, but said those decisions will be announced at a later date and will be based on recommendations from public health officials.
"We will do all that we can to preserve Prom and graduation ceremonies," Miles said. "High school administrators are outlining multiple contingency plans and will share when available, hopefully in the near future."
Miles also stressed that support services are still available for students who need them.
"Students, parents or community members may contact our school counselors, school social workers and nurses via email or telephone," Miles said. "These individuals will provide needed information and/or connect individuals with a variety of social service agencies to fulfill their needs."
RSD staff expressed their disappointment at the situation. Math teacher Paul Krull said he missed seeing his students in person.
"Closing school is very, very disappointing but necessary at this point," Krull said. "I am elated by how my students have reacted so responsibly during this crisis, but it saddens me deeply not to see them one more time before the regular end of the school year."
Librarian Jane Lingafelter said she has found it hard to be connected with students while away from school.
"I was holding onto some little piece of hope that teachers and students would be able to see each other before the end of the year," Lingafelter said. "As a librarian, the best part of my day is being with students. It is challenging to feel connected when we are only in an online environment."
For seniors, the announcement means there will likely no longer be an opportunity to reconnect with their classmates, many of whom they've known for the last four years.
"I was shocked and really sad when I heard we wouldn't be going back to school," senior Cailey Bingham said. "I wanted to go back to spend the end of the year with my friends and teachers. I was really looking forward to the end of year senior events because they were supposed to be the big goodbye events to celebrate with everyone in our grade."
"It's depressing knowing we don't get to go back and see all the kids we've gone to school with for several years one last time," senior Derek Schreiner said. "The thing lacking from the ALP is that when you're in school, it's a lot more social. You have friends all around you that you can talk to, but in ALP, the teachers do most of the talking and kids are too embarrassed to have side conversations in front of everybody else. The ALP is definitely a fine solution, but a very lonely one."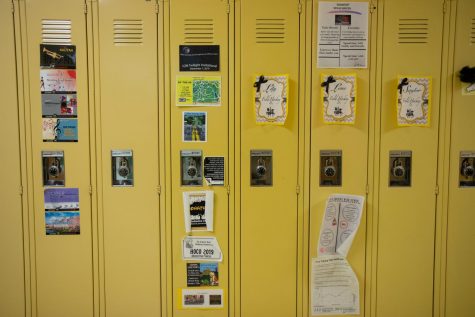 Student-athletes also had a hard time coping with the news, as no physical classes mean no sports or activities as well.
"I was sort of expecting this, but I was sad to know this will end the baseball season," freshman PJ Rogan said. "I was looking forward to playing baseball with some people I have never played with before."
Junior Kelsey Johnson, a member of the track and field team, said she would no longer be able to experience what she likes most about high school.
"The thing that kept me going the most throughout a school day was seeing my friends at lunch, talking face-to-face with teachers whom I trusted and simply passing people in the hallway I hadn't spoken to in months but exchanging smiles anyway," Johnson said. "Lafayette is more than just a place where kids learn and grow mentally, it's also a place where we feel welcomed and at home. The fact that I won't be able to go back until next year is definitely hard to believe."
Leave a Comment
Donate to The Lancer Feed
Your donation will support the student journalists of Lafayette High School. Your contribution will allow us to purchase equipment and cover our annual website hosting costs.