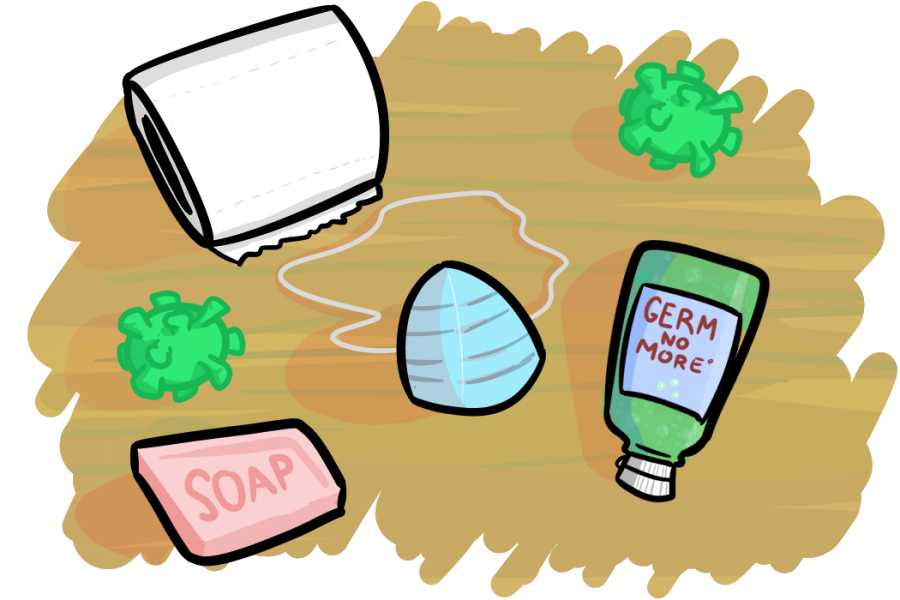 COVID-19 affects Lancer community
March 13, 2020
The first case of COVID-19, the virus that causes the Coronavirus, occurred in Wuhan, China in late Nov. 2019. Since then, COVID-19 has spread to more than 100 locations around the world including one confirmed case in St. Louis. Due to the outbreak, several schools and events have been canceled or postponed both in St. Louis and around the country. As a result, former and current Lafayette students alike are faced with the impact that COVID-19 has left on the community and countless other communities around the world.
Current, former Lancers feel impact of COVID-19 pandemic
For college freshman and former Lafayette student, Tara Robbe, Class of 2019, her basketball season at the University of Southern Indiana (USI) has been cut short due to COVID-19. 
On March 12, the National Collegiate Athletic Association (NCAA) President Mark Emmert and the Board of Governors canceled all Division I, II and III men's and women's basketball tournaments. 
"This decision is based on the evolving COVID-19 public health threat, our ability to ensure the events do not contribute to spread of the pandemic," Emmert said in an official statement released by the NCAA.
Previously, on March 11, Emmert announced the NCAA championship attendance was restricted to essential staff, limited family and players. On March 12, they announced no spectators would be able to attend. 27 hours later, they canceled the games altogether.
"It is really sad that our season got cut short. It was very special that we made it this far, and we wanted to keep going," Robbe said. "It is very hard on the seniors too as they played their last game last week without even knowing. I feel for all the athletes, especially the seniors."
In addition to the NCAA Tournament being canceled, all in person classes at USI have switched to online courses until April 6, 2020. 
"I'm not sure how online classes are going to work since I have two labs. It will be very hard to simulate [those labs] online," Robbe said. "In my lecture classes, I think the transition to online will be fine. It will just be shifted to more self teaching which I'm fine with."
Similar to USI, the University of Kansas (KU) extended their spring break by a week as a safety precaution to prevent the spread of COVID-19. On March 23, classes at KU are expected to pick back up online. KU hopes to reassess the switch to online classes as more updates with  COVID-19 unfold.
This will impact many former Lancers, including KU freshman Luke Fredrick, Class of 2019. 
"Being an engineering major, it gets rid of resources that are really useful for studying and homework. Nobody is really sure how online is going to work with labs and lectures," Fredrick said.
While Fredrick doesn't mind having to teach himself through online classes, he predicts the transition to a virtual classroom will be a struggle.
"If I can't teach myself something, then I don't really have access to people who can help teach me," Fredrick said.
The Rockwood School District (RSD) has already taken some precautionary measures in light of COVID-19 to protect students and faculty. On March 12, RSD Superintendent Mark Miles released a statement canceling all field trips outside the state of Missouri. 
Further updates about school within the next several weeks will be sent out through email and voice messaging, district websites and social media. 
On March 13, St. Louis County Executive Sam Page declared a State of Emergency, banning public gatherings of 250 people or more. This does not, however, apply to schools. As of now, Lafayette is expected to resume school after spring break on March 23.
This is not the case for all schools, though. As of March 13, 12 states, including Illinois, have shut down K-12 schools for various lengths of time. 
*This story will continue to be updated
Leave a Comment
Five easy ways to avoid and prevent COVID-19
With new cases appearing everyday in the United States and around the world, COVID-19 was categorized as a pandemic on March 11. With an influx of concern in the public, here are a few ways to avoid the spread of COVID-19.
1. Avoid touching your face
This is especially important if you have unwashed hands as touching a surface that may have the virus on it and then your face is a sure way to continue spreading COVID-19.
2. Stay home or wear a face mask if you are sick
The Centers for Disease Control and Prevention (CDC) recommends individuals either stay home or wear protective gear such as a face mask in order to prevent the virus from spreading through a cough or sneeze.
3. Clean frequently touched surfaces often
The CDC recommends cleaning these surfaces with diluted household bleach, alcohol or other household disinfectants registered with the Environmental Protection Agency. Cleaning these surfaces frequently prevents the spread of the virus on the basis of surface to face.
4. Do not attend large gatherings
St. Louis County declared a State of Emergency on March 13, banning public gatherings of more than 250 people as the more distance between people there is, the less likely the virus can spread to a large number of individuals at once.
5. Stay calm and up to date with the news
Every hour things are changing, so be sure to stay up to date on business closures in the local community as well as statements released by both local and national government offices.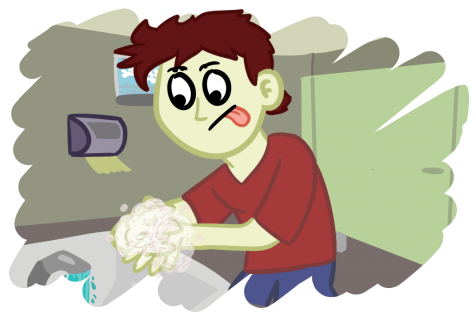 About the Photographer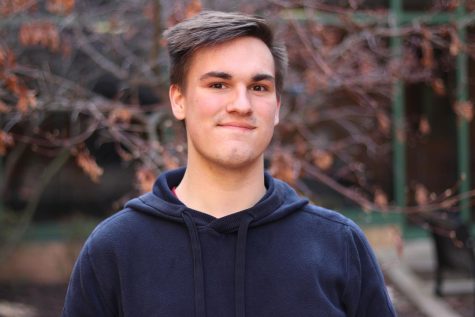 Alex Vancil, Cartoonist
Alex Vancil is a senior who is excited for his first year on staff. He enjoys drawing cartoons for the newspaper and loves to spend time with his friends, both on and off staff. Alex can be contacted at [email protected]
Leave a Comment