Lady Lancer basketball hosts first annual SHEro Night
On Feb. 21, the Lady Lancers basketball team hosted their first SHEro Night, a night dedicated to honoring the female heroes in their lives. The players, managers and coaches took a moment before the game to honor a woman in their life as their shero. 
Head Coach Denise Meyer came up with the idea for this night because she has been inspired by the many women in her life who have supported her as a teacher, athlete and female. 
"I know each one of those girls is already really grateful for women in their lives but sometimes we miss the opportunity to actually tell them, so I wanted to take an opportunity for all of us women to appreciate other women who have helped us get to where we are so far," Meyer said.
Meyer recognizes the importance of young women having female role models to look up to and the significance of those role models in girl's development.
"There is just a maturation process that happens in young women when they have other women to look up to," Meyer said.
Meyer asked her high school volleyball coach, Delia Febres, to come to St. Louis from Colorado so she could recognize Febres as her shero.
"I have not had a chance to see her for a good three years, and it was just a really special night because she is someone who made me who I am," Meyer said.
Febres was both surprised and honored to receive the phone call from Meyer asking her to come for the SHEro Night.
"I thought she was kidding when she told me she wanted to fly me out," Febres said. "I have no children of my own and investing in other people's lives is what I love to do, and she is just precious to me. Her dad gave me my first teaching job and so Denise and I have always been close, but I was humbled, it brought tears to my eyes and I just feel blessed."
Febres was the first female coach Meyer had growing up and continues to have a positive impact on her.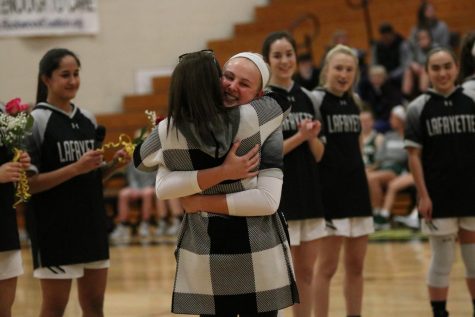 "It was the first time in my life I had a female coach. It was also the first time in my life that I really recognized that I needed a woman who was interested in similar things to what I was interested in to show me how to do that and to show me how to compete and to compete fiercely but still how to be a woman and to be a woman of integrity," Meyer said.
In addition to being Meyer's shero, Febres also sang the national anthem before the game began. Febres has worked in education for 30 years, and her motivation for teaching is the satisfaction and ability to invest in other's lives. 
"I don't necessarily want to say it was surreal," Febres said. "I was just blessed beyond words to have somebody look up to you in that manner."
Senior girls basketball captain Madison Chester surprised Meyer by honoring Meyer as her shero.
"I thought it was rewarding to give out affirmations to our sheros on the court face to face because everyone could see how genuine the comments were and could understand the impact this person had on our development," Chester said.
Both Meyer and the team thought the night was a success and hopes to do it again in future years. 
"I hope we can continue to do it and my plan will be to encourage those who will come back to find another woman who has inspired them and continue to pay this forward," Meyer said.