Cookie stand closed for second semester
As the new year starts and second semester begins, students are no longer be able to buy warm, cookies and flavored slushies from the cookie stand during the first passing period until the end of 4th Hour.
Business teacher Matthew Landwehr is the staff member in charge of the cookie stand, located by the pool doors. 
This semester, Landwehr teaches a 4th Hour class, therefore he is unable to manage the cookie stand during lunch periods, as a staff member must be present at all times. 
Even though Landwehr can not be present during 4th Hour, neither can a hall monitor or another staff volunteer due to the amount of work that goes into running the stand.
"It isn't just handing out cookies. It requires a lot of organization in the morning, a lot of organization throughout the day and it requires accounting. So, having the same person be able to be part of that for the entire day, and be in this room regularly is really important," Landwehr said.
 During those lunch periods, the cookie stand would make the most money. All the profit made from the cookie stand, that does not go towards buying new supplies, goes toward the school, bringing in around $1,000 per week for Lafayette. 
"The money goes to larger school improvement projects or needs. For example, all of the water bottle fillers around the building were paid for using that money. It is a great revenue source to be able to continue updating, upgrading and purchasing items for the betterment of our school," Principal Karen Calcaterra said.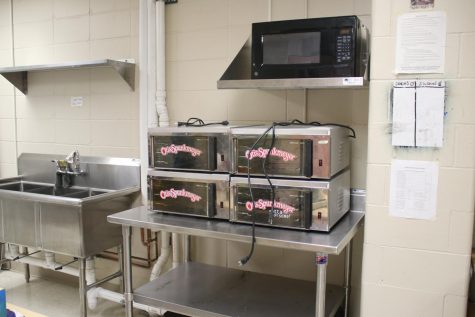 Landwehr, however, does have a cadet for his 4th Hour, Dylan Stovall. Last semester Stovall was in charge of running the cookie stand, taking inventory and handing out cookies along with his coach. But, this semester, he is not permitted to run the stand on his own.
"I would not be able to run it on my own because of all the money that goes through the stand and the limited trust that Landwehr and the school can really have in a student," Stovall said.
Students in Landwehr's 2nd Hour class have started an online petition for the cookie stand to return this semester. The petition only has 50 signatures, however. No change is projected for the 2020 spring semester and no other group is planning to take over the cookie stand responsibilities.