The freshman phenomenon
Many freshmen are taking to the fields, courts and pools in order to make their mark at the varsity level.
At Lafayette there are only a handful of freshmen that play on the varsity level instead of on a freshman or junior varsity team, and there's even more who swing up to sub in for injured players.
There is no rule against it, but it is uncommon, especially in schools as l   arge as Lafayette. But these freshmen have defied all odds.
They push themselves day in and day out in order to produce the best results that they can for the team. With many years of experience, practice and hard work, these freshmen are setting future standards for the teams way higher.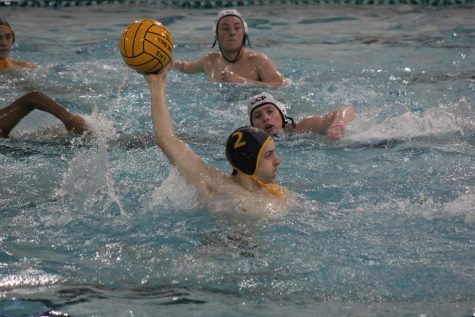 Dylan Vorbeck #2: Water Polo
As one of two freshmen on the varsity water polo team, Dylan Vorbeck follows the legacy of his father in his sport.
"I've been playing water polo for about eight years," Vorbeck said. "My dad always played in high school, so the first chance I got I started playing splash ball over the summer and got in as many programs as I could."
All of that experience has paid off. Vorbeck ended the regular season as the second highest goal scorer on the team. His final statistics tallied to 68 goals, 32 assists and 141 shots on goal.
"It's a cool opportunity. Not a lot of people get to [play on varsity], but it's fun," Vorbeck said.
However, aside from the fun, there's a great deal of added pressure being so young and playing at such a high level. With going up through the ranks from a freshman team to a junior varsity team, the pressure increases gradually, but with joining a varsity team immediately, the pressure is piled on.
"There's a lot of pressure because there's a lot of good players at that level, and you're trying to fight for your spot on the team. It's more or less just trying the best that you can to play at that level."
Along with opponents faced, other intimidating factors freshmen may fear might include teammates, but that stereotype doesn't prove to be true on the water polo team.
"My teammates treat me very well," Vorbeck said. "There's a lot of respect for underclassmen on the varsity level because we have to be good to be up there, and they know that you actually care about the sport."
Merrick Zheng #4: Tennis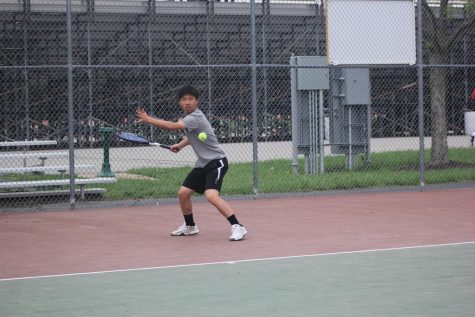 Freshman Merrick Zheng knows what it's all about to work for what he wants. Zheng has been playing tennis ever since he was ten, but took a break about two years in.
"I picked it back up because I wanted to make varsity when I got into high school," Zheng said. "I always wanted to play, and it suited me."
The varsity tennis team consists of six players with Britt Van Antwerp and Merrick Zheng as the only freshmen. Zheng feels as if the whole thing is a great experience.
"You can meet new people and hang out with juniors and seniors that you would normally never get a chance to meet," Zheng said.
As the season grew closer to an end, the team only got closer.
"I'd say we're a family," Zheng said. "We hang out together outside of tennis. We went to Topgolf once and we do a bunch of other fun stuff."
Zheng looks forward to experiencing more memories with his teammates over the rest of his high school career.
Rylee Howard: #20: Soccer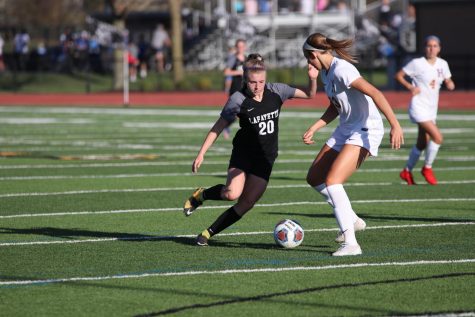 After playing for two select teams in California and currently playing for the St. Louis Scott Gallagher Soccer Club, it comes as no surprise that freshman Rylee Howard made the varsity team with her eight years of experience.
"It's a fun experience to play on the level that I do, and it's very honoring in a way," Howard said.
Howard is currently the leading scorer on the team. With 20 goals and 9 assists, Howard's eight years of experience have paid off in a big way.
Even with the spotlight on her, Howard doesn't play for herself, she plays for her team.
"My teammates are great, and I couldn't be happier with my seniors. I really just want to make this a year for them to remember," Howard said.
The team only has three more games left in the season, and Howard is determined to put in the work.
"We're going to have a few tough games that we're going to need to work really hard for," Howard said. "We're going to keep practicing on the things we need to work on and really stay close as a family in order to get the wins."
Ansley Hails #23: Lacrosse
Freshman Ansley Hails wasn't initially too interested in lacrosse. She had joined because of a friend and things got going from there.
"I've been playing lacrosse for about four or five years. One of my friends started playing it so I figured I would too," Hails said. "I didn't really do a bunch of camps, just a lot of catch and throw stuff with friends until I played for the CYC team at St. Alban's. I liked playing there, so I started playing club."
Hails thinks her team has been nothing but welcoming to her.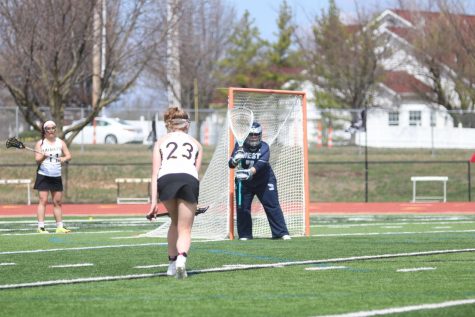 "All of the freshman comments are said jokingly and no one is ever mean," Hails said. "Everyone on the team is super sweet."
Hails is the only freshman on the varsity team, but one would not think that this is her first year with the type of statistics she puts up. She currently has 13 goals on the season along with two assists, putting her as the fourth leading scorer on the team with 15 points.
She attributes some of her success to the pressure she receives at the level.
"When you're playing with so many people who are so good, you want to try to work harder to match them. It's really motivated me more," Hails said.
The girls lacrosse team is currently undefeated with only two more regular season games left to go in the school year, and Hails looks to dominate in the postseason with her team.
"It's really cool that I get to be apart of it. Our team is so good, the records and stats don't come as much as a surprise when you see all the talented players," Hails said.