Schilling sets the standard
Senior Ellie Schilling breaks school record in pole vault, earns academic honors
When senior Ellie Schilling first joined the Lady Lancer track team in 2016, she was looking to build off of her success in middle school track and compete in the long jump; however when Head Coach Rick Voss learned about Schilling's eight year background as a gymnast, he persuaded her to try pole vault.
"When I started pole vault I honestly had no idea what I was doing," Schilling said.  "I just knew two things: I needed to land on the mat, and I needed to get over the bar without knocking it down."
Throughout her first year on the girls track team, Schilling developed her pole vault skills as well as a passion for the field event.
"As the season went on, I started catching onto the form and mechanics better and fell in love with the event," Schilling said. "I love the feeling of when every little aspect of the vault, of which there are many, just appears to align and you're seemingly flying through the air. Along the way, I had upperclassmen like Abby Trieschmann and Manuela Kalamboukas who cheered me on."
Three years and countless hours of training later, Schilling has broken the pole vault school record two times. On March 29 at the Parkway/Rockwood Meet, Schilling broke the school record set at 11' in the event by clearing 11' 1" and helping the Lady Lancers to a first place finish at the meet.
"Knowing the school record was 11', I chose to set the bar at 11'1". After my first attempt, when I hit the mat and saw the bar was still up, I was ecstatic and rushed over to my coach who gave me a big hug," Schilling said.
After watching Schilling's record breaking jump, pole vault coach John Pope was exhilarated.
"I was just so happy for her. I almost dropped the phone I was using to record her jump," Pope said.
Despite not being at the meet, pole vault coach Christine Griefe was also excited for Schilling's accomplishment.
"I didn't get to see it in person, but I got the video right after the jump. I think I was jumping up and down, and it almost brought tears to my eyes.  She has been working for this for so long, and I was just happy to see her reach a goal she had set for herself," Griefe said.
Then a week later on April 6 at the Northwest Invitational, Schilling broke her own record by clearing the bar set at 11' 3".
"It's an incredible accomplishment that I have been working towards for so long. I've had my eyes set on the school record since the end of my freshman season," Schilling said.
As he coached Schilling and watched her grow as a pole vaulter, Pope began to believe that her goal of breaking the school record was a possibility.
"In track, we try to focus on personal records, but I think in the back of all the coaches' minds, we knew she had a chance to break the record," Pope said.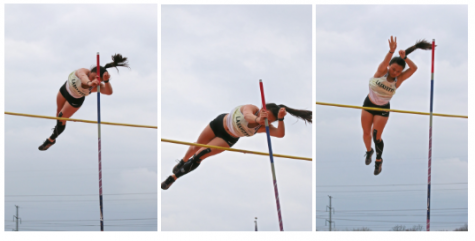 In addition to breaking two school records in one week, Schilling was also named the 2019 Lafayette High School St. Louis Post Dispatch Scholar Athlete.
"It's truly an honor to be chosen, especially because Lafayette is filled with so many great athletes and students," Schilling said. "I have put in a lot of hard work, both in the classroom and on the track, to get to where I am, and it is gratifying to be recognized for my efforts."
Schilling's many accomplishments have not come as a surprise to those around her including her coaches.
"Ellie is one of the most hard-working athletes I have ever coached," Greife said. "Her sheer will and determination to be better than she was the day before has always been something that impressed me.  When we can't work out as a team, she works out on her own. During the winter when we can't be outside, she finds a place where she can practice on her own to get more work in."
Despite Schilling's recent success, she is not yet satisfied. Last season, she fell just short of qualifying for the State Meet in pole vault after placing tenth at the State Meet in her sophomore season. After last year's disappointing finish, Schilling has high expectations for her final season as a Lady Lancer.
"I did use [last year's finish] in part along with [breaking] the school record as motivation to work throughout the offseason," Schilling said. "My main goal this season was to break the school record, so now my current goal is to make it onto the podium at state, meaning placing top eight, and we'll see how high I vault in the process."
Although her high school career is nearing its conclusion, it's not the end of her triumphs. Schilling has signed with Maryville University to continue competing in pole vault.
"With her hard work and determination, Ellie will continue to break records, reach goals and be anything she wants to be in life," Greife said.
About the Contributor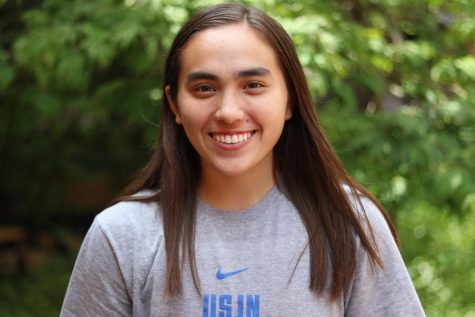 Kayla Carpenter, Editor-in-Chief
Kayla Carpenter is a senior, and this is her third year on staff. She is a member of the girls basketball team, National Honor Society, Lancers Helping Lancers and Key Club. In her free time, she enjoys petting dogs and reading. After high school, she plans to study pre-med and go to medical school....