Former Lafayette employee arrested for charges involving student contact
Hang on for a minute...we're trying to find some more stories you might like.
A former Lafayette Hall Monitor, Devyn Rhodes, was arrested on Tuesday, Sept. 26 on two counts of statutory rape and two charges involving sexual contact with a student.
The alleged incidents happened during the 2016-2017 school year. Rhodes was employed as a hall monitor at Lafayette from November 2016 to May of 2017. After leaving LHS, he worked at Marquette High School as a Student Restore Assistant (ISS). Rhodes also worked for Rockwood during summer school in 2018.
The Wentzville Police Department arrested Rhodes in Wentzville for allegedly having sexual contact with the 16-year-old student on June 25 and July 1 of 2017 at a residence in Wentzville.
Principal Karen Calcaterra sent out a notice to the Lafayette community involving the situation.
"I can assure you we are working in full cooperation with the police, as well as taking the appropriate steps in our school for the safety of our students," Calcaterra said.
Immediately following the arrest, he was removed from his position at MHS and the district is cooperating with investigators.
The Rockwood School District assures the community that criminal background checks are, and have been a requirement for all employees.
Many students are shocked by the information, having known the hall monitor personally. When asked about Rhodes, a handful of upperclassmen mentioned polite exchanges they had with the former hall monitor and they were stunned after learning of the arrest.
"There's stuff you see on TV and it's just crazy to know it happened when we were here," Julia Behlmann, senior, said.
Other students said they knew him well and it was a shock to know what he had done.
Calcaterra wishes to ease the minds of the Lafayette community.
"As an administrative team we found the news very upsetting and we are fully cooperating with law enforcement to the greatest extent that we can on this case," Calcaterra said. "We will always [do everything we can to] take really good care of our kids and their families and create a safe environment. We will continue to make good decisions for our school moving forward."
About the Writer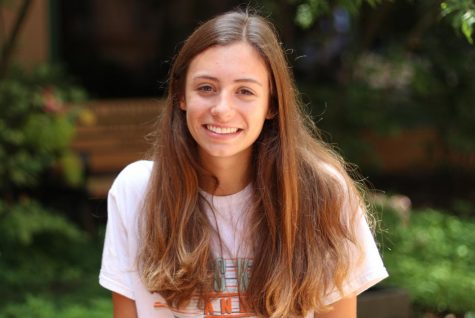 Grace Kirtley, Web Editor
Grace Kirtley is a junior, and this is her second year on staff. Grace is a long distance runner for track and cross-country. As an active member of performing arts at Lafayette, Grace hopes to continue her instruments as hobbies in the future. Grace can be contacted at gkirtley076@rsdmo.org.