Activity bus added to transportation amenities
Various changes have been made to Lafayette transportation this school year. Parking passes are cheaper, start times are later and now an activity bus will be available to students at 4:30 p.m. Monday through Thursday.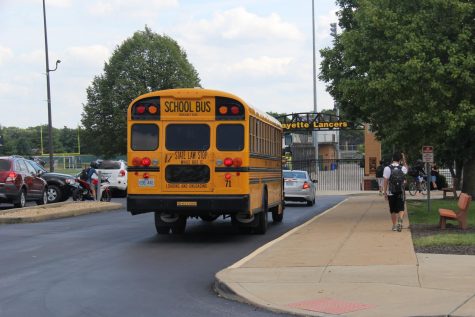 Buses will be available to resident after-school activity routes with customized bus stops. Each bus is on a first-come, first-served basis, requiring a signup during lunch on the day of use.
Any student that does not sign up for the bus by 12:38 p.m., end of third lunch, may not be permitted to ride. The signup is located in class offices and the welcome center and is to ensure accurate and efficient routes.
Rockwood's Department of Transportation said, "Regional bus stops will be utilized and will include a variety of Rockwood school locations, subdivision entrances, safe intersections, and other centralized public drop-off points, such as recreation centers or apartment commons."
The goal of the added activity bus is to aid those who may not be able to participate in after-school clubs or receive extra help from teacher sessions due to lack of transportation.
However, the activity bus will not always be available. During peak bus season, the buses will be canceled with notice beforehand.
According to Rockwood's Department of Transportation, the busiest season for buses is in the fall, Oct. 15 to Nov. 15, and again in the spring on each Tuesday from April 1 to April 30.
Despite the short periods of lacking activities buses, students believe it is a positive addition to opportunities that are available.
"I think the activity bus could be a very convenient thing for students because it will allow them to not have to wait for a long time for a bus or have their parents pick them up," Junior Stella Chang said. "It'll allow them to do more activities and participate in more sports."