Bollinger siblings hold school record in javelin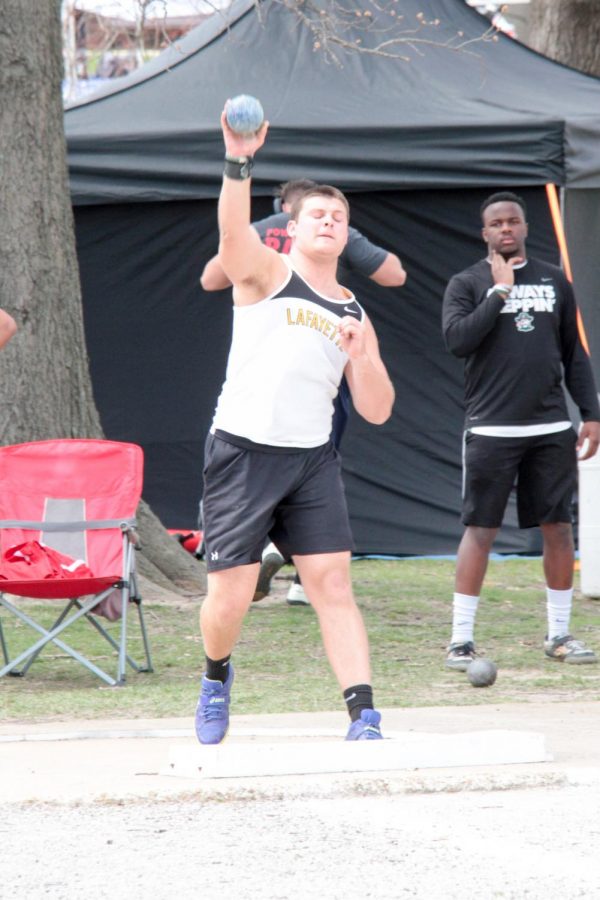 Siblings Katie, freshman, and Hayden Bollinger, senior, currently hold Lafayette's school records for throwing javelin in track and field with the records still climbing.
Javelin was added to Missouri Track and Field two years ago and Lafayette Track and Field Coach Brian Grote was excited for the new addition. The throwing event is seen in college, Olympic and limited high school track and field events.
Grote threw javelin for Southeast Missouri State University and ended up throwing for three years on the team. He then went on to coach at Lindenwood for javelin, strength and conditioning. He's been coaching high school javelin for two years.
Despite popular belief, flexibility and speed are the most important aspects of javelin throwing, according to Grote. Due to the awkward positions and timing of the javelin, the arm strength is not the most important part of the throwing event.
Katie took on the throwing event this year and set a new school record.
"[Katie] has the perfect mix of speed and flexibility that is ideal in a javelin thrower. Since she still has several years left, I would not be the least bit surprised if she also found herself on the podium for javelin," Grote said.
Katie enjoys practicing with the throwing team.
"I've gotten really close with Karagan [Coggin] and Clara [Tarpey] throughout the season, and I'm going to miss them both so much next year," Katie said.
Grote also spoke of the positive atmosphere created by the other throwers.
"We have several really good throwers that also have a very good shot at moving on into the State meet this year that have facilitated a really great environment for the javelin to flourish at Lafayette this year and for many years to come," Grote said.
Hayden started throwing javelin last year and was a State qualifier in the event. He now holds the school record of 154 feet and five inches and is ranked 10th in the state. Hayden also throws shot put and is ranked third in the district with a personal record of 45 feet and six inches.
Hayden has a great shot to be on the podium at State this year, according to Grote.
"I was immediately interested when they added the event, and that is what really brought me back to throwing last year. I thought it was a unique opportunity to try something that not many people get to do in high school," Hayden said.
After the Middle School Track Meet, Katie showed interest in throwing and Hayden began teaching her the basic techniques of throwing javelin.
"Throwing with Katie has been awesome. Since I am a senior, and she is a freshman, we can't really have classes together, and track allows us to spend a lot of time together which is great," Hayden said.
Hayden participates in various sports and he believes that the skills he learned in other sports have contributed to his success in javelin. Katie also runs other events and plays various sports.
Katie's personal record in Javelin is currently 102 feet 11 inches, beating her season goal of 100 feet. Katie's next goal is to make it to State.
"[Katie and Hayden] are both gifted athletes, but they also work very hard to succeed at everything they do. They have the desire to push each other to be better as well," Grote said.
View Comments(1)
Donate to The Lancer Feed
Your donation will allow our student journalists to continue their work. You may become a PATRON by making a donation at one of these levels: White/$30, Black/$50, Gold/$100. Patron names will be published in the print newsmagazine, on the website and once per quarter on our social media accounts.