FACS class gives makeover to ROSE award recipient
Hang on for a minute...we're trying to find some more stories you might like.
Lafayette head custodian Susanne Jessen is one of Rockwood's ROSE Award winners for 2018.
Since the awards ceremony is a fairly formal affair, Erin Hagglund's Fashion Design and Merchandising students decided to offer their services to get Jessen prepared with an appropriate outfit and makeover for the event.
A makeover with the help of her Fashion Design and Merchandising students.
"After Sue was recognized at the Academic Pep Assembly, I asked her what she was going to be wearing to the award ceremony. She alluded to the fact that she'd be wearing what she wears everyday, which is jeans and a T-shirt, and I said 'no,'" Hagglund said.
Hagglund, as a fashion instructor, wanted Jessen to wear something special and stylish to receive her award. She asked her eight fashion students to aid her in Jessen's makeover.
"One of the things we focus on is styling for body shapes, events and things like that. We decided to make it a kind of challenge between the students to come up with different looks for her," Hagglund said.
Daja Money, senior, was happy to help style Jessen.
"When she first was pronounced a ROSE Award winner, her dress code was not as we thought. She dresses how she likes to dress, but we wanted to enhance her beauty and show her that she is beautiful," Money said.
The opportunity to help Jessen show her best self as she accepts her award was exciting for Money. To plan the makeover, the group asked what preferences Jessen had for her formal wear.
"We decided to bring her into our classroom and ask her questions like, 'what colors are you open to? Are you open to wearing a dress?' They were just questions trying to make sure we pick the right outfit for her that will make her feel comfortable," Money said.
The group decided to go to Kohl's for their project..
"We chose Kohl's because it's a place that [Jessen] said she would go shopping herself, and we were able to look at the website before we went. We presented the looks in class before we went," Hagglund said.
Planning was a key aspect of this project, and each student took their time in order to figure out what clothes Jessen would wear.
"We were looking for specific shirts, but when we got to Kohl's it was nothing like what we planned," Money said. "We ended up finding a different outfit. We chose a black and white flowy top and nice black slacks."
Although their dream outfit was slightly altered, the group was able to find a good fit for Jessen and her style.
The trip was of no cost to Jessen or the fashion class.
"There really was no budget. Something that I wanted to do was to be able to provide the outfit for her free of cost. It was a gift from us to her," Hagglund said.
The money for the trip was donated by someone from LHS who preferred to remain anonymous.
Maddie Hallums, a Lafayette graduate, is also assisted in the makeover by cutting Jessen's hair free of charge.
"For me, it's really exciting because I've known Sue for a long time and I see her in her school uniform. To see her get outside of her comfort zone is really cool," Hagglund said. "I noticed that when we went to Kohl's every time she would come out in a new outfit she was smiling and feeling confident. It was a different side that I've never seen of her."
On Saturday, the day before the awards, Jessen will have her hair styled and makeup done with the help of her children.
The 2018 ROSE Awards will take place on Sunday, May 6,  at 4 p.m, at the DoubleTree hotel in Chesterfield.
About the Writer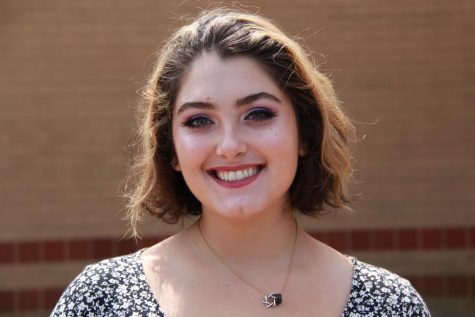 Abby Karandjeff, Reporter
Abby served on staff for two years.