Music Department students receive Exemplary, Outstanding ratings at festivals
Hang on for a minute...we're trying to find some more stories you might like.
Lafayette students were awarded Exemplary and Outstanding ratings at the District Solo and Ensemble Festival and Missouri State Large Group Orchestra Festival.
All events that received an Exemplary (1) rating in the District Solo and Ensemble Festival will advance to the State Solo and Ensemble Festival this upcoming April 26.
According to the Missouri State High School Activities Association (MSHSAA) Music Manual, an Exemplary performance "consistently demonstrates true musical expression and few technical errors. The performance is worthy of the distinction of being recognized as among the very best."
Noah Korenfeld, junior, earned an Exemplary rating in three events: Trombone Quartet, Trombone Solo and Brass Quintet.
Korenfeld said, "Solo is always the most nerve-wracking. It's just you and your pianist. When you are in an ensemble of three or four other people, you can lean on them. This was my fourth year doing a solo since 8th grade, and it's still as scary." 
Grace Puetz, senior, who is in the same Brass Quintet as Korenfeld, agrees.
Puetz said, "Solos are a lot more daunting just because you are doing it by yourself, and that's really scary. It is a lot calmer and easier to do a quintet or an ensemble in general because you have other people with you." 
Korenfeld had to play euphonium in quintet, instead of his usual trombone. He only learned to play euphonium three months prior to the performance.
"The rules only allow you to play an instrument once in an ensemble. Since I had trombone quartet, I had to play euphonium in quintet. Thankfully, everything went well," Korenfeld said. 
Puetz's Trumpet Solo received an Outstanding.
An Outstanding performance is "of distinctive quality yet has minor defects in musical expressions and fundamental techniques," according to the MSHSAA Music Manual.
"For my solo, the last two weeks before the event, I did half an hour to an hour a day of practicing, and then before that, I did some as well," Puetz said. 
Korenfeld prepared for two months on his solo by playing by himself and during lessons with his teacher.
"Over the last year or so, I developed a love for practicing that makes preparation for this kind of event a lot easier since I actually enjoy it," Korenfeld said. 
This ease is partly created through practicing with friends.
"For the quintet, we rehearsed whenever we could. That was the most laid back group. Just five friends who enjoy playing with each other," Korenfeld said.
Korenfeld credits listening to music as crucial to his success.
"The best way to prepare a piece is to listen to your music and music in the same style. I think listening is so fundamental to a great performance, and I think it's just as important as practice. Just as you watch game footage to see what went well and what to improve, I also record myself and critique it closely to see what I can improve. You have to be your harshest judge," Korenfeld said. 
Quartet was easiest for Korenfeld to prepare for.
"Three-fourths of us had two previous years of experiences the quartet.  The ensemble's ability to work together is so fundamental, and when we already had that basis, we didn't have to spend too much time getting a good sound, and instead we just jumped into making music," Korenfeld said. 
Both Korenfeld and Puetz plan to refer to the judges' comments to improve their performances for State.
"We get sheets for solo and ensemble that tell us what the judge was thinking and what we need to work on," Puetz said. 
Korenfeld also has to learn the final movement for his solo performance at State.
"I think if you have music for too long, you stagnate and peak too early, so learning the final movement is going to help keep everything fresh," Korenfeld said. 
Preparation for quintet is slightly different.
"For quintet, we will try to build off of our performance. Quintet has the most room for improvement. It is very exciting to have the opportunity to continue chiseling away until we have something great," Korenfeld said.
Part of the training for a quintet will include teacher review.
"We'll get together with Mr. Balog probably a couple times, or other teachers, and just have them critique what we're doing and try to fix what we did wrong," Puetz said. 
While Korenfeld is grateful he received three Exemplary scores, he doesn't fixate on them.
"Over the last year I have had a bit of a revelation: the most important thing to me is that I feel happy with my performances.  The number is arbitrary. Every judge is different. You just have to win the judge-jackpot, and I have had all of the above. Of course I'm proud to have something concrete like saying "I got three 1's" but what feels so much better is to say I performed my best, and I am happy with how I played," Korenfeld said.
About the Writer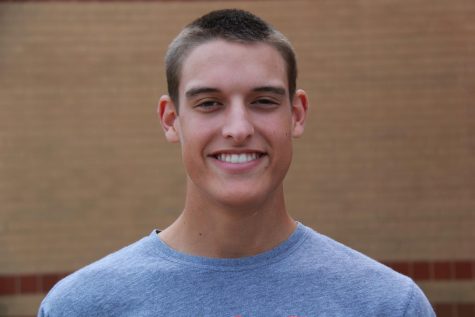 Ty Prozorowski, News Editor
Ty was on staff for two years before graduating. He served as the News Editor his senior year.