Sophomore class organizes 2018 Trivia Night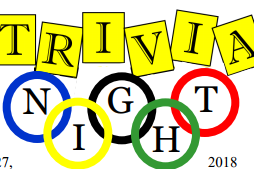 Lafayette's Class of 2020 is holding the annual Trivia Night Jan. 27. All people are allowed participate in the silent auction, games and trivia questions.
The theme is Winter Olympics, and prizes will be given out for the most "Olympic" table. For adults the price is $25 and for students and staff the price is $10. The doors open at 6 p.m., but the first question will be read at 7 p.m. 
Trivia Night profits will all be saved for the current sophomore class' Senior Celebration. Up to $10,000 to 15,000 have been raised in years past. Associate Principal Kirti Mehrotra, who is also the sophomore principal, hopes to make at least $10,000 for the class of 2020.
Volunteers are also needed for setup, score keeping, managing beverages and clean-up afterwards.
All students are welcome to volunteer. Visit Mehrotra's twitter account or the Lancer Parent Organization website to sign up for both volunteering and to reserve a trivia table.
Leave a Comment
Donate to The Lancer Feed
Your donation will allow our student journalists to continue their work. You may become a PATRON by making a donation at one of these levels: White/$30, Black/$50, Gold/$100. Patron names will be published in the print newsmagazine, on the website and once per quarter on our social media accounts.