Cross Country travels across the state to race in Rim Rock Farm Classic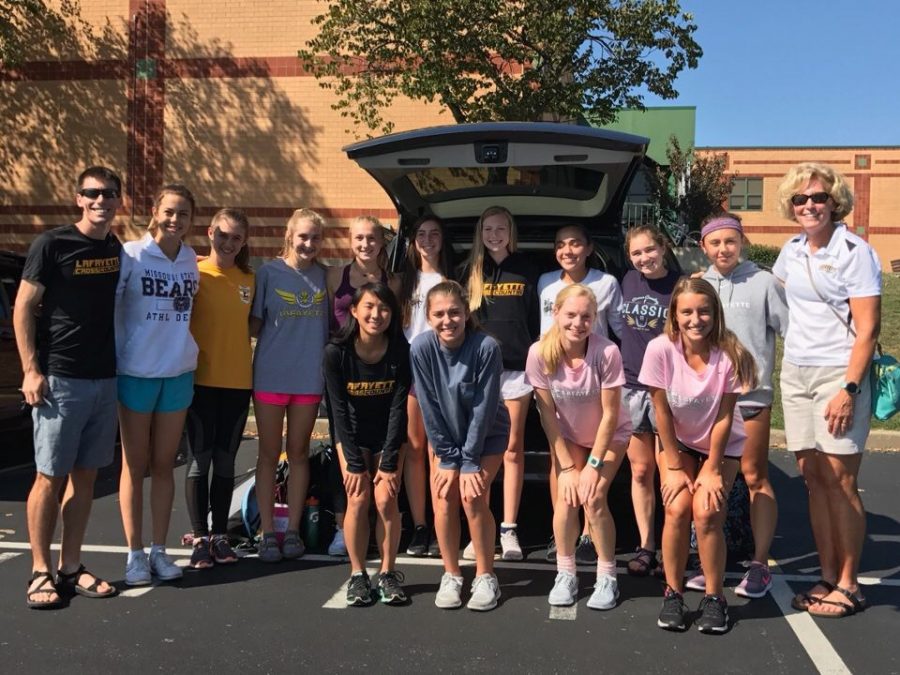 Hang on for a minute...we're trying to find some more stories you might like.
After third hour on Sept. 22, the boys and girls cross country teams compiled 24 runners into four rented mini-vans and traveled four hours across Missouri to Lawrence, KS. The next morning, the two teams raced five kilometers in the Rim Rock Farm High School Cross Country Classic.
Each team selected 12 athletes to make the trek across the state and race in the 156 team meet.
Boys varsity placed eighth in their 44 team field and girls varsity placed 32nd.
Junior Harrison Brown finished in 15th place and senior Nassim Oufattole placed 18th in the varsity gold division while senior Mollie Rogan placed 44th in the girls race. Despite a tough week prior to the race, Oufattole effectively prepared for the meet and focused on racing.
"I prepared by getting enough sleep each night which is really tough when you have lots of tests unfortunately lined up," Oufattole said. "I didn't really think about how Rim Rock would play out; I just wanted to race."
Sophomore Kari Kamrud was selected to race on the varsity team in the sizable meet. She attributes her selection to hard work.
"[Being picked to race at Rim Rock] is reassuring because now I know that my hard work at practice is paying off," Kamrud said.
In addition to racing, the teams spent the weekend bonding. Not only did the teams spend four hours in a car together, but they also spent the night before the race at a private office for a team dinner.
"[My favorite part of the trip was] definitely spending time with my friends and building relationships with my teammates. Plus eating lots of pasta the night before the race," Kamrud said.
Oufattole enjoyed spending time with his team, but his favorite part of the trip was the race.
"Obviously the best part of the trip was getting to race with so many fast people, but the dinner was pretty fun along with the drive back with my teammates," Oufattole said.
Despite a tough race, Kamrud was glad to have experienced the large meet.
"The trip was just as fun as I anticipated. Even though the race was difficult, it was a great learning and body experience," Kamrud said.
Oufattole learned many things from the race that will help him and his team as they move into the post-season.
"My take away from Rim Rock would be to keep improving and keep my eyes on the prize," Oufattole said. "I think everyone on the team needs to improve because we want to be successful at state, and I think this race will help motivate the team to get better."
The girls and boys cross country team's next race is on Oct. 11 at Castlewood State Park. The post-season begins on Oct. 21 with the District meet in Washington, MO.

About the Writer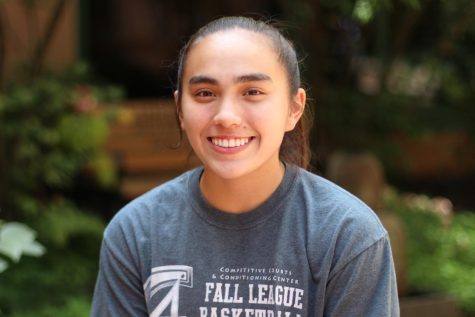 Kayla Carpenter, Sports Editor
Kayla Carpenter is a junior, and this is her second year on staff. She is on the girls varsity basketball team, runs cross country and is a member of Key Club. She enjoys to read and spend time with friends and family. After high school, she plans to study pre-med and go to medical school....