Lancer racquetball places fifth in Nationals
Last year, the Lafayette Lancers competed in the annual USA Racquetball National High School Tournament in St. Louis, where they placed fourth in the entire nation.
This year, from Feb. 26 to March 1, the team traveled to Portland, Oregon in order to compete in the tournament again.
Because racquetball has higher popularity on the West Coast, where there are more facilities and clubs than the Midwest, the tournament was a lot bigger there than in St. Louis. However, that didn't stop the Lancers. The team placed fifth in the nation overall, which includes winning many singles matches, doubles matches and mixed doubles matches as well.
Preparation for the 2020 national tournament started almost immediately after the team placed fourth in the 2019 tournament. The team continued their practices, which included Monday night workouts for strength and agility.
Along with multiple other tournaments, the tournament that set the tone for Nationals was the Missouri High School Racquetball Association's State tournament, where the varsity team placed second overall.
A part of that team was sophomore Hannah Werk. Werk played in the tournament and was excited to prepare for Nationals after it. This year, Nationals was different for Werk as it wasn't in her hometown, and facing new challenges from when she was a freshman.
"It was definitely different than driving thirty minutes to go to Vetta and play our matches," Werk said. "There were a lot more people in there than there were in St. Louis too so it was just getting used to everyone and trying to make it to the right court at the right time. I think that I was more composed this year since I had already been to a large tournament like that before. It helped me not to get worked up and nervous."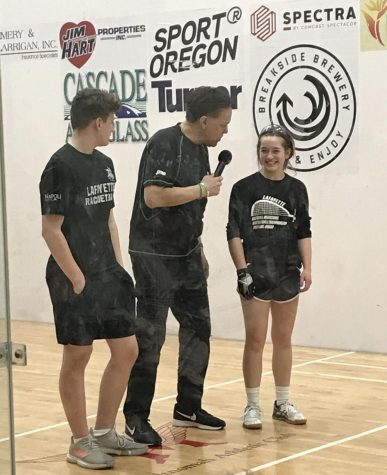 In the tournament, Werk placed second in singles in the girls red division, second in the gold division consolation bracket for doubles with partner sophomore Hailey Fitts and placed fourth in the gold division in mixed doubles with her partner, State champion Will Sherman. Both Sherman and Werk were named All-American players in the tournament.
Werk has been incredibly proud of all the work her team and coach have put in over the past few seasons in order to rank as high as they did.
"Our team was ecstatic, it was really cool that we placed that high with such a smaller team compared to the other teams that we played against along with their skill levels," Werk said.
Despite the team ranking highly, it still is rather small. In fact, if the team had won one more match in Nationals, whether it be from having that extra player or having one of their existing players win another match, the team would've placed third.
"It's hard to get first because we don't really have the numbers to do that compared to teams like SLUH that have over forty people," Werk said. "I think we just have to keep pushing forward and keep working hard so we can hopefully get third or even second next year."