Girls wrestling takes 2nd at Districts, advances six to Sectionals; Lancer hockey takes first round of quarterfinals
Weekly sports update: Jan. 25-Feb. 7
Boys basketball: Extending their win streak to four, the Lancers took on Hazelwood Central Jan. 25 in the first round of the Circle Seven Showdown, beating them, 60-53, with senior Sam Murray leading the team with 17 points. Unfortunately, the Lancers fell in the next round of the tournament, 63-34 against the De Smet Spartans Jan. 27. However, the redeemed themselves and placed third in the tournament with a 62-59 win against Parkway West Jan. 29. Murray once again led the offense with 20, and senior Aidan Rosen-McGinnis followed with 17 points. Their next game was Feb. 5 against Ladue, and the Lancers came out victorious, 53-49. Senior John Kramer and Murray led the team with 12 points each, and senior Drew Byous followed with 11. With the recent successful run, the team's record now sits at 9-10, and they hope to bring their average to .500 in their home game against Parkway Central on Feb. 9.
Boys wrestling: The Lancers competed in a Quad Meet on Jan.29 and beat all three opponents, moving to a 31-1 season record as they head into District competition next week. Their first win was against Fort Zumwalt West with a dominating 78-3 score. The next was a 66-15 win against Francis Howell Central. Finally, they beat the Class One number one ranked team Centralia 48-27.
Girls basketball: Previously in the season, the Lady Lancers played Pattonville twice, going 1-1. They beat Pattonville again on Jan. 26, 48-44. Junior Andrya Roach led the team with 16 points, and senior Brynn Jeffries followed with 12. Next, the team fell to Ladue on Jan. 29, 60-55. In the close game, junior Rachel Delaney led the offense with 20 points, and senior Katie Reed followed with 11. On Feb. 2, the team avenged their loss with a 45-33 win against Warrenton. They dominated Hazelwood West Feb. 5, 62-15. With those wins, the team's record sits at 12-8 with their next game on Feb. 9 at Parkway Central.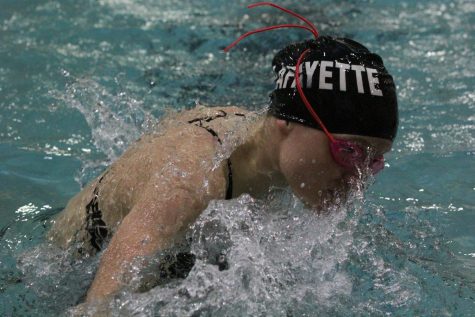 Girls swimming and diving: The Lady Lancers defeated Eureka High School on Jan. 27,  112-72. With that win in their back pocket, the team advanced to the Suburban Yellow Pool Marquette Pod Conference. The diving competition took place Feb. 2 with sophomore Maggie Arceneaux placing fourth, junior Gabby Kennedy placing sixth, sophomore Anni Oscarson placing 11th and sophomore Bella Williams placing 12th. The following day the swimming competition took place. With the combination of the swimming and diving sections, the Lady Lancers took third overall.
Girls wrestling: On Feb. 6, the Lady Lancers competed in Districts, finished second as a team and will advance six athletes to Sectionals in two weeks. Sophomores Brianna Chong and Shayla Wade ranked third in their weight class, and junior Seraphina Blackmon and senior Sophia Scheller ranked second. District champions include senior Josette Partney, and State Champion junior Faith Cole as she moved on to 34-0 on the season.
Hockey: After ending the regular season at 8-5-3, the Lancers entered into the Round Robin playoffs for the Challenge Cup. They played CBC on Jan. 29 in the first game of the series, but lost 4-1 with the only goal being scored by senior Justin Sprague. Next, they faced District rival Rockwood Summit on Feb. 1 and won 5-4 with a different Lancer scoring each goal. First was Sprague, then senior Samuel Rubenstein, junior Shane Robinson, sophomore Andrew Knapp and freshman Alexander Schmitt.  To advance to the Quarterfinals, the Lancers edged Chaminade, 3-2 win on Feb. 2 with two goals by Knapp and one by junior Luke Carrico. Their first quarterfinal game was against Francis Howell on Feb. 5, where they won 6-3. Sprague put two in the net and seniors Luke Hansen and Jack Thomas each scored once followed by scores by Carrico and the final by Knapp. They'll take on Francis Howell again Feb. 8 at 7:50 p.m at the Maryville Hockey Center.