Lafayette racquetball team advances to State tournament
The Lafayette racquetball team is back to claim another title in the upcoming State and National tournaments.
Last year, the Lancers placed high across the different brackets in the Missouri High School Racquetball Association's (MOHSRA) State tournament, which allowed them to move forward and place fourth in the entire nation.
Despite placing high in various tournaments, the team has only been around for a few years, created by former student Theuns Gerber and his family on May 14, 2012. However, in such a short period of time, the team has already ranked high in the St. Louis area. For the current 2019-2020 season, the girls varsity team ranks third in their league and the boys varsity team ranks eighth. 
Racquetball is relatively unknown at Lafayette despite their successes. It's comparable to Ice Hockey, in a way that students can join a team related to their high schools, but it's not a Missouri State High School Activities Association (MSHSAA) sponsored sport. 
Sophomore Hannah Werk has been playing with the team for three years, originally joining in her 8th grade year. Werk joined because she knew she'd be attending Lafayette in the fall of 2018, but also because friend and future teammate Janka Gerber convinced Werk to join. 
Werk has enjoyed both playing the sport and spending time with the team that comes along with it. 
"I like that it feels more like a family when we play," Werk said. "You're always with your teammates, whether you're playing singles or doubles, even mixed doubles. We're each other's family."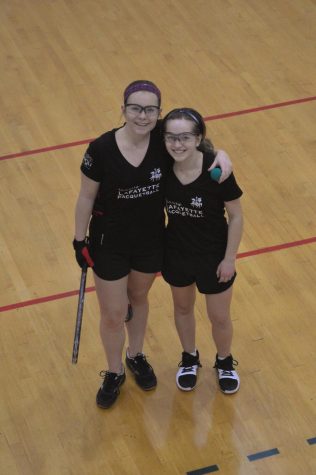 Last year, Werk placed in doubles with partner Hailey Fitts in both State and Nationals. In State, the duo placed third in their bracket and while they didn't place in Nationals the two received an honorable mention for placing so high.
Due to her past experiences, Werk knows what to expect this time around in both the State and National tournaments. 
"You have to get used to a lot of people, it's very crowded. You usually try to work out more as you prepare for it because you play a lot. Your arm's always going to get really tired," Werk said. "However, at State itself, it's a very positive environment, everyone is always in a super good mood when they play and it's pretty great."
Junior Megan McCauley is a member of the JV 3 racquetball team. Despite not playing on the varsity team, the top-seeded members of the JV 3 team get to participate in their own branch of the State tournament as well.
McCauley started playing in her freshman year of high school after being roped into it by a friend of her sister's.
"She cornered me during the Open House and asked me to join the team. Being the scared little freshman I was, I agreed. And I ended up enjoying it," McCauley said.
To McCauley, joining racquetball was a great decision to make at the beginning of her high school career, and believes that anyone else can pick it up in the way that she did.
"I think it's a good way to keep in shape. I am by no means an athletic person, but I enjoy racquetball and it's not too hard a sport to pick up," McCauley said. "It's very inclusive for those who might not have an athletic background."
In the 2019 State tournament, the team had four members play in different brackets. All four of them ended up placing first or second in their individual bracket. As a result, the team won first place for State in their branch of the tournament.
This year, McCauley and the rest of her team is prepared to make another lasting impact on the competition. Included in this year's preparation is Monday night workouts, where all of the teams work on strength, agility and conditioning. 
With all the work going into it, McCauley cannot wait for her hard work to pay off with her teammates by her side. McCauley also attributes a lot of the team's successes to their continued camaraderie and togetherness.
"Whenever we have a game or a tournament, if you're not playing, you're on the sideline cheering on your teammates. It makes you not want to mess up because everyone's watching, and you want to make them proud," McCauley said. 
Some members of the team aren't even from Lafayette. Junior Will Sherman and sophomore Malin Malinov attend Marquette High School in the Rockwood School District.
Malinov joined the team in August of 2019 at the recommendation of a few of his friends. Being new at the sport and with the team is difficult at times for Malinov, but he wouldn't trade it for anything.
"I wouldn't really say that I bring a wide variety of skills to the table when it comes to racquetball, considering that I am new and frankly mess up a lot," Malinov said. "It takes a lot of hard work and determination to play well, but it's a great way to build up endurance and patience which is helpful in a variety of different sports and it's super fun at the same time."
While the community surrounding the team is a new environment for Malinov, it helps make him a better teammate as he does his part to help the team succeed.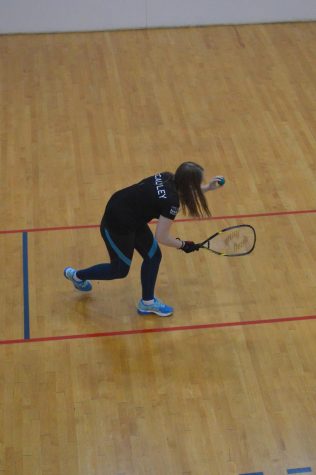 "Our team's chemistry definitely helps all of us develop as better players," Malinov said. "We always have someone there to help correct something that we are doing wrong and better improve it."
Despite attending Marquette in the school year, Sherman likes that he plays for the Lafayette racquetball team. 
"The Lafayette team and teammates is what draws me to keep playing," Sherman said. "All of us are striving to be number one in singles, number one in doubles and number one as a team. It is Coach Manny and my teammates that continue to help me build better skills.  Our team believes and encourages each other to do your absolute best."
Sherman originally joined in 7th grade on one of the younger teams. Since then, he has continued to improve and become a better player. In the most recent State tournament, Sherman placed second in the Varsity 3 bracket. 
This year, Sherman strives to win another trophy and place higher than he did last year. He has put many hours in at practice by himself and with his doubles partner in order to become a better all-around athlete and ultimately bring home the gold for the team.
"Mentally, racquetball is a game of taking feedback provided by coaches. Then you channel that feedback as energy, focus, determination, endurance and one's ability to persevere during difficult strategic situations."
All of the team's practice and preparation will come into play over Feb. 22-23 for the MOHSRA State tournament, and over Feb. 26-March 1 for the National competition.