Football learns from prior games to prepare for the Battle of 109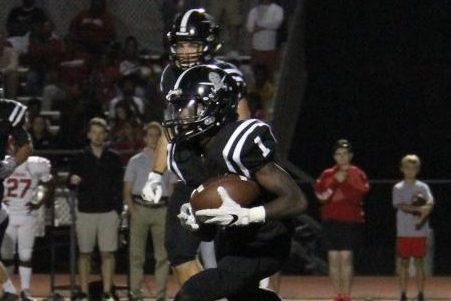 The Lafayette football team started the season with a 2-2 record. In preparation for the Battle of 109, the team is focusing on fixing their mistakes from their previous games.
The first two games were wins for the Lancers in which Head Coach Boyd Manne was pleased with the team's effort and execution, but Manne was not as pleased in the second two games of the season.
 "We turned the ball over way too many times. We seem to beat ourselves so we are really focusing on correcting that this week and the next coming weeks," Manne said.
As for improvement, Manne says, "We need to take care of the football and quit turning the ball over to the other team. We've been doing that. We just have to execute in the game".
The next game is the Battle of 109 against Eureka. Manne thinks the game will be a fun but challenging competition for his team.
"We are trying to work to compete on our best level at that game. It will be a fun game, fun atmosphere," Manne said. "They're probably the best team we are going to play all season, in my opinion. It will be a great challenge for us."
Come support Lafayette at Eureka High School for the Battle of 109 on Sept. 15 at 7 p.m. and don't forget to dress in your USA attire. In addition, $2 of every fan's admission cost will be donated to Hurricane Harvey relief.