Review: 'Heartstopper' shows struggle of labeling sexualities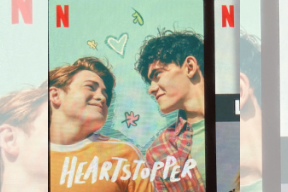 I was scrolling through TikTok on April 22, 2022 and found edits from the show Heartstopper flooding my feed. I've never read the comics before so I was clueless as to what this was all about. 
Heartstopper is an eight episode series produced by Netflix and See-Saw Films and written by Alice Oseman, the writer of the comic version of Heartstopper. The series follows 15-year-old Charlie Spring and 16-year-old Nick Nelson, two boys in love. Charlie has been openly out as gay for a while. When Nick met Charlie, he started to struggle with his sexuality.
The story line all starts out when Charlie and Nick met in their study hall classroom, from there, the romance sparked.
The chemistry between them was instantaneous. As each episode progresses, Charlie and Nick's bond grows and becomes only stronger from where it started.
With Charlie's help, Nick is able to find out what he is: bisexual. 
Nick is the stereotypical straight male; someone who is sporty, is popular and is a ladies man. Described as the jock, all of Nicks friends tease him about different girls, but don't know the full truth. I really enjoy how Nick's real personality is completely different from that stereotype. 
This little twist of a jock liking both women and men is what makes this special to me. Oseman was really smart when she wanted to veer from that stereotype for the personality.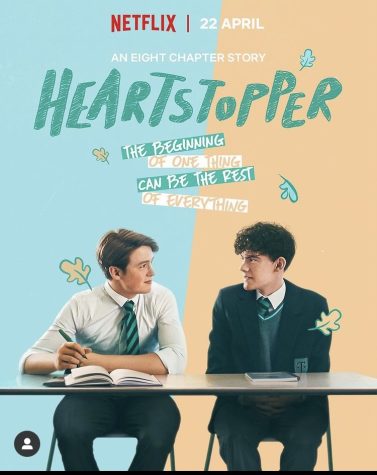 In our day and age, we don't usually see same sex couples have a happy ending in movies, TV shows and even books. 
In the episodes, Nick is representing people who have struggled with coming out with their identity. I find Nick really inspiring. From meeting Charlie, to coming out to his mom as bisexual at the end of episode eight, Nick has grown mentally and found who he is.
With Nick being the typical jock, he is afraid to show who he is to his group of friends on his Rugby team.
In episode two, we are introduced to best friends Tara Jones and Darcy Olsson. These two appear to be best friends at first, but are revealed as more when they learn to be comfortable with themselves.
Nick reminds me of Tara and Darcy in a similar way because all three of them were afraid of the comments they were going to receive for liking the same gender as them.
Not only does Oseman use characters to show special bonds, she also uses drawings like leaves and sparks.
One of my favorite parts about this series is the use of Oseman's drawings. When Nick and Charlie talk, leaves float around them. When they touch fingers, sparks come out of their hands.
I also really enjoy how the cast is all close to our age. Kit Conner, who plays Nick Nelson, is 18 years old and Joe Locke, who plays Charlie Spring, is also 18. If the cast was an older generation playing young teens, I don't think this series would be as impactful.
I don't think this cast could have been any more perfect and they are all going to have a breakthrough, all thanks to Heartstopper.
This series is going to be really powerful for all generations. I would definitely give this series five stars. Although I can't personally relate to any of the characters or the story line, the theme is powerful. It touches on many various situations that happen in real life. This will reach out to the people who are struggling with an identity, or who are afraid to be who they really are.
Rating: 10 out of 10