Blog: Why March for Life sparked my passion for activism
It began on the Metro. My heart started beating a bit faster, my group's volume was getting louder by the second, an excitingly nervous twitch began in my fingers. There were all of the tell-tale signs that my life was going to change, and from the moment I walked onto the Washington Monument grounds, I knew that it did.
March for Life is an annual gathering of pro-life advocates on or near Jan. 22, the anniversary of the Supreme Court case Roe v. Wade (1973). The march begins at the Washington monument, passes by the Capitol and ends right outside the Supreme Court.
The goal of the march is to advocate for the pro-life stance on abortion, and to show that there is a significant amount of people who desire Roe v. Wade to be overturned.
I had the opportunity to experience the march with my youth group from St. Clare of Assisi parish in Ellisville, Missouri. We were a part of a larger St. Louis group, Generation Life, that gathers and sponsors a conference for STL high school students in Washington D.C.
The Generation Life conference was from Jan. 20 to Jan. 22 with the march being on Jan. 21. Going into the conference, I was fired up. After growing up in the Catholic church, I have been pro-life since the moment I knew what abortion was. I've stood firm in my faith and in my beliefs that life begins at conception, and should be protected until natural death.
Obviously the issue is heavily debated and greatly nuanced, and as we were on the bus to D.C., I contemplated what to expect. I had never been to a march or any sort of protest. To me, activism was something that was outside of my St. Louis county bubble.
As I began walking towards the Washington memorial, I heard the crowd before I saw them. There was heavy applause and a strong speaker, along with a few people who passed out signs on the blocks before. It was in those moments alone that I knew that I would be a part of something great, something bigger than myself.
And suddenly, I was.
We weaved in and out of the crowd to find the Archdiocese of St. Louis banner, our beaconing for our community of others who feel passionate about what we do. The thing is, everyone else around us felt that passion.
There was a great sense of joy and faith in the air. With every speaker that came up, the crowd got more excited for the march to start. Each speaker had a specific purpose in speaking, and each had a different story to tell. To me, Father Mike Schmitz was the highlight of the speakers.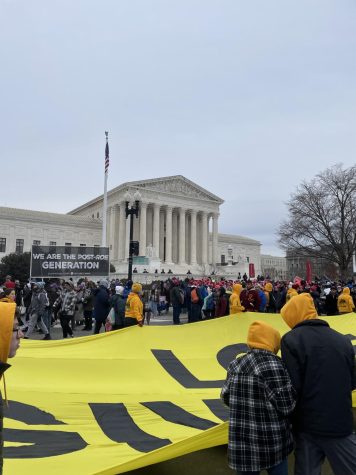 I had always admired the man for his wisdom and willingness to teach others about the Catholic faith. At the march, he shared a story about his grandmother, and how she quit her job as a nurse when the hospital she worked for started providing service for abortions.
It was a strong story. I turned to my friends with tears in my eyes, wishing that I could be as steadfast in my faith and my convictions as that woman. So much of me was filled with the thought of action, I thought that I might burst.
The march started slowly, and I remember feeling frustrated that we weren't moving. I was indignant, I wanted change now and the best way to do it was to move.
Eventually we did get moving, and at a snail's pace. But as we turned on to Madison Dr. and worked our way towards Constitution Ave., it was then that I truly saw the scope of the march. It was then that I knew my heart had changed.
There were thousands of people with many different signs, stretching all along the street. From each different group, I could hear various laughter and chants arise with each passing step. So many walks of life presented themselves on one street, unified under one cause.
That's what activism is all about. For so long, I had thought of it as such a far away, hazy concept, and now it's incandescent and crystal clear. It's about banding together with others who aren't bonded by how they look or their political opinions, but by passion for a cause, simple as that.
I'm not saying that activism can't be small. There's millions of grassroot movements and ways that social media activism takes hold. What I am saying is to be an activist is to not only focus on one specific community to work with to get a point across. It needs to be a diverse group, it needs to be strong not in numbers, but in passion.
Despite the circumstances that led me to the March for Life, I am so grateful for the joy that I saw, and the people that I met. The passion and zeal that I saw at that march and weekend will forever have an impact on my heart, and I cannot wait to return again next year.