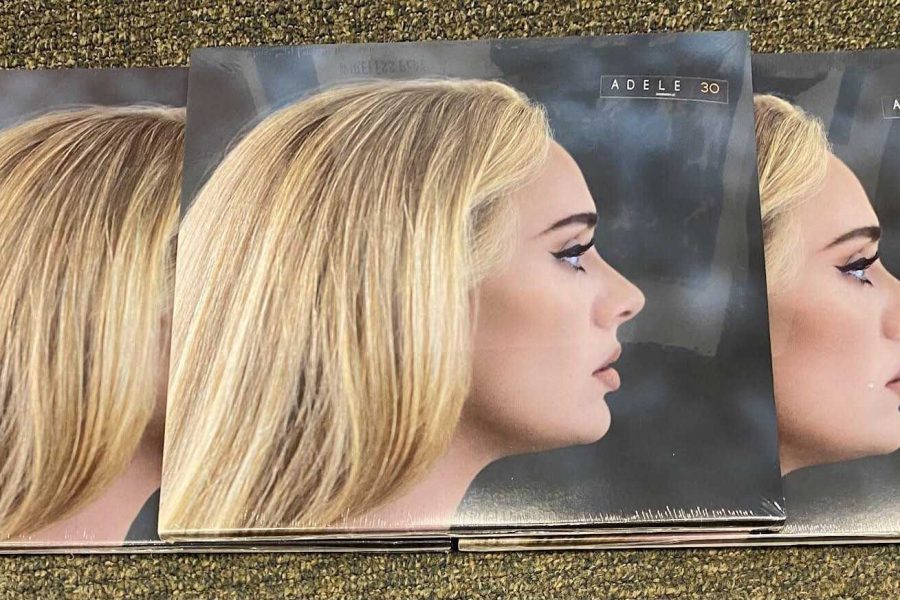 Album cover by Melted Stone Publishing Limited
On Oct. 15, 2021, the world was given the first song of Adele's new era. After six years of silence, the multiple Grammy Award winning artist released Easy On Me, also announcing a new album was on the way. On Nov. 19, 2021 the long-awaited Adele album 30 was released, the first album by Adele since 25 in 2015. 
The album is centered around how Adele dealt with her recent divorce, setting a stage for the heart-wrenching lyrics and vocals she is known for. Easy On Me introduced 30 to the world with sweeping piano, ushering the listener into Adele's heartbreak. This track stayed consistent with Adele's previous style, featuring her incredible ability to flip her voice to sound delicate and soft, to powerful and pleading. The lyrics convey her hopelessness, especially in the line, 'I can't bring myself to swim when I am drowning.'
When the album surfaced, listeners knew from the first song on 30 that this was going to be an album unlike anything Adele had ever done before. In a tribute to Judy Garland and the style of harmonies and melodies that she used, Adele joined forces with the Swedish composer Ludwig Göransson to create her first track, Strangers By Nature.
Adele's first track mixes incandescent orchestral music with a delicate tone of voice, playing with intense shifts from minor to major and twinkling sounds, making the song feel like it belongs in an old film about romance. She ends the song with her saying, 'alright then, I'm ready,' opening the stage for the remaining tracks of her album. 
30 is Adele's most emotionally revealing album that she has released, housing her most emotionally revealing song My Little Love. Adele keeps her vocals soft in this song as if she is reading a story to her son, who the song was written for. Throughout the duration of the song, there are five voice clips of her talking that are used, four of which are conversations between her and her son, revealing the struggle of a child who is experiencing divorce. The song tackles Adele's uncertainty and journey parenting through her experience with divorce through this dialogue as well as choral-like complex harmonies that she uses throughout the song to emphasize specific words. The song ends with a view straight into Adele's thoughts with the last voice clip that spans the last three minutes of the song. The use of voice clips in music is not common especially for a long duration, Adele's utilization of her speaking rather than singing while still having the music as a velvet like background brings more depth and severity to her words, conveying her pain through the way her voice is straining and her gasping breaths while she is crying. 
The style of the album shifts again with the upbeat pop-like songs Cry Your Heart Out, and Oh My God, exploring Adele's search and finding of freedom. Although not as powerful as the rest of her songs, the beat, use of bass, rhythm and harmonies is what keeps these songs interesting. Both songs have a buzzing energy to them that makes a foot tap to the time signature, bringing diversity to her album. Rather than make all of her songs somber, she decided to take a lighter view upon her situation, which is shown through the delivery of her lyrics in the way that she sings, as well as her masterful melodies. 
The last track on 30, Love Is A Game, brings the whole album together. The song begins with soft tremolo of violins, it swells and becomes bigger and more powerful as the song progresses. The addition of instruments, harmonies and a bassline beautifully mixes the different styles that Adele experimented with throughout the album. The way in which this track is sung feels like someone telling a story about a lesson that they have learned, the melody is happy in a wistful sort of way, bringing the album to a theatrical and complete close, like curtains falling at the end of a performance. 
The entirety of 30 felt like it was meant to be performed on a stage in an underground club room cushioned by velvet carpets and clouds of smoke with Adele sitting on a stage framed by a cream colored spotlight. 30 felt intimate, revealing, determined and vulnerable with the hope of healing infused in every chord. It is unlikely that the music in 30 will reach the same heights as her previous music as her new songs are such a different style, however that does not change the fact that this is possibly the best album that she has released. Adele used this album to explore through her healing, pushing musical boundaries that previously would not be associated with her, it's a raw album overflowing with emotion and each song is masterfully crafted. 
Rating : 9 out of 10