Review: 'Evermore' disappoints through monotonous sound, very few standout songs
I remember the first time I heard a Taylor Swift song. I was five years old with my aunt and cousin in the car, listening to You Belong With Me. That's the first time I remember hearing anything that wouldn't be classified as a "little kid song". 
Swift started her career with her own written music, and signed a record deal with Sony in 2004, then signed another record deal with Big Machine Records a few years later in 2006. She would go on to be placed in the Top 40 with one of her first songs, Tim McGraw, which found its way into her first self-titled album. 
Throughout her time spent at Big Machine Records, she would go on to release six studio albums, and the world would watch her transition from playing only country music to breaking through in the pop music genre. The public would also witnessed her eventful dating life, as she went through more than a few guys over the years: Joe Jonas, Taylor Lautner, Jake Gyllenhaal, Harry Styles and Calvin Harris to name a few.
For a while, things seemed to be going well, but at the end of 2018, her contact with Big Machine Records ended, and mid-2019, Scooter Braun purchased the Big Machine label, and with that, the rights to Swift's first six albums. This action ended up causing a large public spectacle and Swift being forced to come up with a plan to re-record all of her previous albums in order to obtain rights.
Since then, she has released three more albums, all of which she owns the rights too. Her most recent release, evermore, is a follow up album to the surprise release of folklore, which provided a new sound from the rest of her music up to this point. 
When evermore was released, I was ready for something new. Even though it was called the sister album to folklore, I thought they were going to be similar but not the same. It sounds almost the exact same to folklore, with only a few standout tracks. 
The album opens with willow. It's simple and sweet, but nothing too interesting. It highlights Swift's musical soft side in a very plain way. 
Champagne problems sounded a lot like New Years Day from the 2017 album reputation, I thought I was listening to the same song. With the same repetitive piano notes and the same soft ending, this track really should have been left for the end of the album as a nice way to close. 
I'm not sure where to start with gold rush. This has to be one of my top songs from the entire album. The fast and upbeat tempo combined with the sometimes slow singing is the perfect combination and a nice break from the slow songs that came before it, even if it's only three songs in. 
'Tis the damn season would have blended into the album if it wasn't for the guitar that was playing in the background throughout the whole song. It draws the listener in, then with the drums addition it becomes a kind of interesting song that has a harder time being defined. 
Tolerate it is just that. I could tolerate the song but definitely does provide anything new. It's just kinda there. 
No body, no crime gave me physical chills. It draws in Swift's country roots and you can almost hear the punch in every word, like she's trying to get out some anger or sadness through the song. Every time she hits the chorus, it adds more of an anger to the song. Right before the last round of the chorus, it has such a strong build, combined with the electric guitar but then it settles. There was such a big opportunity for some kind of drop, but it fell short. 
Happiness and dorothea both sound the same. Slow, sweet, and simple. While both songs have their own separate sound, these two songs just blend into the album. 
Coney island has to be my favorite. Yes, it may be similar to the songs above, but it's different in it's own respect. I'm not sure if it's the collaboration with The National, or if it's the two singing together, but there's something about this song that makes it so good. Although this song could also have easily been a powerful single, it still stands apart from the rest of the album. 
Ivy and cowboy like me both blend together. These two songs offer no separation compared to other songs in the album. There's not much to say about them. 
Long story short has an upbeat tempo that was a much needed wakeup in between all the slow songs that come before and after it. The lyrics might not be the focal point, as is usually Swift's driving force behind her songs, but they are certainly there. 
Marjoie and closure also have no separation from each other or the rest of the album. They are both just boring to listen to.
evermore is a song that I wasn't expecting. It's simple and sweet, like willow, but with the darker and lower piano notes and the faster tempo while Bon Iver is singing switches it up and provides a nice way to end a painfully slow and long album. 
Overall, I think Swift could have done much better, and I was definitely disappointed with evermore . She has come a long way from the heartbroken songs written in her diary and the exciting energy that came from her pop albums towards the later 2010's. With the wide range of diversity she has had in her music, I thought she could do more than this simple album with only a couple standout songs. 
Maybe the next album she releases will be more of a hit, but evermore is a very forgettable album that arguably won't make a huge difference in her career. 
Rating: 4/10
About the Writer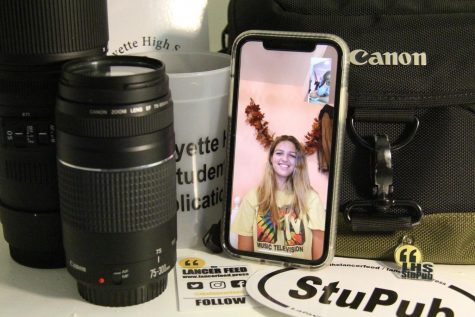 Cece Beckmann, Staff Reporter
Cece is a sophomore, and this is her first year on the news production staff. Outside of publications, she is involved in Color Guard. She can be contacted at [email protected]