Blog: Lady Lancer volleyball greatly enhanced my high school experience and it could do the same for you
As an 8th grader, soon to be freshman,  I watched as the Lafayette girls volleyball team had just won its six State Championships in a row. I always loved the involvement with activities at school and I knew this team and the culture that head coach Zach Young helped foster was going to be a central piece to my high school experience.
Let's back up though. Growing up, I was always involved in youth sports such as softball, soccer and basketball. Later, I picked up a lacrosse stick and never looked back. Winning has always been very important to me and in 2019, our lacrosse team had an undefeated season and earned third in the State Championships.
Lafayette sports have shown up. As a student, I believe going to these events is very beneficial to one's experience, but I would also argue that no sport at Lafayette is better to attend and watch than volleyball.
Being a member of student publications have allowed me to shoot photos at almost all of the sports we have at school. I've captured the highs and lows of high school sports at school, and none quite bring the excitement that Lafayette volleyball does. That's not to say other sports can't be very exciting, but with the volleyball culture, it is always going to be a show and a battle which embodies the Lancer spirit.
Take, for example, the recent game against Seckman. The stage was set, the seniors were playing their Senior Night game and their last home game of the season. They were coming off their only loss of the season against Borgia, and had spectator limitations and mask mandates during a global pandemic.
Maybe the first set was a mental roadblock of sorts, because they did not look like the team I was used to watching. They lost the set, 25-23 and had a horrible first set.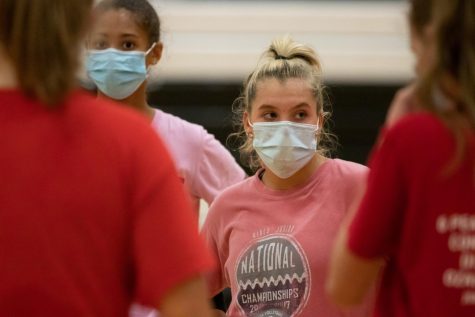 The one thing that sets this team apart from any and all other sports, though, is that I knew they would get their act together. In the next set, they came out dominating, nailing blocks and kills left and right to take the second set, 25-22.
Any other team spectators would be excited for this but there is another aspect to the game that makes the little plays that much more effective. After every point in their favor, the Lancers get up from the bench, the junior varsity and freshman team members get up from the bleachers and the parents cheer. It's a unique atmosphere that not even football can replicate.
Sometimes the junior varsity and freshman players will begin a chant that the parents will join in from the other side of the gym. During, say a basketball game, you might see two student sections chanting against each other, but no other sport creates the student/parent unity that volleyball creates.
So, after the second set, with the fans and parents riled up, albeit socially distanced and masked, the Lancers put on an absolutely dominating performance, taking the third set 25-11. The Seckman team looked absolutely crushed, while the Lancers were back in their zone. They took the fourth set, 25-14 closing out a game than any other team would have lost, bringing them to 10-1 on the season.
Now, winning is one thing, but when you see these people every day in the halls, pre-COVID-19, and you see how hard they work to get where they are and know them and talk to them, it makes all the winning so much better.
After a big play by senior Morgan Isenberg, you can often see her looking out to her parents, who wear their pride in their smiles. Or, after a great play by senior Lexi Basler you will often see her sister, junior Maddie Basler in the stands cheering for her sister.
The winning attitudes and smiles of the team are contagious. I promise it will be worth every minute of your time to watch these amazing athletes play their hearts out on the court.
Good luck to these athletes who play Eureka tonight at Borgia at 6:30 p.m. We are rooting for you.